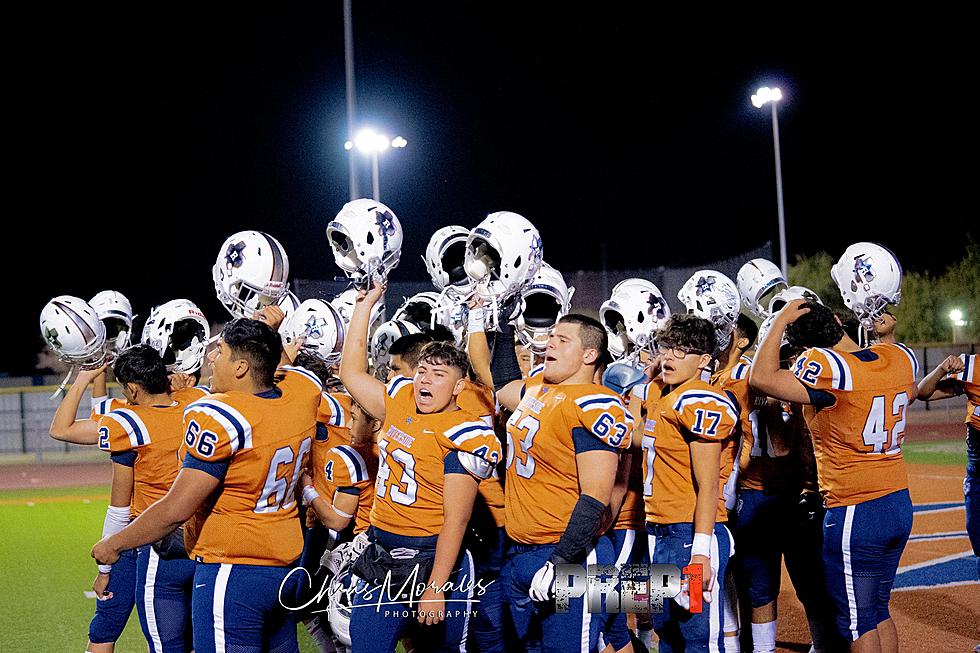 Week 9 Kicks Off with Playoff Hopes on the Line Across El Paso
Chris Morales | Prep 1
It's all coming down to the final three weeks of district play and playoff spots are on the line across the city of El Paso.
Follow 600 ESPN El Paso all evening for live scoring updates of all the scheduled games. Listen in on 600 ESPN El Paso to listen to the latest edition of Football Friday Night starting at 7 p.m., hosted by Beau Bagley and Paul MacKinnon. All of the photos following the game are provided by Prep 1. 
* Denotes district play
* Denotes district play
Week 9 Schedule 
Del Valle (6-1) at El Dorado (3-4) 4 pm
Eastlake ( 7-1, 3-1) at Montwood (2-5, 1-3) Steve Escajeda
El Paso (3-4, 2-1) at Austin (4-3, 2-1) Brandon Cohn
Riverside (7-1, 2-0) at Mt View (3-4, 0-1) Alex Nicholas
Chapin (5-2) at Bel Air (2-5) Joe Rodriguez
Ysleta (4-4, 1-1) at Horizon (3-4, 1-1) Joey Pennisi
Hanks (1-6, 0-1) at Canutillo (7-1, 2-0) Adrian Broaddus
Jefferson (5-2, 2-1) at Bowie (1-7, 1-3) Jeremy Carranco
Irvin (2-6, 0-4) at Andress (6-2, 3-1) JD Sursley
Socorro (1-6, 0-4) at Eastwood (3-4, 1-3) Jaime Chavez
San Eli (1-6, 0-1) at Fabens (1-7, 0-2)
Compass Academy (0-7) at Anthony (4-4, 1-1)
Tornillo (0-8, 0-2) at Crane (6-2, 2-0)
Cathedral (5-2) at TMI Episcopal (7-0)
Here are Five Points before kickoff 
Thursday Night Rundown 
Franklin 48 - Coronado 0
Pebble Hills 57 - Americas 20
There were a pair of district 1-6A matchups on Thursday with district playoff implications. First off, the Cougars breezed past their rivals in Coronado, 48-0. Senior quarterback Cameron Byrd, who entered the game with 1,771 passing yards, looked sharp in the performance and hooked up with his favorite target Beau Sparks.
Franklin is now 5-0 in district play and they continue to be the clear favorite to run away with the district title, with Americas next week and Pebble Hills to close out the season.
Speaking of the Spartans, it appeared that they were able to shake off early first half struggles as they dominated Americas, 57-20. The Trailblazers led the game 7-0 in the early portion, but Pebble Hills scored four unanswered touchdowns to flip the momentum at the half, 28-7. They ran away with the game in the second half and never looked back. Suddenly, the Spartans are in the mix for third place in the district. They will play Montwood next week in the second game of a SAC doubleheader. Meanwhile, Americas will look to keep their playoff hopes alive with back-to-back games against tough opponents—Franklin and Eastwood.
Game of the Week: El Paso (3-4, 2-1) at Austin (4-3, 2-1)
The latest edition of the Battle of the Claw pins El Paso and Austin against each other for a key 2-5A-2 game. Everything in this district has been in flux after Burges beat Andress (35-34) last week. Remember, Austin defeated Burges earlier this year, so they are still in contention for the district title.
Head coach Eric Picardo has done a fantastic job with this bunch. Junior running back/linebacker Jayden Wilson is the complete package (968 rushing yards, 8 TDs) on both sides of the ball.
The Tigers are trying to maintain playoff hopes for this year, while also hoping to keep their playoff hopes alive. They are led by quarterback Gerry Chairez (1,414 passing yards, 13 TDs, 4 INTs, 294 rushing yards).
The rivalry series should be interesting if El Paso High can put up points. However, that Austin defense is elite. They might be able to shut down El Paso in this one.
Prediction: Austin 27 - El Paso 13
Don't Sleep On: Riverside (7-1, 2-0) at Mountain View (3-4, 0-1)
Here's a good one out of the 1-4A ranks.
What coach Gary Recoder and the Riverside Rangers have done this year is no short of magical. Angel "Speedy" Munoz at the quarterback spot (1,058 passing yards, 1,132 rushing, 28 TDs) and tailback Jose Guardado (1182 rushing yards, 14 TDs) are the dynamic duo among this squad.
Mountain View is not an easy opponent by any means either. They dropped a good one to Clint last week, 53-35. Still, this squad is tough to beat, especially at home. Junior Saucedo leads the Lobos through the air (1,892 passing yards, 21 TDs, 3 INTs).
Riverside has a challenging schedule as they try to post a clean sheet against in-town squads. If they get past the likes of Mountain View, we will all circle their big game against Clint as a district title finale for 4A.
Prediction: Riverside 48 - Mountain View 31 
Eastlake RB/WR Elijah Uribe Named Built Ford Player of the Week (6A)
In back-to-back weeks, the Sun City featured a representative on the Built Ford Tough Texas High School Football Player of the Week accolade. Last week, Chapin quarterback Mason Standerfer earned the recognition following a 439 passing performance and two touchdowns against Horizon. This week, it's Eastlake's do-it-all man Elijah Uribe.
Through Eastlake's 59-41 win against Eastwood, Uribe was virtually unstoppable. He finished with 292 rushing yards, 55 receiving yards and a whopping eight total touchdowns. Uribe has been among the city's best overall players this season, racking up 1,575 total yards of offense in seven games played, with 19 total touchdowns.
The Falcons (6-1) face off against a struggling Montwood squad on Friday. This is another opportunity for Uribe to have a big night.
Prediction: Eastlake 58 - Montwood 20 
Super 5A Finally Starts District Play 
Del Valle (6-1) at El Dorado (3-4)
Chapin (5-2) at Bel Air (2-5)
The Super 5A district is back in action after a bye week last week, while district play has finally started. In the four-team district where everyone makes the playoffs, the most important thing is trying to win the district title.
Coming into this district slate, Del Valle should be the heavy favorite. They've found their offensive identity with junior quarterback Jesse Ramos (1,184 yards, 24 TDs) and running back Kristian Martinez (880 yards, 6 TDs). Their lone loss came in an overtime thriller to Canutillo in week four (34-28).
El Dorado is coming off a disappointing 23-17 loss to Fort Stockton after we thought they may have figured things out with the win against Parkland three weeks earlier. Running back Isaiah Rudison has been the most consistent (955 rushing yards, 9 TDs), but they will need to be even more explosive in order to get some wins in district play.
Chapin is undoubtedly the dark horse in this district. They are on a four-game win streak, including a dominant 43-13 win against Austin, and a 56-52 shootout victory versus Horizon. Standerfer (1,733 passing yards, 27 TDs, 4 INT) has grown up and he has become on of the city's top quarterbacks.
The Huskies face a Bel AIr team that has lost five of their last six games. They are led by sophomore Noah Moreno (1,489 passing yards, 8 TDs, 11 INTs) and running back Nicholas Chavarria (1,119 rushing yards, 10 TDs).
Predictions: Del Valle 35 - El Dorado 21; Chapin 56 - Bel Air 40
ALSO: Former Minnesota Twins All-Star's Home for Sale - Complete With Brewery
More From 600 ESPN El Paso