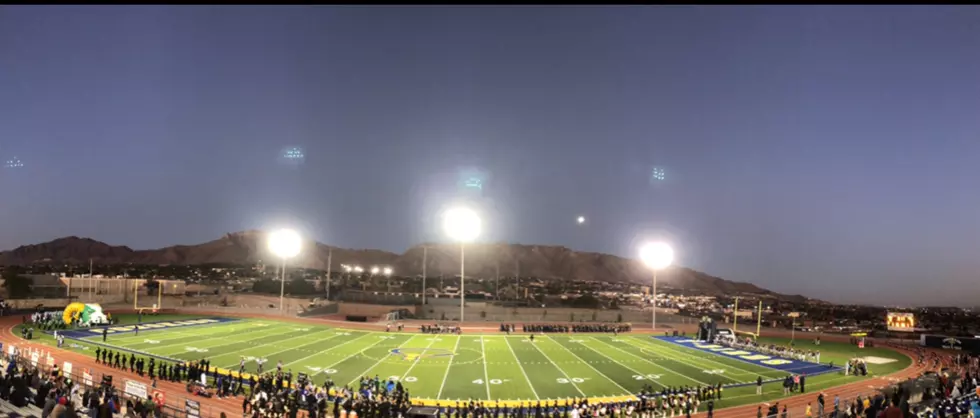 High School Football Scores, Schedule and Five Points for Football Friday Night
Adrian Broaddus
District action is heating up in week nine of the El Paso high school football season.
Whether it be an in-town game or an out of town matchup, 600 ESPN El Paso will have you covered with live scores and action as they happen.
This Friday starting at 7 p.m., we'll kick off our regularly scheduled edition of Football Friday Night. Our featured Sarah Farms Game of the Week will be Hanks vs. Canutillo.
Hanks (4-2, 1-1) at Canutillo (6-1, 2-0) Sarah Farms Game of the Week Jaime Chavez
Bowie (4-2, 2-1) at Burges (6-1, 3-0) Brandon Cohn
Fabens (4-2) at Mountain View (5-1) Joey Pennisi
Eastwood (2-5, 1-1) at Chapin (1-6, 1-1) Jeremy Carranco
Bel Air (3-4, 0-2) at Del Valle (3-4, 1-1) Joe Rodriguez
Socorro (0-7, 0-2) at Coronado (1-6, 0-2) Chad Puerling
Riverside (4-3, 1-1) at Ysleta (3-4, 0-2) Isaiah Ramirez
El Paso (0-7, 0-4) at Andress (5-2, 2-1) Ray Adauto
El Dorado (1-6, 1-1) at Eastlake (3-4, 2-0) Steve Escajeda
Pebble Hills (4-3, 1-1) at Americas (6-1, 2-0)
Parkland (7-0, 2-0) at Horizon (2-5, 0-2)
San Elizario (3-4) at Clint (5-2)
Five Points for Football Friday Night
Last night: Montwood 36 - Franklin 16
In a highly anticipated 1-6A matchup last night, the Rams steamrolled the Cougars in what should have been a contentious battle but ended up being a disaster for Franklin.
The Cougars entered this one coming off back to back shaky weeks, first losing to Americas and then struggling against rivals in Coronado. In the first half alone, senior quarterback Danny Walther threw three interceptions and their offense could not generate any sort of momentum to start the game. Montwood, on the other hand, used a balanced attack between their senior quarterback Sebastian Galvan and senior running back Chris Ramos who placed the game nicely for their offense.
Franklin tried to claw their way back in the second half sparked by a 53-yard touchdown pass from Walther to Gabe Stonewall, but a late fumble by Walther in the fourth quarter led to an eventual game-ending touchdown by the Rams early in the fourth.
Montwood has been rolling as of late, having won five in a row as they look to set up a potential district championship matchup against Americas in the final game of the season. Montwood, nonetheless, locked in their playoff spot in 6A.
Matchup to watch: Hanks vs. Canutillo 
A tough Canutillo team might just be one of the most physical tests that Jason Blair, head coach of Hanks, will have to endure and his first year as a head coach.
The Eagles are coming off a couple of nice wins and it looks like they could be the only team contest in Parkland for the district title in 1-5A Division II. Hanks could spoil that. Quarterback Aaron Molina and Mykal Blanco of the Knights have unparalleled chemistry and if their offense can match Canutillo's physical defense, this could be close. The Eagles' senior running back Carlos Amato finally returned last week following an injury but saw limited action on the field. If he's the teams true running back tonight, that will bode well for the Eagles especially if he is 100 percent.
Hot Storyline: Watch as the Trailblazers Roll 
The Americas Trailblazers are undoubtedly the best team in the city because of their talented balanced offense and their stout defensive front that ranks among the best in the state for overall sacks. Junior running back Aaron Dumas has compiled 26 total touchdowns on the season and has been better than ever. The anchors of the defense, including Dylan Kemp (17.5 sacks) and Sebastian Guzman (11.0 sacs), have anchored this defense and elevated there play to another level.
This matchup against Pebble Hills should be manageable for the Trailblazers, but if head coach Mark Torres can get his troops ready for this key 1-6A matchup, maybe the Spartans can spoil Americas' perfect season. They will need a big game from quarterback Sebastian Ochoa along with the defense that has been struggling thus far.
Look ahead to next week: Del Valle vs. Eastlake
Will we finally find some clarity in 1-5A Division I? If Del Valle and Eastlake enter this one in the top-three of the district, this could lead to more separation on which team could be the district title winner. Del Valle was upended against Eastwood last week in overtime but should beat Bel Air this week. If Eastlake can take care of a frisky Eastwood team, this would be the top two teams in the district going at it next week.
More From 600 ESPN El Paso