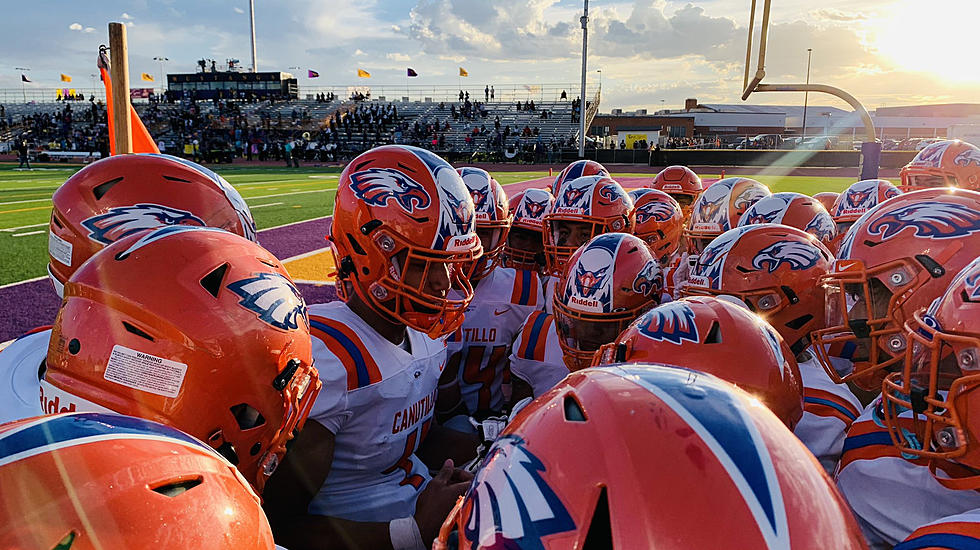 Football Friday Night Recap: Week One in the Books
Photo by Prep 1 USA
Week one of the high school football slate is in the books, as teams across El Paso kicked off the season following a pandemic-shortened 2020. Fans were back in stands, no games were canceled/rescheduled and the borderland played a full slate of games over Thursday and Friday.
Catch up on all of the games and the recaps below by our reporters, and stay tuned for Football Friday Night on demand that will be available next week wherever you listen to podcasts.
Catch up on scores via Scorestream here, and check out photos by Prep 1 on their Facebook page for sights across town.
Eastwood 35 - Parkland 20: A strong second half leads Eastwood to victory
By Steve Escajeda
After struggling through a sloppy first half, the Eastwood Troopers outscored the Parkland Matadors 28-6 in the second, en route to a 35-20 season-opening victory at Troopers Stadium.
Eastwood was led by quarterback Andrew Martinez, who threw for two touchdowns and ran for three more. The senior, who threw for 407 yards, had big passing plays of 68, 52, 45, 43 and 29 yards.
The Troopers also received a big contribution from running back Sam Lopez, who rushed for 70 yards on just eight carries and caught five passes for 122 yards, averaging 14.7 yards every time he touched the football.
Also coming up big for Eastwood was wide receiver Isiah Pena, who pulled down seven catches for 169 yards and a touchdown.
Parkland, which led 14-7 at the half, moved the ball effectively on offensive all evening, but four turnovers were just too much to overcome.
The Matadors picked up 504 yards of total offense, led by the power running of junior tailback Isiah Beasley, who rushed for 190 yards and a couple of touchdowns.
In his first start for the Matadors, quarterback Brian Albarran threw for 249 yards but also had those three costly interceptions.
His favorite target was Demarion Crest, who caught six passes for 219 yards and a touchdown.
Eastwood will try to improve to 2-0 when it travels to eastside rival Hanks next Friday, while Parkland plays its home opener against the mighty Andress Eagles.
Canutillo 29 - Burges 22: Eagles outlast Mustangs in opener
The Canutillo Eagles won their season opener by holding off the Burges Mustangs 29-22 Friday night at Burges High's Mustang Stadium. Canutillo Junior running back LJ Martin led a strong Eagles running attack with 160 yards rushing on 25 carries and a pair of running scores of 38 yards and 1 yard. Quarterback Devin Granados added 68 yards rushing on 7 carries and TD runs of 19 and 5 yards. Burges quarterback Andy Rutledge led the scoring attack for the Mustangs with three touchdown passes of 90, 8, and 5 yards, to wide receiver Sean Street. Burges' star running back Tavorus Jones was held to 52 yards rushing on 13 carries. Canutillo hosts Eastlake next week while Burges travels to Bel Air.
Midland Christian 42 Americas 7: Rodriguez helps Mustangs push past Trailblazers
By Alex Nicholas 
Midland Christian's senior quarterback Ryver Rodriguez threw for 212 yards, rushed for another 112 yards and accounted for four total touchdowns as the Mustangs opened the season with a 42-7 physical rout of the Americas Trailblazers.
Americas turned the ball over six times, three of those turnovers came on three consecutive second half drives, and two came late in the first half when the game was still within reach.
The Blazers two first half turnovers ended up being the costly sequence of turnovers as both came during red-zone chances with Midland Christian leading 21-7.
Both turnovers occurred in the final four minutes of the first half, helping the Mustangs take a going away 28-7 lead at the half.
Nathanial Brito ran for 93 yards and a touchdown leading a Midland Christian rushing attack that ran for over 200-yards.
Austin 32 - Horizon 14: Austin's stifling D Difference in 32-14 Win Over Horizon
By Brandon Cohn 
Austin may have lost numerous players from 2020's abbreviated season, but this young Panther team stuck with their bread and butter; running the rock and a stifling defense in their opening season win over Horizon.
The Panthers took a 20-0 lead into the locker room at the half thanks to a 3-TD performance by RB Jayden Wilson.  Austin took a 26-0 advantage into the 4th quarter when RB Ivan Gonzalez scored on a 1-yard TD run.  A Panther fumble at their own 1 led to a Scorpions score late in the game.
The teams traded scores to conclude the contest where the Panthers prevailed 32-14.  Austin's RB Jayden Wilson finished with 21-carries for 117 yards and 3-TD's.  While three other backs, Ivan Gonzalez, Israel Luna and Sergio Rodriguez also added scores.
Austin's D held Horizon star QB Jacob Quijas in check, as he went 4 of 10 for 88 yards and a TD, and held 2020 1,000 plus yard rusher Ernie Garcia a I just 9 carries for 50 yards.
Eastlake 49 El Dorado 14: Falcons look dominant in season opener 
By Alex Nicholas 
Eastlake looked sharp on offense, piling up over 500 yards of total offense and scored on their first three possessions of the game to sprint past El Dorado 49-14.
The Falcons' senior quarterback Sebastian Rendon threw five touchdown passes, three going to talented do-it-all running back Elijah Uribe as they flexed their talent and offensive prowess in week one.
Uribe accounted for four total touchdowns, 112 yards rushing, 113 yards receiving, and threw a 24-yard touchdown pass to Anthony Moreno 51 seconds into the game after Uribe returned the opening kick off 67-yards to set up a short field.
Eastlake was super balanced rushing for 236 yards on the evening, Moreno had four catches for 86 yards and two touchdowns.
El Dorado was one big play away from making this game close in the first half, but their last three drives of the first half ended in a missed field goal, a turnover on downs, and an interception that led to the Falcons leading 27-7 at halftime.
Aztec's senior running back Isaiah Rudison ran for 109 yards and caught five passes for 53 yards and a touchdown on a well-timed wheel route late in the third quarter. Andre Thomas added six catches for 93 yards and a 31-yard touchdown grab for El Dorado.
Del Valle 27 - Coronado 7: Del Valle scores four times in the second half en route to victory
By Adrian Broaddus 
It was a tale of two halves at Thunderbird Stadium Friday night. Both teams combined for nine punts over 12 drives through a scoreless first half.
Neither team could get rolling until midway into the third quarter when Del Valle scored on a six-yard rushing touchdown by tailback Kristian Martinez. On the ensuing possession for Coronado, the offense fumbled on an exchange, which set up a quick three-play scoring drive capped off by a 16-yard rushing touchdown by R.J. Bracamontes for Del Valle. The Conquistadores wouldn't stop their scoring frenzy. Thanks to some strong carries by Martinez, the squad was able to get an easy four-yard rushing touchdown by quarterback Jesse Ramos.
Coronado quarterback Blake Randag hit wideout Cade Little on the next drive for a 49-yard touchdown score that ended up giving the Thunderbirds some life.
However, Del Valle put the nail in the coffin by scoring on a 10-yard rushing touchdown by Ramos.
Del Valle starts the season 1-0 and hosts Pebble Hills (0-1)next Friday, while Coronado (0-1) is set to play Chapin (0-1) at home.
LOOK: Here are the 10 US golf destinations with the most courses per capita
Discover where you can find the best access in the country for your pick of courses, the unique terrain that lends itself to world-class golf, and what makes select clubs noteworthy.
More From 600 ESPN El Paso