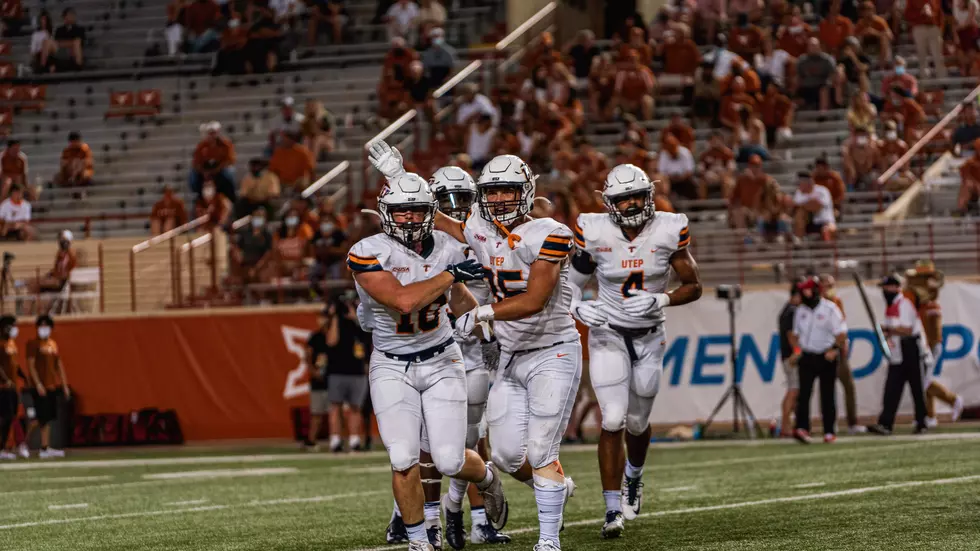 UTEP Looks to Regroup After Texas Drubbing
Connor Putnam.
I think it's safe to say to that no UTEP fan expected a win against the Longhorns last weekend. Texas came into the game ranked 14th in the country and many believe that Tom Herman's team will win the Big 12 this season and make a run at the National Title. What Miner fans were hoping for was that their team would at least be competitive against the Horns and make simple fundamental plays like finishing a tackle.
Between all the missed tackles and dropped passes, UTEP looked more like a team in awe of their opponents and the stadium where they were playing. The Miners did exactly what they have always done in their two previous recent meetings in Austin. They were outclassed by a superior team on the field and lost 59-3 in a game that was over on the first offensive play from scrimmage. Texas senior quarterback Sam Ehlinger hit Joshua Moore for a 78-yard touchdown pass, and that was the beginning of a monster night by the Longhorns offense. Their defense looked equally dominant, holding the Miners to just a 47-yard field goal in the second quarter by Gavin Baechle.
"I'm not discouraged by any means but I'm not happy with the way we played at all," UTEP head coach Dana Dimel said in his weekly Monday press conference. "Our guys had the deer in the headlights look and it was more frustrating for me. We didn't play good and we have to play better football at every position across the board."
UTEP does return to El Paso $1.4 million richer after picking up the game check. It might be a small consolation to a 56-point loss, but it was the most important game of the 2020 season for the athletic department. Equally as important was that the team came out of Austin relatively unscathed, minus a season ending leg injury to starting fullback Forest McKee. 2020 has been a tough year for the senior from Las Cruces, since he also recovered from COVID back in April. The Miners do not have much experience behind McKee, with junior James Tupou (only two career starts in 26 appearances) the new starter at fullback.
This week's opponent is FCS Abilene Christian, a team that has yet to play a football game in 2020. As Adrian Broaddus pointed out in his Five Things to Know column, The Wildcats won five games last season and lost another four by seven or fewer points.
All eyes will be on Sun Bowl this Saturday night to see if the Miners show any post-Texas hangover when they take the field against Abilene Christian. UTEP has started out slow in both games this season, and the Panthers will look to capitalize on that trend when they battle the Miners. Former Iowa backup quarterback Peyton Mansell is battling Sema'J Davis for the starting job and both possess a completely different skill set. Davis is a dual threat quarterback while Mansell is more of a pocket passer who can also run. Both should possess an interesting challenge for the Miners defense, who will try and erase the taste of giving up eight touchdowns last weekend.
Offensively, all eyes will again be on Gavin Hardison and Deion Hankins, who will try and replicate their performance from their week one win against Stephen F. Austin. The sophomore from Hobbs completed just 12-27 passes against the Longhorns, but he did have numerous dropped balls, while Hankins gained only 34 yards on 11 carries. Two bright spots for the Miners offense last weekend were Calvin Brownholtz and Rey Flores. Each made the most of their second half opportunity, playing against mostly backups and third stringers on the Texas depth chart. However, the UTEP starters will need to pick up where they left off the last time they played at the Sun Bowl. If they can do that and win their second game of the season, then suddenly 2020 looks a little better for the Miners than it does today.
More From 600 ESPN El Paso