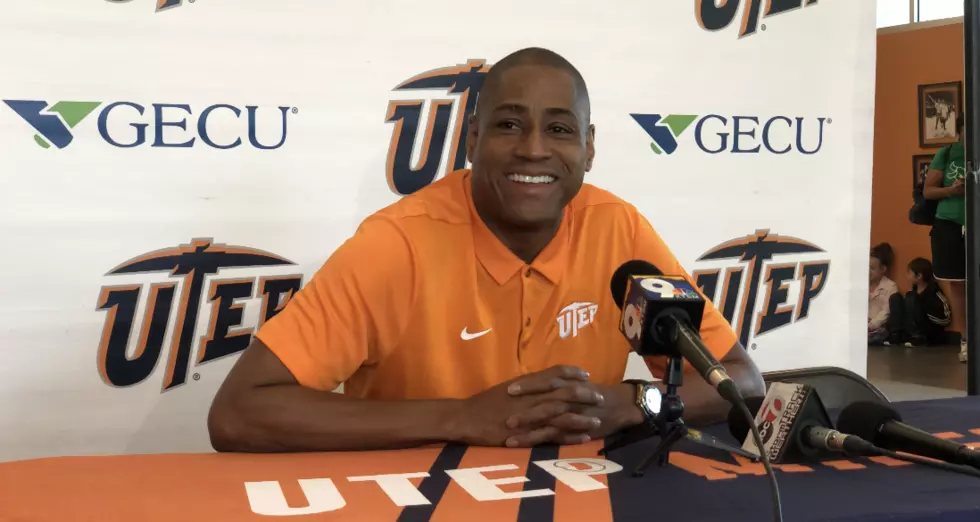 UTEP Basketball Provides Updates to Team, Schedule Prior to Basketball Camp
Adrian Broaddus
In anticipation for their annual youth basketball summer camp, the UTEP men's basketball team took time to provide updates to the media on summer workouts and advancements within the program.
Head coach Rodney Terry discussed topics such as coaching changes, injury updates, summer practices, schedule updates and gave an overall status of the program.
"We put a motor in the car last year," Rodney Terry said earlier today. "When you have a car you're trying to rebuild, that's a lot of heavy lifting. I thought last year our guys laid the foundation of who we are going to be in terms of our identity day in and day out."
Since the impromptu departures of assistant coaches Lamont Smith and Brian Burton in the spring, things have calmed down around the program. No other recruit besides Brendan Wenzel decommited from UTEP. And to wrap up the spring, coach Terry announced the hiring of both Kenton Paulino and Arturo Ormond to fill the coaching vacancies.
"[The coaching transition] is going really well," Terry said. "For us moving forward, it's about player development. Player development is something you have to hang your hat on every night. We started that foundation last year and we have a good group of players. Biggest thing is to continue that development."
"It's been fun getting to meet coach Paulino and coach O," sophomore guard Nigel Hawkins said. "I don't think there will be any problems with it. They've been invested in us so far and we'll be good."
For their upcoming schedule, Terry confirmed in March that the Miners will play New Mexico at home next season, while Grand Canyon and Texas Tech will come to the Don Haskins Center for exhibition games. NMSU home-and-home is still locked in, along with the Diamond Head Classic in Hawaii featuring Ball State (Mid-American), Boise State (Mountain West), Georgia Tech (ACC), tournament host school Hawai'i (Big West), Houston (AAC), Portland (WCC) and Washington (Pac-12).
"We're one game from being done with our schedule," Terry said. "And even that one game is going to be a very competitive team and an NCAA participant team that we will be competing against. Great opportunity for us to stack up to where we are and to see where we need to go."
The Battle of I-10 intensifies for the Miners and Aggies with Evan Gilyard's transfer to NMSU over the offseason, which the players see as an added incentive to the rivalry.
"I think it's going to make it a lot more fun," said sophomore guard Jordan Lathon with raised eyebrows. "It didn't really matter a lot but definitely going to be fun seeing him on the other side."
As far as the Conference USA schedule, Terry said that the C-USA pod system, which grouped the 14 teams in three categories and pinned them against each other for the final games in an attempt to boost their RPI, will still be in effect this year but "probably not" in 2021.
The Miners will return four scholarship players from last season in guards Jordan Lathon and Nigel Hawkins and forwards Efe Odigie and Kaosi Ezeagu. The other two incoming freshmen players will be guards Jesse Zarzuela, Kaden Archie and Deon Stroud. Fellow sophomores will include forward Tydus Verhoeven and guard Souley Boum, who both sat out last season due to transfer rules. The juniors on the team feature forwards Bryson Williams and Eric Vila, combo guard/forwards Anthony Tarke, Gilles Dekoninick and Ountae Campbell.
All are eligible to play immediately with the exception of Archie, who will join the squad in January per NCAA transfer rules.
With the addition of all the new talent, not much changes in terms of preparation for this team leading up to the fall.
"Our practices haven't really changed from a year ago to be honest," Terry explained. "We had a full allotment of guys last year, it was just that when we went to play a game, you had five-six guys not allowed to play. It will obviously be a lot more competitive now because those guys have an opportunity to play. I'm excited with what we're doing, how we're doing it and excited about the new coaching staff too."
Odigie missed the final stretch of last season due to an ankle injury and continues to work his way back to practicing.
"Efe had a pretty serious ankle injury last year, didn't play the last four ball games, didn't play much in the spring," Terry said. "When you have a talented guy like him that can have a great career in basketball, the last thing you do is put him out there when he's not prepared or not ready to go and then you have a setback. Take it slow with him, bring him along and when he's ready, we'll put him back on the floor. He's had 12 weeks and today we'll actually be putting him back and see how he is. We know he's a guy that can be a pillar to our program for a while because he's a guy that brings a lot of intangibles with him."
So for now, we wait for the Miners to formally unveil their 2019-20 schedule and will always keep an ear out for any recruiting advancements. But for now, the Miners basketball squad will turn their focus to the youth basketball skills camp this week.
"Working with little kids and when they find a love for the game is really cool," Hawkins said. "I didn't get to start when I was this young so to see them, I love it."
More From 600 ESPN El Paso