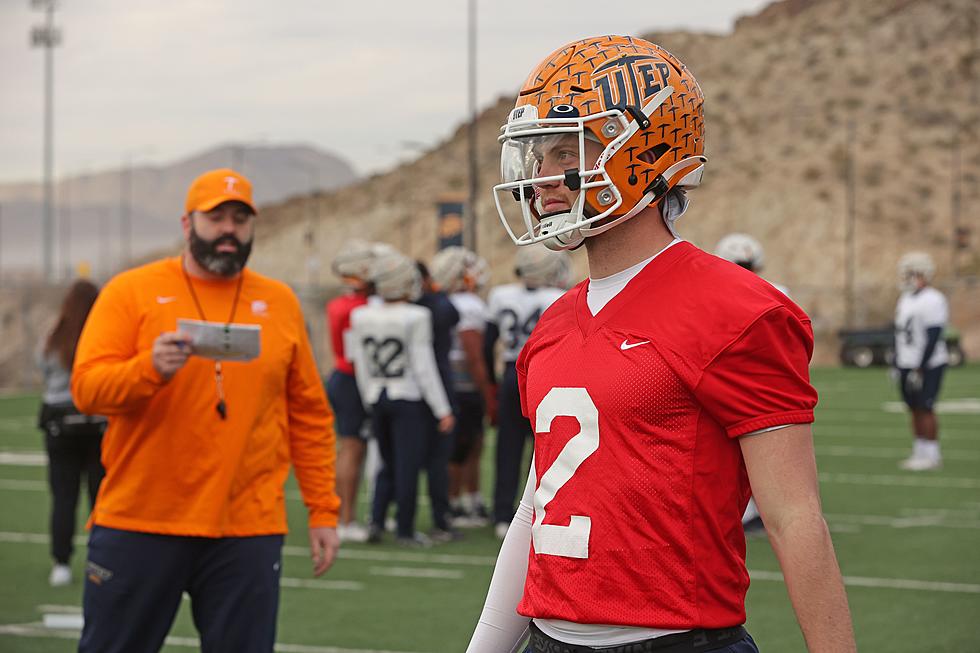 Ten of the Top Storylines to Monitor During UTEP Spring Ball
Ruben R Ramirez | UTEP athletics
The UTEP football squad has kicked off spring ball practices ahead of their highly anticipated 2022 season.
Head coach Dana Dimel will enter his fifth season at the helm, as the program is coming off its most productive season in nearly a decade after finishing 7-6, including a trip to the PUBG Mobile New Mexico Bowl.
The Miners will practice each week leading up to their spring game on Friday, April 8 at the Sun Bowl, with a 6 p.m. kickoff.
Let's jump into some storylines for this spring.
1. No Deion Hankins this spring 
2021 was an up-and-down season for redshirt freshman running back Deion Hankins. Most Miner fans had high expectations for the homegrown running back following his All C-USA freshman season in 2020, where he rushed for 592 yards and scored nine touchdowns in eight games.
This season, Hankins played in 10 of the 13 games for the Miners and finished with 458 rushing yards and six touchdowns.
As some fans thought, Hankins played the majority of 2021 with a banged-up shoulder. He separated his shoulder in fall camp and then re-aggravated the same shoulder against NM State.
"I felt weird in fall camp and the beginning of the season," Hankins explained to SportsTalk back on Feb. 4. "Now that the season's over and I had surgery, I'm able to recover and get my mind right so by the time the season starts, I can be 100 percent. Last year, I didn't want to have another [injury] or play uncomfortably because I was wearing two [shoulder] braces the whole season."
This is actually a great sign for the squad and Hankins. Now, he will have a chance to get to 100% health-wise ahead of the season. Even with the likes of Ronald Awatt returning (843 yards, 6 touchdowns), along with freshman Willie Eldridge, Hankins will have a chance to shine in this running back core once he returns.
Hankins said he is targeting a summer return from his injury.
2. QB Gavin Hardison is transitioning into a leader
Those that were wondering if UTEP would have an open quarterback competition this spring should understand how the team views the quarterback position. They are sold with Hardison continuing as the team's top gunslinger.
Hardison will be wearing the coveted No. 2 jersey to honor the late Luke Laufenberg, who passed away from cancer in 2019. That is a prime example of this team betting on Hardison's leadership and skill set to propel the offense forward.
Sure, Hardison will have to improve on certain things on his game—accuracy, decision-making and turnovers. But he's brought continuity to the position for the first time since Trevor Vittatoe was slinging the rock for the team.
The junior out of Hobbs, NM, threw for 3,218 yards, 18 touchdowns and 13 interceptions in 2021 with a 55% completion percentage.
3. Wide receiver core looks far different than last year
Offensive coordinator Dave Warner said it best when he met with the media on the first day of spring ball. The Miners lost all-conference level production at the wide receiver position by losing Jacob Cowing (transfer to Arizona) and Justin Garrett (graduation). The dynamic receiving duo relied on speed and high-IQ play to become one of the best receiving duos in the conference.
The team's new identity at the receiver spot will now transition to a mix of size and speed. Slot receiver Tyrin Smith is the squad's top returning target, who hauled in 33 catches for 570 receiving yards and finished with four touchdowns. Look to running back/wideout Rey Flores to add some veteran leadership to the position as well.
Other speedy targets can be Penny Baker (TCU transfer), Kyle McNamara (WKU transfer), Lucas Flores (Ysleta HS grad) and Walter Dawn Jr., who is still vying for a medical redshirt year. The receivers with size and length that can have an immediate impact include wide receiver Jostein Clarke (Tyler JC), Kelly Akharaiyi (Tyler JC), Jeremiah Ballard (Dobie HS) and Josh Farr (Sierra College).
Tight ends with playing experience that are set to return in 2022 include Trent Thompson, Zach Fryar and Rashad Beecham.
The competition can stretch beyond these names here. There will be newcomers that get opportunities this spring. And, don't forget about ATH Dennis Barnes, who can also be a two-way player for the team.
4. NCAA waivers loom over eligibility for potential returning players
Speaking of Dawn Jr., the Miners are currently seeking a few medical redshirts on their end. The status of these individuals will be up in the air, pending approval from the NCAA.
Linebacker Breon Hayward is one of the other big names to look at. As a transfer from Marshall, Hayward is seeking one final season to play with the Miners. The second-team All C-USA linebacker would be a massive keep for the defense. He led the squad in 2021 in total tackles (108), while also finishing with 7.5 tackles for losses, 1.5 sacks, three pass breakups and four QB hurries.
Another name to mention is Justin Prince. He played in just four games for the Miners in 2021 before being sidelined for the rest of the year due to an injury. He was an honorable All C-USA safety in 2020.
If the Miners can go 3-for-3 in medical redshirts, they would get some quality veterans back for 2022.
5. Defensive line has a chance to be elite
UTEP continues to stack quality defensive linemen on their team. The Miners are led by four All C-USA defensive linemen: Praise Amaewhule, Jadrian Taylor, Kelton Moss and Keenan Stewart. All four members of the line are tough playmakers.
But now, the squad is becoming even deeper on their defensive line. Players like Deylon Williams, Blake Thompson, Tevita Tafuna, Jalen Rudolph and Sione Tonga'uiha are guys that saw the field in 2021. Moreover, Dimel believes newcomers like Maurice Westmoreland (Kilgore College) can have an opportunity to play immediately.
This position group is stacked and could be the best defensive line in all of C-USA.
6. Secondary brings in new faces and young talent
The one position group that the Miners will need to strengthen defensively is the secondaries. I am optimistic about the upside of the defensive backs. They lost standouts Dy'vonne Inyang, Josh Caldwell and Walter Neil Jr. to graduation.
Barnes will be returning as the team's starting nickel cornerback. But that is the only guaranteed spot so far. Corners like Torey Richardson, Tre'vion Ballard and Ilijah Johnson, along with safeties Tyson Wilson, Carrington Mitchell and McKel Broussard have all seen the field at some point in their careers. They will all be competing for starting jobs this spring.
Among the newcomers, I'm expecting safety Kobe Hilton (Louisiana transfer) and Josiah Allen (Sacramento City College) to contend for starting jobs.
With a new safeties coach in Dante Barnett, Miner fans should be encouraged about new faces and young talent emerging in the secondary.
7. Limiting turnovers is an emphasis
Last year, the Miners totaled 14 interceptions on offense and fumbled the ball 22 times, losing it 10 times. That's an average of two turnovers per game in 2021.
Coach Warner emphasized limiting turnovers as one of the main goals during spring ball.
"Avoiding turnovers—whether we're putting the ball on the ground in fumbles or interceptions. Not at all pleased with what we did last year from a turnover standpoint," Warner said. "Talked to our offense last night and that was the main point that we have to address. There's no bigger stat than turnover ratio and we haven't been good."
Defensively, the Miners totaled eight interceptions and capitalized on six fumbles in 2021.
8. The looming contract extension for Dana Dimel 
Dimel is entering the final year of the original five-year contract he signed back in November of 2017 to be the program's head coach. During the 2020 offseason, KVIA reported that Director of Athletics Jim Senter didn't feel like Dimel earned an extension at that point. Now, coming off a 7-6 season, it will be interesting to see how the athletic department handles Dimel's extension.
Through four seasons at UTEP, Dimel is 12-33 overall and 5-23 in C-USA play. The Miners finished 1-11 in the first two seasons under Dimel, followed by a 3-5 finish in the pandemic-shortened 2020 season. As a head coach, he has a 42-72 overall record.
I'm not sure if the extension will get done in the spring or if it will drag into the summer. However, a two-three year extension sounds realistic and solid for both parties. Let's see what the price tag for this would look like. Remember, Dimel's base salary is $748,966, which ranked as the lowest-paid coach in C-USA back in October of 2021.
9. Behind the scenes, C-USA continues to be a mess
As Steve wrote earlier this week, the Sun Belt flexed to C-USA their 2022 schedule that included Southern Miss, Old Dominion and Marshall—all of whom are still currently affiliated with C-USA.
UTEP is set to play Southern Miss (Oct. 15) and Old Dominion (Oct. 22) on consecutive weeks in the fall. However, there is still a lot of uncertainty on whether or not the teams will stick in the league once it's all said and done. Maybe the conference has an amended schedule in their back pocket that they plan to release without USM, ODU and Marshall. That's expecting a lot from a conference that continues to make questionable decisions left and right.
10. Eyes are set on creating history
The current team talks openly about their hopes and goals for UTEP football. They want to win the first bowl game since 1967—which is the nation's longest active bowl win drought. They want to win the first Conference USA championship in program history.
The players and coaches want to revitalize this program and build on the momentum from 2021.
There's still a lot of work to do in the spring as the weeks come.
UTEP opens up the season on the road on September 3 at Big 12 power Oklahoma.
UTEP vs. NMSU Battle of I-10 Gallery Recap
These photos were taken Saturday, August 28th, 2021 when UTEP defeated NMSU 30-3 in the annual Battle of I-10 at Aggie Memorial Stadium.
More From 600 ESPN El Paso