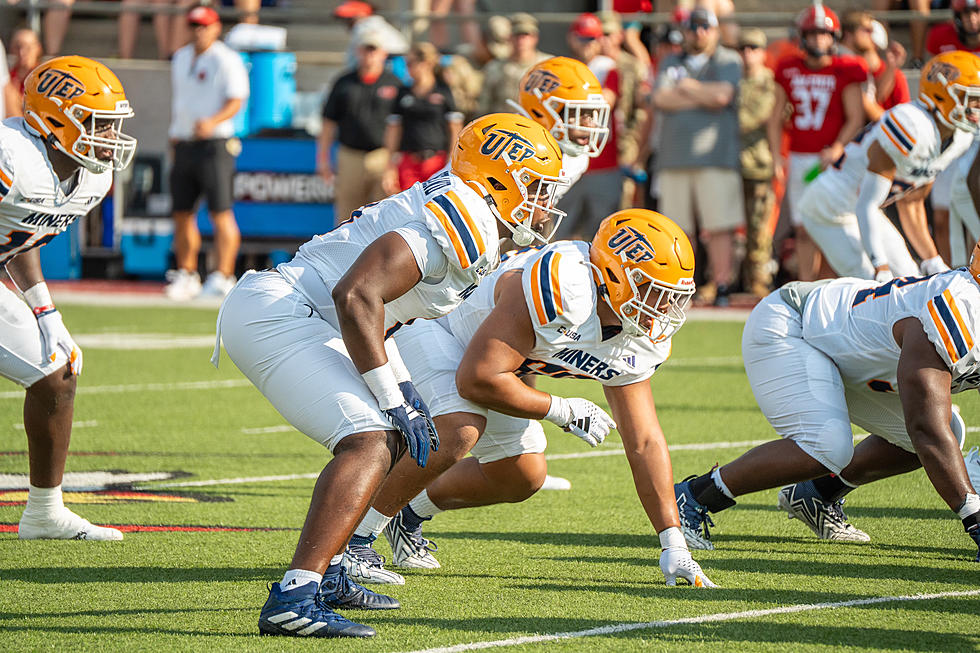 Reliving UTEP's Disappointing Season-Opening Loss to Jax. State
UTEP Athletics.
On Monday, the UTEP football squad marched to Glory Field to turn the page on a disappointing season-opening loss to Jacksonville State, as they prepare for their first home game on Saturday, Sept. 2.
The message was clear: onto Incarnate Word.
But the stink of the week zero loss on national television lingers.
The Miners outgained the Gamecocks 365-275 in total offense. They controlled time of possession, 34:28 to 25:22. Defensively, they held Jacksonville State to just 67 passing yards. And, they had the chance to either tie or win with the final possession of the game.
UTEP's three turnovers were inescapable, the run game struggled and they went 1-of-3 on fourth-down conversions.
For a consecutive season, the Miners dropped their season opener and subsequently disappointed their fans.
"In the question of being conservative or being aggressive, I chose to be aggressive," said head coach Dana Dimel regarding the choice to throw on the final two downs of the game. "That's just part of what you deal with. You try to make (decisions) on the experience and with their defense in mind... If there were three or four minutes left, it would've been a different story."
"You need to grow from it," Dimel said. "It seems like when we do lose, they're tight, tough losses... For us, it comes down to being better on third downs, winning third downs, finishing drives and efficiency of those things."
The final 3rd and 4th down decisions explained 
Late in the game, the Miners drove 66 yards with less than five minutes on the game clock. They were positioned inside the Jax. State 30, looking to score a touchdown instead of kicking a field goal. At this point, redshirt freshman kicker Buzz Flabiano had already missed a 43-yard field goal.
"If it was Gavin (Baechle), I probably would've kicked it. I didn't want to put one play to tie the game on a freshman [Flabiano]," Dimel said. "I wanted to put the play in the hands of two of our best players... It's not that I lack confidence in [Flabiano] because (his attempt) was good. Let's not put it on a freshman when we could put it on some of our best players. That was the thought process."
Senior quarterback Gavin Hardison took ownership of the loss after Monday's practice when he spoke to the media. The replay of the final play shows Tyrin Smith and Jeremiah Ballard colliding, which led to the interception. The replay on fourth down also shows a wide-open Kelly Akharaiyi in the middle.
"Last play, I could've looked inside to (Akharaiyi)," Hardison said. "The call was a throw and it was a great play. If we executed it right, it would've been there. I forced it and now we're here... Gotta turn around and win this week."
While some fans were disappointed with the decision not to run the ball on third or fourth down, redshirt junior running back Deion Hankins agreed the team should've run the ball in hindsight, but he ultimately stood by Dimel's decision to call for a pass on back-to-back plays.
"I trust coach Dimel," Hankins said. "He's a great coach and I understand the pressure that's on the coaching staff. I trust him at the end of the day and I'm here to play for him."
Though he had a strong day with over 100 receiving yards, Akharaiyi held himself accountable for not making the play on third down in the end zone and the dropped touchdown in the first half.
"We just need to complete the big plays we have down the field," he said. "(Jax. State) didn't beat us, they're a good team, but we kind of beat ourselves."
Defense shines in the loss 
The defense was once again the bright spot of the team, only allowing 17 points. They limited the Gamecocks to just seven points in the second half, having forced a turnover on downs after a Jax. State interception early in the third quarter and forced punts on their final two drives when the offense was trying to either tie or win the game.
Linebacker Tyrice Knight, who totaled 13 tackles for his 13th double-digit tackle game, wants to see the defense be better on third downs and create more turnovers.
"We didn't win the third down portion of the game," Knight said. "Usually we get three turnovers a day (in fall camp) and we did a good job at that. We just need to do a better job of that in the game. Make the offense's job easier by flipping field position."
The Gamecocks were 7-of-16 on third down conversions. The Miner offense's average field position start was at their own 22.
Injury updates 
A few players went down against Jax. State and didn't return to action. The most concerning was wide receiver Marcus Bellon, who dealt with an ankle injury. However, Dimel indicated that he would be back a lot sooner than they initially thought after the game. Safety Kobe Hylton left the game in the second quarter and didn't return. He suited out but didn't practice on Monday. Dimel expects him to be back by UIW.
Running back Mike Franklin was back in the mix at practice on Monday after being sidelined with an injury during the game. He carried the ball eight times for 28 yards.
Home opener vs. Incarnate Word
Saturday's matchup will mark the second meeting between both schools at the Sun Bowl.
Eight years ago, UTEP quarterback Ryan Metz led a second half comeback against Incarnate Word to win 27-17. The Cardinals led 17-10 at halftime and looked sharp on the night.
Fast forward to 2023 and a lot has changed for UIW. After a national semifinal finish in 2022 in the FCS Playoffs, coach G.J. Kinne took the Texas State job. Now, associate head coach from the FCS Playoff team Clint Killough (29 years old) will take over the team. They recruited a trio of transfer portal quarterbacks Zach Calzada (Texas A&M/Auburn), Ryan Stubblefield (Eastern Carolina) and Richard Torres (Nebraska).
"In a game like this when they have a whole new coaching staff and new transfers, I was anxious to get their depth chart," Dimel said. "In this game, we don't know as much on this team as we would normally."
Kickoff is set for 7 p.m. at the Sun Bowl. MinerTalk, presented by the Oscar Arrieta Agency, will follow the broadcast on 600 ESPN El Paso.
More From 600 ESPN El Paso