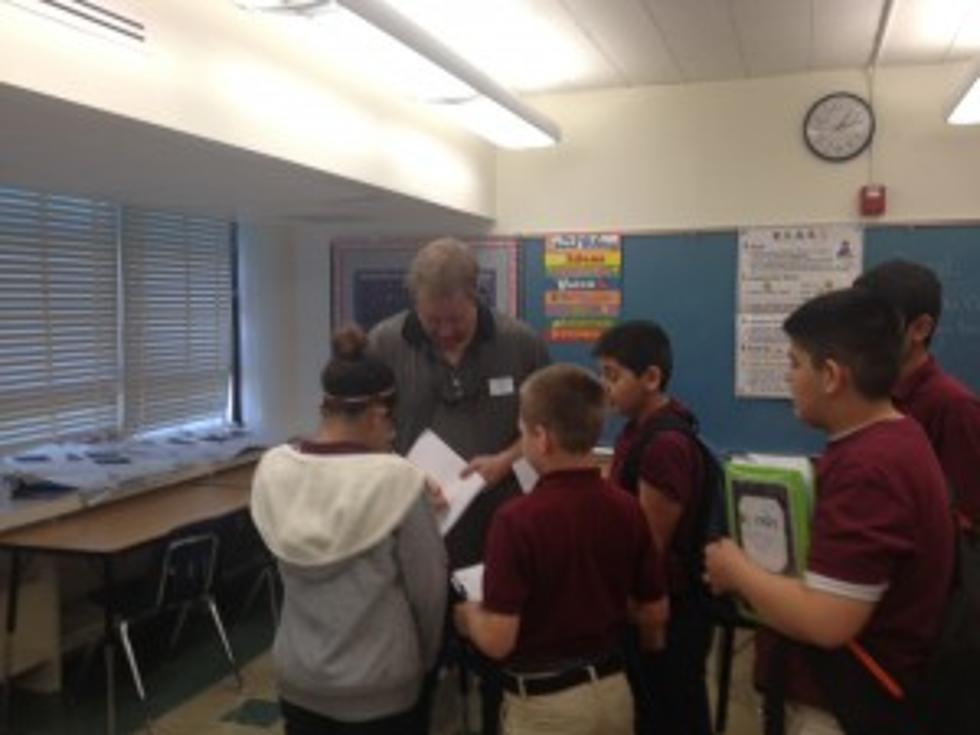 KLAQ's Duke Keith Puts On A Show At Bassett Middle School
Duke Keith signing autographs for Speech students at Bassett Middle School. (photo by Brandon Cohn)
Former KLAQ Sports Director and current Production Manager Duke Keith visited the Iceman's Speech classes today at Bassett Middle School and put on one heck of a show.
Duke spoke about numerous topics that are related to Speech and communication.  He mentioned to my students, "Any situation in life involves communication, no matter what is going on, it is important to overcome your shyness.  It's important to communicate your point, speech is the start of it and worth your time and effort to do well."
Duke spoke about how he got his start in broadcasting, including information about his past jobs as well as his tenure as Sports Director for the KLAQ Morning Show.  Keith mentioned how broadcasting has changed his life and noted that it is quite remarkable to be able to cover sports for a living.  When he was asked if his job is hard Duke said, "no job is hard if you like what you're doing."
Duke also spoke about his grandfather and father, noting that they were his inspirations in his life to succeed in broadcasting.  Duke's grandfather Harold Keith was the first sports publicist, (SID) at Oklahoma from 1930-1969 and their press box is named after him at OU.  Keith answered countless questions from my students and was humble as is always the case with his demeanor.  Keith told my students to always be persistent in life, he mentioned that KLAQ, KISS FM, and ESPN El Paso General Manager Brad Dubow says, "best pest wins."  Duke also talked about a few of his personal experiences covering sporting events, and told a couple of stories about some of the famous people he has met and interviewed.
My special thanks to Duke Keith for taking time out of his busy schedule to come speak with my students.  Duke's pertinent information and advice will be something that the Speech students at Bassett Middle School won't soon forget.