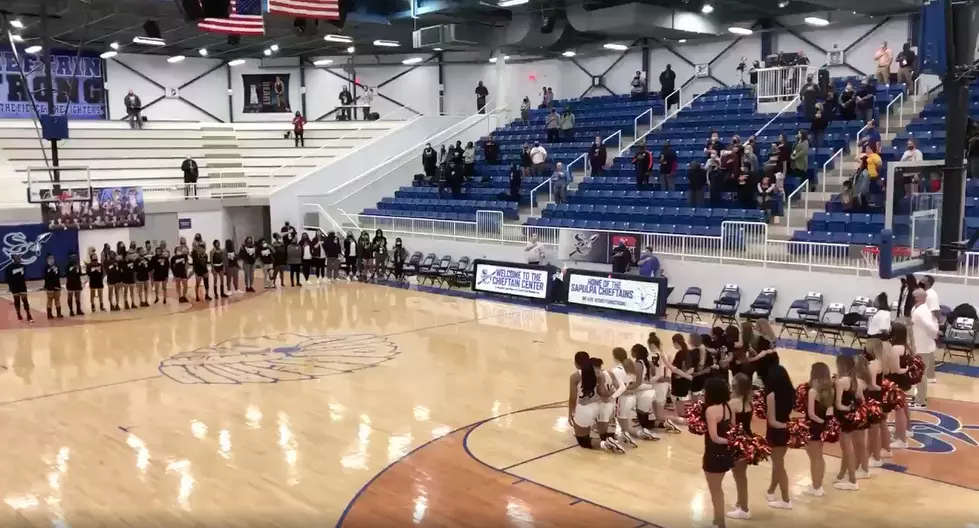 Why Would a Girls Basketball Team Kneel for the Anthem? Watch.
Clay Horning/The Norman Transcript
Why would Oklahoma's Norman High Tigers girls basketball team kneel during the National Anthem? 
The sad, pathetic, near-karmic exposure of exactly why can be heard from the video below. 
WARNING: The language has been left uncensored. It's ugly. It's racist. It's profane. 
And it explains everything. 
Before Norman High's OSSAA playoff game against Midwest City played in Sapulpa, OK, Thursday night, the Tigers took a knee during the anthem. As they did so, play-by-play announcer Matt Rowan, calling the game online for the NFHS Network, lobbed obscene and racist insults at them not realizing his mic was on. 
A former Baptist youth minister, Rowan apologized and partially blamed a spike in blood sugar. 
To be clear, the targets of Rowan's racist rant weren't highly-paid professional athletes like Lebron James or Colin Kaepernick, or even organized college athletes like the Texas Longhorns football team – not that they matter any more or any less than the Lady Tigers basketball team.
But it brings home how pervasive and ridiculous and awful the problem is and how much we still have to overcome when you understand that this race hate was directed at a group of teenage girls. 
Something else to guard against: I've already seen online jabs directed at the Sooner state. "What would you expect from Oklahoma?" said one.
Norman, OK, is my hometown. Had we stayed I would have gone to NHS. Regardless, my family has more than a little connection to Oklahoma girls basketball
Those only hearing Matt Rowan's words would be forgetting something plain to me: the Lady Tigers are Oklahomans, too; and, though I'd bet most of the varsity isn't old enough to vote, they already own more of the state's legacy than Rowan ever will.
It's sad that they feel the need to kneel, but we know why.
It's sad to think of this as an act of bravery, but it is; not sad for the act itself but because of who is kneeling and taking the hate. And who isn't.
If it takes acts like this to draw out the poison, we are better for it.
If it takes being shamed by a team of girls, then let's feel that sting so we can get over it and kneel with them.
Unashamedly.
Unapologetically.
Until #BlackLivesMatter. 
And if you want to know why we have to start there...
LOOK: 50 Black actors who made entertainment history
More From 600 ESPN El Paso