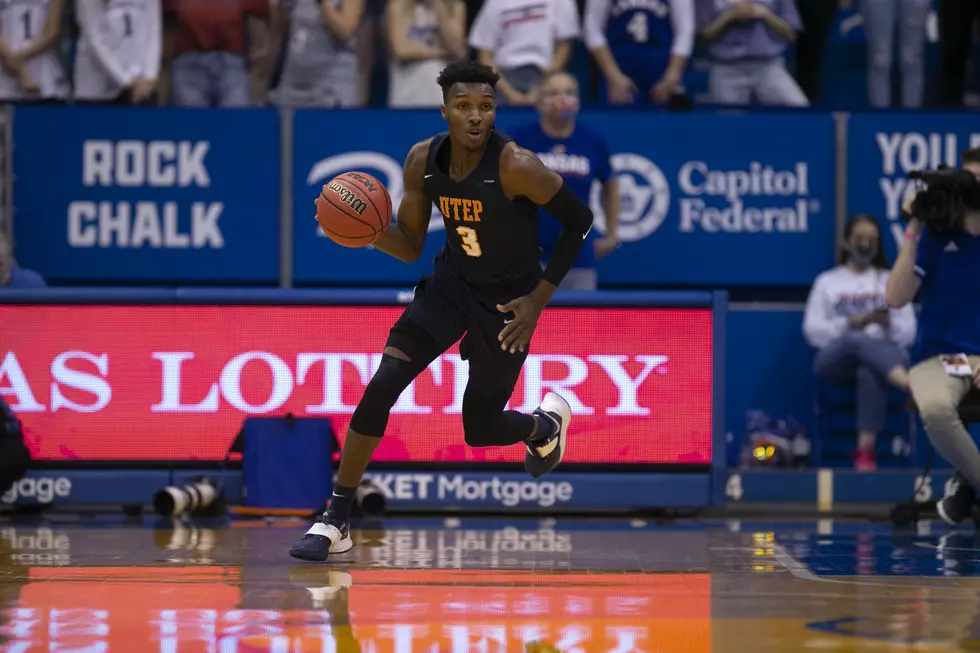 Jayhawks Overpower Outmatched Miners, 78-52
Courtesy of Brent Beerends
UTEP and 8th ranked Kansas looked far more different than their meeting nine months earlier.
Kansas looked far more sharp and efficient in their 78-52 thrashing over the Miners compared to their narrow 67-62 win back in March. UTEP faced a harsh reality on Tuesday night. They are not the same team as last season's bunch and showed they lack a true post scorer like Bryson Williams, who poured in 23 points against Kansas last March. The Miners stood no chance against this fierce Kansas team. The 2020-21 squad at least competed against the Jayhawks.
Souley Boum scored 18 points on 5-of-19 shooting, while Keonte Kennedy had 11 points on 16 attempts (5-of-16). Point guard Jamal Bieniemy didn't return out of halftime due to an unspecified injury. He collided with Kevin Kalu in the first half, which might have led to the injury.
Kansas stars Ochai Agbari (23 points) and Christian Braun (20 points) led the Jayhawks to a stout 53.6% shooting night from the field. UTEP totaled a miserable 31% from the floor.
Still, associate head coach Jeremy Cox remained positive after the loss.
"We did some good things, the biggest being in the second half-without Bieniemy who was hurt. We kept playing," said Cox. "We weren't a deer in the headlights. We were just UTEP playing against Kansas."
The Jayhawks got off to a 10-0 run to start the game. Boum had the first points for the Miners nearly seven minutes into the game. UTEP was 9-of-30 from the floor and 1-of-14 from 3-point range in the first half, never finding their groove offensively. Meanwhile, Kansas went on three separate 6-0 runs in the first half and led by 21 at the half, 42-21.
KU continued its dominance in the second half, maintaining the double-digit lead and never allowed the Miners to get in a groove.
Up next: UTEP will travel to Albuquerque on Sunday, December 12, for another tough non-conference challenge against New Mexico. Tip-off is set for 1 p.m. and the game can be heard on 600 ESPN El Paso.
Tony the Tiger Sun Bowl is Set: Miami vs. Washington State
Fans, members of the media and Sun Bowl representatives announced the Tony the Tiger Sun Bowl matchup between Miami and Washington State on Sunday.
More From 600 ESPN El Paso