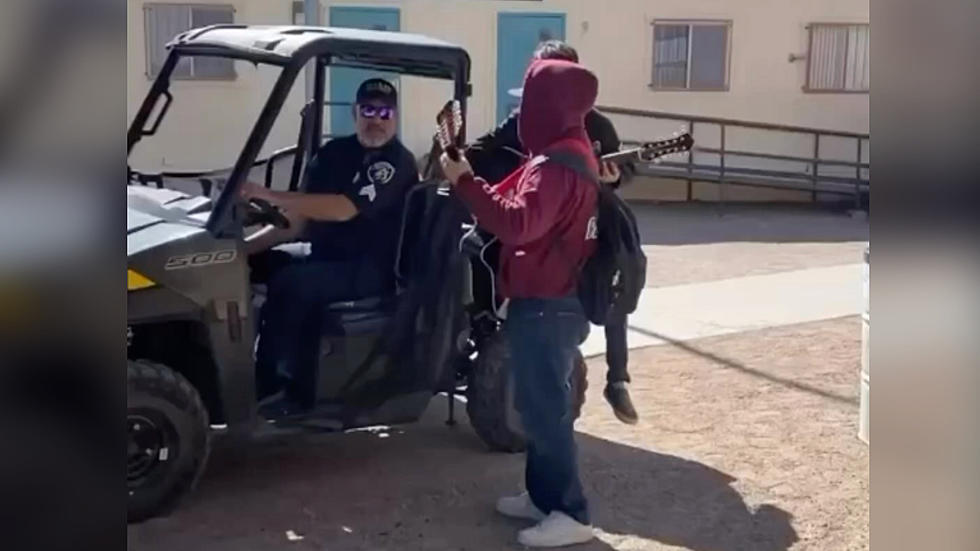 Heartwarming Video Of Santa Teresa Teens Singing With Security Officer Will Make You Smile
Courtesy: FitFam El Paso
Alright, so for a good while teens in El Paso were not doing so well. Stories of teens breaking the law and just misbehaving was all we saw in the local news and at one point it had many of us adults wondering what in the world was going on with our youth?!
Well, A few weeks ago I came across a video that was shared on FitFam El Paso's Instagram page and it restored my faith in our youth!
The video showed a few Santa Teresa high school students and a security officer having an impromptu singing session.
In the video you see two students playing their guitars and singing along with the security guard to Tragos de Margo liquor by Ramon Ayala.
The video is only a few seconds and honestly, I wish it went on longer because that security guard has some pipes!
Many people who commented on the video had nothing but positive things to say and some people even identified the security guard as Mr. Porter.
The video was a nice escape from all the hard news happening in El Paso, and many locals agreed:
"Now this is what we need to see in our high schools! Not gun violence."
"See there are some good kids out there."
"Wholesome content we're here for."

 

 

"Music brings everyone together."
"We need more people like this in the world so that we can keep the peace on earth and be a positive example for others."
I agree. Way to go Mr. Porter and kudos to those kids for taking some time to stop and enjoy the music!
EP Fire Random Act of Kindness
More From 600 ESPN El Paso