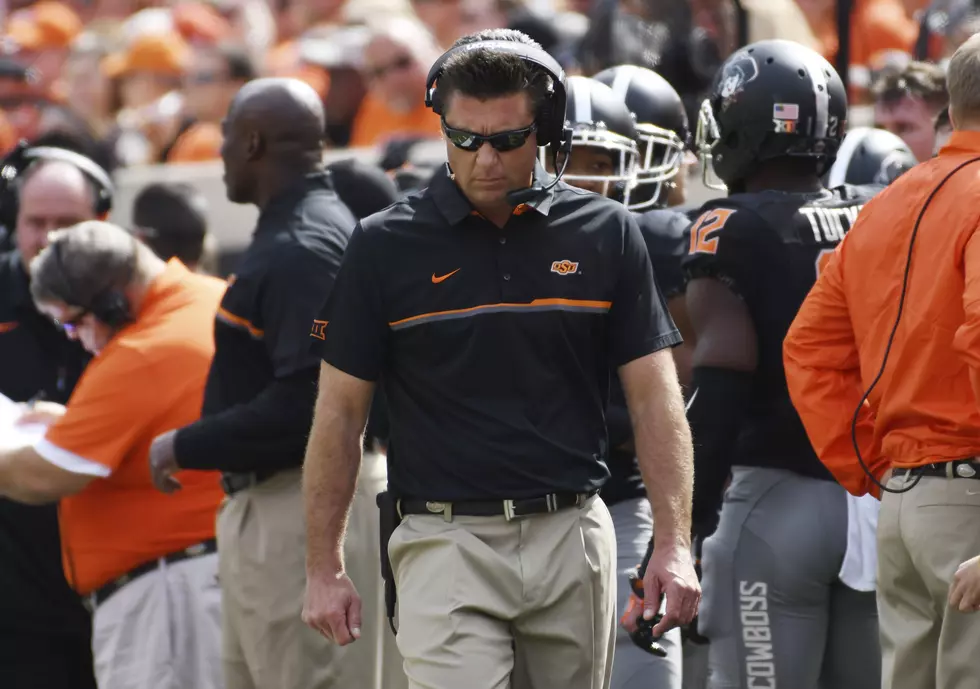 Can Texas Tech Football Pilfer Stars From Oklahoma State?
J Pat Carter, Getty Images
Update: Apparently, Coach Gundy and Chuba Hubbard have made amends. The Cowboys' head coach is now promising change within the program.
Original story: Oklahoma State Coach Mike Gundy has himself in a hell of a fix.
Coach Gundy was photographed wearing a shirt of a far, far-right TV station, and that's not sitting well with his players of color. He has even gone so far as to promote the channel.
Gundy, like everyone else, is entitled to like what he likes, but some of his players are finding the move a little tone-deaf.
Star running back Chuba Howard, who could have EASILY bailed on OSU for the NFL, said. "I will not stand for this," calling the move insensitive with everything going on. Howard flat-out said on Twitter:
Seconding that motion is all-conference linebacker Amen Ogbongbemig. And things go downhill from there.
So yeah, your boy knows nothing of transfer portals or college athletics, but these are crazy times, aren't they? Don't they call for even crazier solutions?
Can Texas Tech just pick these guys up, put them on the football team, then deny, deny, deny any wrongdoing? Can't we say, 'no that's not Chuba Howard. It's his cousin...Bubba Howard!' I'm sure Chuba, I mean, Bubba, will fit right in with the Red Raiders program.
Now I know this is just a fantasy and that these things cannot be done, but my guess is, if Texas Tech fields a team in 2020, that Halloween game against OSU just got a lot more interesting. Smart money says OSU is going to be shy a couple of players.
Wreck 'Em, Chuba...er, Bubba.
Editor's note: According to USA Today, since the publication of this article, the entire OSU offensive line, some important defensive players, and one big-time receiver, Tylan Wallace, have also joined in the protest.
27 Best and Worst Texas Tech Football Uniforms Since 2000
Wes' Top 7 Reading Recommendations
More From 600 ESPN El Paso