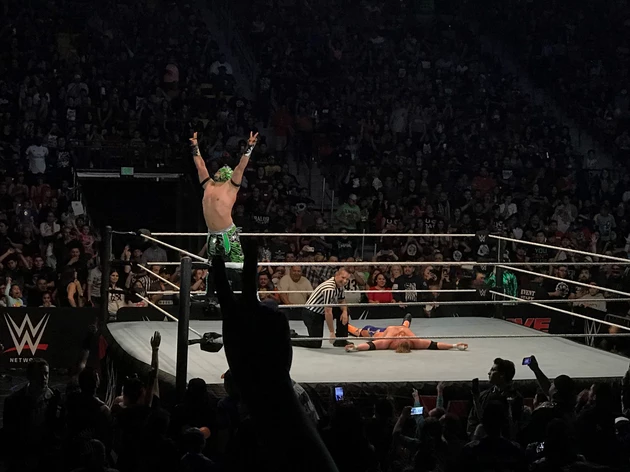 WWE Continues to Deliver Great Live Experience
Steve Kaplowitz.
I still remember the first time I was introduced to professional wrestling. It was January of 1985 and my family had just purchased a 12-foot satellite dish so my dad could watch his favorite New York sports on Madison Square Garden Network. Around that time, Vince McMahon Jr. had purchased the World Wrestling Federation from his father, and the transformation of his sports entertainment company into a global monster was already under way. That night, MSG network was airing a live wrestling show from The Garden, and my dad called me into the living room to watch "the greatest show on earth." Andre the Giant had lost a haircut match the month before to Big John Studd and Ken Patera and now the 7-5 mammoth was getting his revenge on the former World's Strongest Man. As I watched Gorilla Monsoon call the match, I was instantly hooked.
Over the years, I have had the opportunity to witness various wrestling promotions stage house shows in El Paso. I remember going to the Convention Center in the mid 80s to watch the Von Erichs, the Missing Link, the Great Kabuki, and the Fabulous Freebirds as part of World Class Championship Wrestling. In March 1989, the WWF (now the WWE) brought a televised show to the Convention Center and it featured Hulk Hogan against the Big Bossman in the main event. Andre the Giant, Randy Savage, Jake Roberts, the Ultimate Warrior, Bret Hart, Jimmy Snuka, Tito Santana, and many more stars of the era were also in town for the big show. In fact, they taped two to three weeks worth of matches that night, which aired locally for three straight Saturday afternoons. They double-sold our tickets to that particular TV taping and moved my dad to the third row at ringside. It was fun to watch the television shows and see his face, which kept popping up during all of those old matches.
Fast forward nearly thirty years and last Saturday night, I had an opportunity to attend the WWE house show in Las Cruces with my four year old son, Joel. He had never seen pro wrestling until a few weeks back when we happened to watch portions of the Royal Rumble. Like me, he was hooked the minute he watched the 30-man battle royal.
Despite being a non-televised Smackdown event, the Pan Am Center was packed with fans who were not disappointed with the action. They cheered their favorites like Kalisto, AJ Styles, Dean Ambrose, Bray Wyatt, and John Cena. I had not watched pro wrestling in many years, so I was trying to catch up with the latest heroes and villains. Fans told me that Cena has been a good guy for so many years, that many of the older diehards have grown tired of his act and now boo him. However, young wrestling fans love the champ, including my son who would not stop yelling for him during his match.
As for the in-ring action, the WWE did not disappoint. Each match lasted 10 minutes or longer and the fans received more than their money's worth. Even the 20-minute intermission was entertaining, since the WWE played trivia on the scoreboard and gave a young fan a prize package for correctly answering a few questions. My only complaint was that they did not mention the passing of El Paso pro wrestling legend Chavo Guerrero Sr., who had died earlier that day. As for merchandise, it seemed like everyone in attendance was either wearing a shirt from their favorite superstar or had a replica championship belt. I cannot begin to imagine how much money the WWE grosses in merchandise sales.
The big takeaway from last weekend is that the WWE is as popular now as it has ever been. I hope that El Paso and/or Las Cruces eventually gets rewarded with another live television show, which is considered the ultimate fan experience. As for my son's newfound passion for pro wrestling, I have a strong feeling he will follow in the footsteps of his father and grandfather.
More From 600 ESPN El Paso