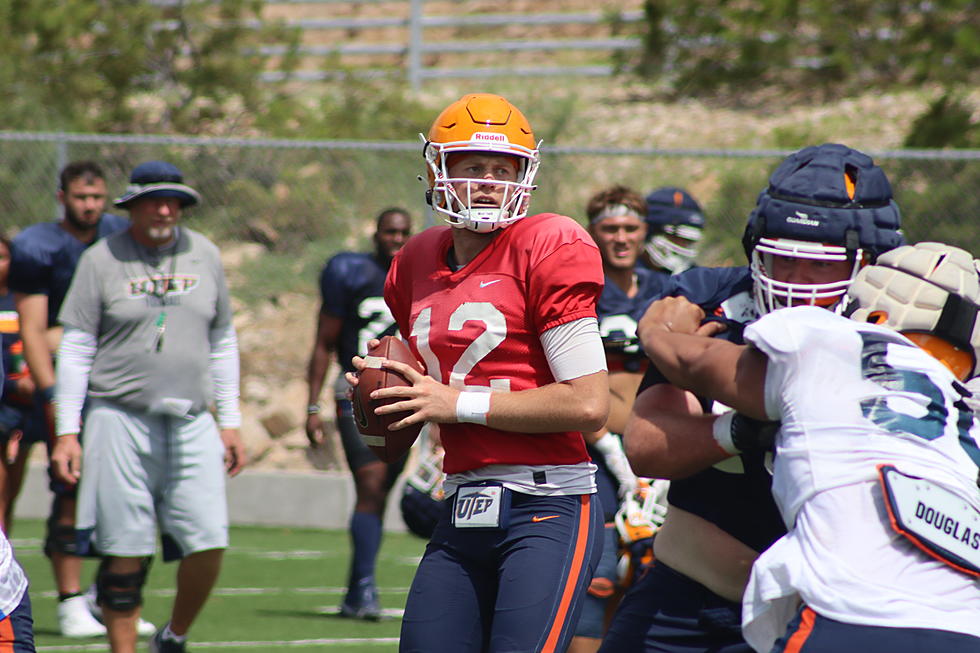 Where does Gavin Hardison Rank Among C-USA Quarterbacks? Let's Find Out
Adrian Broaddus
As the fall football season draws near, it's time to examine the quarterbacks across Conference USA and where they stack up against the competition.
There are some key returning gunslingers like Grant Wells (Marshall), Frank Harris (UTSA) and, you guessed it, Gavin Hardison (UTEP). Conversely, there are several newcomers that hope to make an immediate impact with their teams like Luke McCaffrey (Rice) and Bailey Zappe (WKU).
Let's dive into each program and projected starters at quarterback.
Marshall (Grant Wells, Luke Zban)
Projected starter: Grant Wells 
Grant Wells might be the best quarterback option in all of Conference USA because of his ability to help the offense maintain a high pace and score in bunches. Marshall ranked No. 2 in scoring offense last year across the conference with a balanced attack. He led C-USA in pass completions (165), passing yards (2,091) and passing touchdowns (18). This year, expect the Thundering Herd to become more of an air raid style of offense.
UAB (Tyler Johnston III, Dylan Hopkins, Bryson Lucero)
Projected starter: Tyler Johnston III 
Although it might be Lucero and Johnston splitting reps at times during practice, most expect that Johnston, the senior leader, will assume the role. If he's healthy for a full season, he can be a formidable quarterback. He's started 18 games over three seasons, while his backups will be serviceable in the event Johnston isn't available.
UTSA (Frank Harris, Josh Adkins, Lowell Narcisse)
Projected starter: Frank Harris
There has been a lot of dark horse buzz around the UTSA football program and one of the credits the team gets is the offense's balanced attack with quarterback Frank Harris and tailback Sincere McCormick. Harris threw for 1,630 passing yards with 12 touchdowns and six interceptions (129.4 QBR). Prior to last year, Harris had struggled through inconsistencies and injuries. Even if those prior problems were to hurt Harris in the future, the Roadrunners have depth at the quarterback position, including former NMSU quarterback Josh Adkins, to help out if need be.
Charlotte (Chris Reynolds, James Foster) 
Projected starter: Chris Reynolds 
Charlotte is in a really good place with their quarterback Chris Reynolds. He looked impressive over the course of his three seasons with the 49ers and holds program records for most passing touchdowns in a single season (22 in 2019). If he struggles at any point, the 49ers have Texas A&M transfer James Foster on the roster that could earn playing time.
Middle Tennessee (Asher O'Hara, Bailey Hockman) 
Projected starter: Bailey Hockman
Former NC State starter Bailey Hockman is now a gunslinger at Middle Tennessee under head coach Rick Stockstill. The coaching staff hopes that the former ACC quarterback can replicate what he's done in the past—throwing for 2,088 yards, 13 touchdowns and 11 interceptions last year. Hockman will have a deep stable of wideouts at his disposal this year for the Blue Raiders.
Florida Atlantic (Michael Johnson Jr., N'Kosi Perry, Nick Tronti, Javion Posey) 
Projected starter: Perry/Johnson Jr. 
Under second-year head coach Willie Taggart, the Owls want to show that they are trending in the right direction as a program. Offensive coordinator Michael Johnson's son, Michael Jr., is vying for the quarterback job against guys like N'Kosi Perry and Nick Tronti. Similar to their in-state foe FIU, FAU is undecided for their quarterback situation for the upcoming season.
Western Kentucky (Bailey Zappe)
Projected starter: Bailey Zappe
Here are some familiar faces for Miner fans—Zack Kittley (offensive coordinator), Bailey Zappe (quarterback), Jerreth Sterns (WR), Josh Sterns (WR) and Ben Ratzlaff (WR). Sound familiar? That's because all of them were playing for Houston Baptist last year and all moved to Bowling Green to become Hilltoppers. Zappe was a phenomenal FCS quarterback and he has his coach and his receivers to follow in his path. If he's able to translate his play from the FCS level to the C-USA scene, Zappe has a chance to be one of the top passers in this conference.
North Texas (Austin Aune, Jace Ruder)
Projected starter: Jace Ruder 
The Mean Green will likely bring their quarterback battle to the first week of the season. Jace Ruder was a backup to Sam Howell at North Carolina and played sparingly in 2020. Austin Aune passed for 1,650 yards, 13 touchdowns and four interceptions in an up and down season last year.
Louisiana Tech (Austin Kendall, Luke Anthony, Aaron Allen)
Projected starter: Anthony or Kendall
West Virginia transfer Austin Kendall is expected to contend for the starting job with the Bulldogs. He was a very late addition and could be the day one starter if Luke Anthony is still dealing with offseason injuries. Kendall is a former Top-10 quarterback recruit coming from high school. Anthony threw for 1,479 passing yards, scored 16 passing touchdowns and threw five interceptions in 2020.
UTEP (Gavin Hardison) 
Projected starter: Gavin Hardison
Usually near the fall camp period, UTEP is talking about a quarterback battle among their team. This year, they know their guy is Gavin Hardison and now the coaching staff is determined to help the New Mexico native to take the next step in his game. He has a strong arm and Hardison packed a ton of potential in year one. Things like pass completion percentage and decision making is where he can make the next step this year.
Old Dominion (D.J. Mack, Stone Smartt, Hayden Wolff) 
Projected starter: D.J. Mack
Maybe Mack isn't the starter on day one for the Monarchs, but by the end of the season, the UCF transfer has a chance to take over the role for Old Dominion. The Monarchs didn't play a football season last year, which likely translates to the squad throwing out an unproven quarterback into the fire. Freshman Hayden Wolff tossed two touchdowns in three starts back in 2019, and he could end up being the game one starter for ODU.
Rice (Luke McCaffrey, Jake Constantine, Wiley Green)
Projected starter: Luke McCaffrey
The Owls lacked a true starter at the quarterback position over the offseason following the departure of grad transfer Mike Collins. Head coach Mike Bloomgren looked at three options: FCS transfer Jake Constantine (Weber State), Jovoni Johnson and Wiley Green. Four-star quarterback and Louisville transfer Luke McCaffrey transferred to Rice and is now the clear favorite among the bunch to take the reigns at the position. If he's able to live up to high expectations, McCaffrey might be able to help turn the Owls into a serious contender.
FIU (Max Bortenschlager, Kaylan Wiggins, Grayson James, Haden Carlson) 
Projected starter: Bortenschlager or Wiggins 
The FIU Panthers lack a real identity on offense and not having a clear-cut signal-caller hurts things as well. Maryland transfer Max Bortenschlager received first-team reps in the spring and looks like the team's first option at quarterback. If he struggles, they could easily go toward a dual-threat quarterback in Kaylan Wiggins.
Southern Miss (Trey Lowe, Tee Webb, Ty Keyes) 
Projected starter: Trey Lowe
The Golden Eagles lost their former starter Jack Abraham to the transfer portal, which opened up a three-way competition for the job this year. Most expect Trey Lowe to get the job since he had experience replacing Abraham last year at times. It might not matter who will be leading the way at quarterback. This team is a run-first group led by Frank Gore Jr., who totaled 708 yards in 10 games.
El Paso High Ghost Girl & 14 Other Undeniably Creepy Listener Submitted Ghost Pics
More From 600 ESPN El Paso