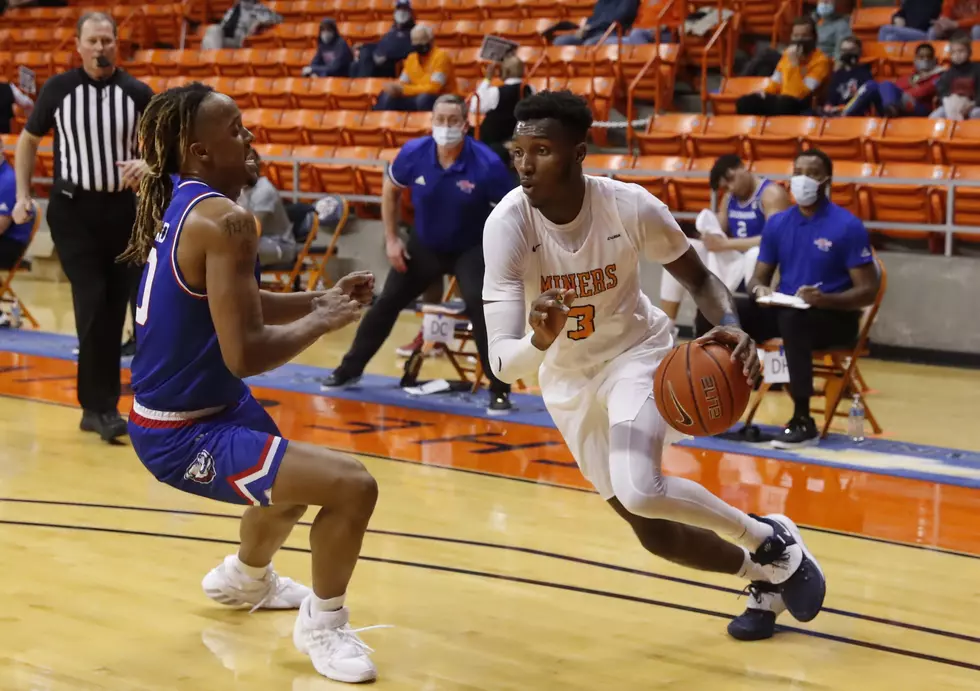 UTEP vs. UAB: 3 Things You Should Know for the Series
Ruben R Ramirez
Following a series split against UTSA, the Miners will look to face one of its toughest tasks yet in C-USA as they travel to face UAB on Friday and Saturday.
Friday's game tips off at 5:30 p.m., while Saturday's game is set for 3 p.m. in Bartow Arena.
Who: UTEP (8-8, 4-6 C-USA) at UAB (14-2, 7-1 C-USA)
When: Friday, 5:30 p.m. MT
Where: Bartow Arena, Birmingham, Ala.
Listen: 600 ESPN El Paso (MinerTalk following the game)
Watch: ESPN+
Here are a few things you should know before tipoff:
Attacking the zone 
UAB boasts an extremely tough defense, alternating between different zone setups and throwing in the press as well. They enter the series with the best record in the league, having won four straight games.
The Blazers are the best in C-USA and third across the country in scoring defense (58.1 points allowed). They are the top team (13th in NCAA) for field goal percentage defense (38.8) and scoring margin (+16.1). Like the Miners, UAB hardly turns the ball over at just 10.0 per game.
On the other side, UTEP is 0-7 this year when scoring 68 points or less, while UAB is unbeaten (13-0) when it holds teams to 68 or fewer. The Blazers' stifling defense has allowed just 64.6 points over the last five contests.
A couple of things favor UTEP with all of these numbers still in mind. They are second in the conference (21st in NCAA) for fewest turnovers per game (10.8). On the scoring side—even though it hasn't been at a consistent rate—the squad has scored 69.5 points in C-USA, compared to their 66 per game average in non-conference. In their last outing versus UTSA, they allowed a season-low 51 points and held the Roadrunners to 29.5 percent shooting.
As for attacking the zone, it will be one of the Miners' toughest tests all year.
"I think you have to be assertive and find a good rhythm in how you want to go about attacking the different defenses," said head coach Rodney Terry. "We've been fairly good about attacking a 1-3-1, a press, back to a 2-3. The biggest thing, you have to flow and you can't get caught up in what they're in. You got to do a good job at taking care of the basketball. They average nine steals per game."
"We feel like we're a good defensive team. We've guarded some tough teams this year. I don't care if you talk about some of the Pac-12 teams we've played this year. We've guarded with energy and intensity. When we finish possessions, we go to another level defensively. That's what we'll have our hands full in this game. We'll have to do a great job defensively with these guys.
UTEP simply isn't relying on their bench 
A deep rotation is out the window with this Miners squad. History has shown that Terry prefers a seven/eight-man rotation for his squad during league play. With junior forward Efe Odigie not back from concussion protocol, that rotation has been trimmed even more. Freshman point guard Vuk Vulikic and junior forward Gilles Dekoninck saw some playing time off the bench against UTSA, but the team has favorably looked at their starters to carry the weight of the minutes.
Starters Souley Boum, Bryson Williams, Jamal Bieniemy, Keonte Kennedy and Tydus Verhoeven each average upwards of 28 minutes per game, while Boum and Bieniemy specifically play close to 35 minutes each game.
Boum leads the team in scoring (17.8 ppg), followed by Williams (15.3 ppg, 6.8 rebounds per game) and Bieniemy (10.5 ppg, 4.3 assists per game).
For off-the-bench contributors like forward Kristian Sjolund and guard Christian Agnew, it has been a fight for minutes. Agnew and Sjolund average 18.5 minutes and 13.6 minutes, respectively, during C-USA play. Though, their production on the floor is evident in each game.
Agnew is the team's best backcourt defender by far. He brings a firey, aggressive game to the table, as he totals 5.7 points and 2.8 rebounds per game off the bench. At times he's a bit turnover prone offensively.
Sjolund continues to be lights out from 3-point range. In fact, he's shooting 50% for his 3-point field goals (12-for-24). Lately, Sjolund has struggled to get minutes off the bench.
"I think Kristian and some of our other guys have had to get better as the season has gone along," Terry said. "We didn't have a summer. Sometimes in the summer, you're able to hone in on some things you do. As he gets more and more comfortable in what we're doing and he's not thinking as much and he's just playing, I think he'll be much more productive as things go along. But he's a guy that obviously brings shooting and athleticism."
Back to backs continue to be tough for UTEP
Through eight road contests, UTEP has shown that consistency is hard to come by. They've lost three straight road games, where they've scored 59 points and allowed opponents to score 74.3 points. They have just one win on the road in league play this year and have put together a 2-6 road record. Not to mention the fact that the Miners are 2-8 in Bartow arena all-time. Similarly, the back to backs for UTEP show that they still can't grasp consistency. The bunch hasn't won a series outright, having split four series thus far.
UAB holds three straight victories against the Miners going into Friday's game. The Blazers enter the game boasting an 11-1 home record and have won their last five home games, where they've scored an average of 72.2 points and held opponents to 62.4.
Woof. Back to back series are usually tough for the Miners. But like their series sweep against North Texas, the team is going to have their hands full against UAB on Friday and Saturday.
"[Back to backs] have been something that we've never had to endure," Terry said. "Initially, it sounded great when you were trying to get the games in this year. But if we all had a chance to make the vote again, we probably would say Thursday-Saturday because that one day makes a huge difference. Not so much of a physical standpoint, but more of a mental standpoint."
KEEP READING: See how sports around the world have been impacted by the coronavirus
More From 600 ESPN El Paso