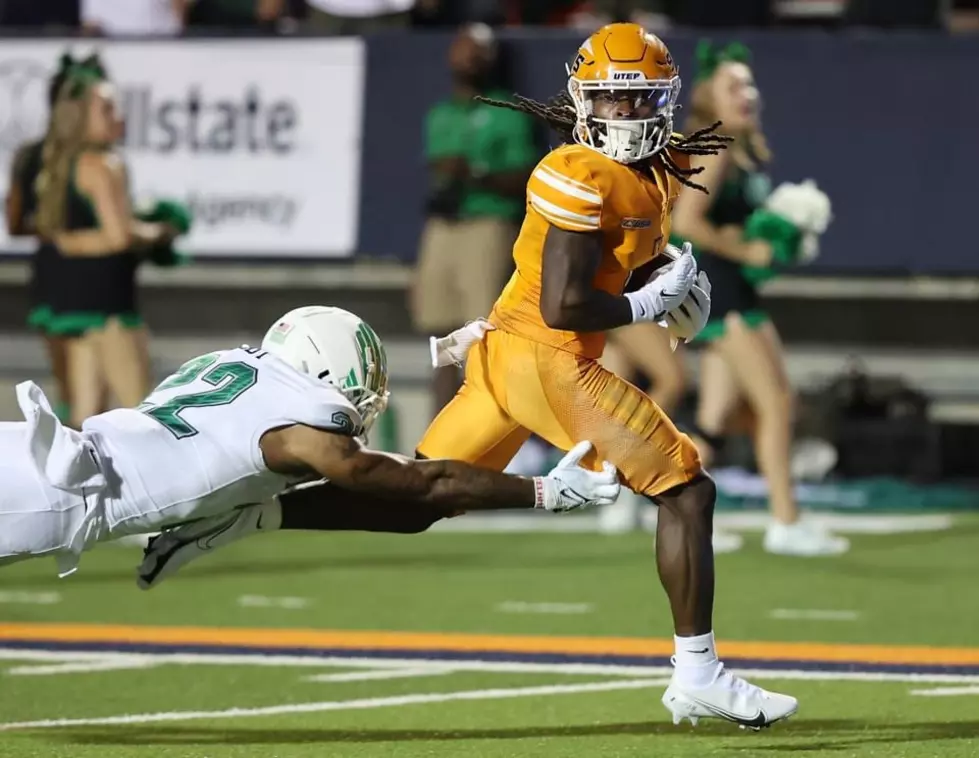 UTEP vs. Oklahoma: 3 Final Keys Before the Miners Meet the Sooners
Photo courtesy of Ruben R. Ramirez
Following a disappointing 31-13 week zero home loss to North Texas, the Miners have the arduous task of heading to Norman to face ninth-ranked Oklahoma on Saturday.
This is UTEP's first trip back to Oklahoma since the Sooners beat UTEP, 56-7, under former head coach Sean Kugler.
UTEP at #9 Oklahoma | Saturday, Sept. 3 at 1:30 p.m. MT 
Listen live: KLAQ (95.5 FM) or online at KLAQ.com
MinerTalk post-game on 600 ESPN El Paso, presented by the Oscar Arrieta Agency 
Last meeting: Oklahoma 56 - UTEP 7, 2017 
Betting line via FanDuel: Spread: Oklahoma -30
Total: 57 over/under
Get out of Norman healthy 
Let's be real. A four-plus touchdown underdog isn't the spot UTEP fans want this team to be in week one of the college football season. But what did fans expect? Fans should expect the Miners to give it their all against the Sooners... for the first quarter.
New Sooners head coach Brent Venables wants to get fans excited about this year's squad and tomorrow will be their home opener in front of 86,000+ fans. Read Steve's story talking about what to expect from OU this weekend here.
Simply look at the numbers. UTEP is just 4-56 against AP Top-25 all time. The Sooners lead the all-time series 4-0. The program is also 1-37 overall on the road against top-25 teams, with their last win coming against Arizona State (#14, 1974).
For the Miners, who have NM State on their schedule next week, they need to get out of Oklahoma unscathed. The Miners can't afford to have any injuries in this game whatsoever with the understanding that the Battle of I-10 becomes a must-win for UTEP. That might mean conservative play calling, lots of action from punter Josh Sloan and reserves playing a good chunk of the second half.
So what does UTEP have to gain by playing OU? Well, if you're UTEP, this is a chance to get a fat payday from Oklahoma and try to look respectable on national TV.
Score more points than last week 
The 13-point performance by the offense against North Texas, including a scoreless second half, felt underwhelming to say the least by the Miner offense. They went 0-for-3 in red zone touchdown attempts and 2-for-3 in red zone field goals. They turned the ball over on downs on four different occasions inside UNT territory.
The glaring issue seems to be running the ball effectively. UTEP averaged under 4.0 yards per attempt on the ground against North Texas. Running backs Ronald Awatt and Deion Hankins struggled to get going on the ground and the offensive line failed to open up opportunities in the run game.
Quarterback Gavin Hardison finished with 293 passing yards in the season opener and a touchdown, but completed just 44% of his passes. He has to be more efficient and limit turnovers on Saturday.
Asking to score points against a Venables-led team sounds like a tall task. But the Miners need some momentum offensively as they prepare for the Battle of I-10 next week.
Get off on 3rd downs defensively 
UTEP's defense made plays and played decent football against North Texas last week. The glaring issue was allowing third down conversions, which was a problem in 2021 as well. North Texas converted six of their first eight third down conversions against UTEP, including a pair of touchdowns on two separate third down plays.
OU quarterback Dillon Gabriel has been around college football for a while now and could be a problem for the UTEP defense. Moreover, the Sooners have a heap of strong running backs that can also impact the game in multiple ways.
The Miner defense has to try and disrupt Gabriel and shut down the run game. Easier said than done. Though, if the Miners are able to get off on third downs, this game can look a lot better in the final box score.
Prediction: Oklahoma 56 - UTEP 7 
All The Big Moments From UTEP Football's Win Over Bethune-Cookman
The UTEP Football team defeated Bethune-Cookman 38-28 last Saturday night to start the 2021 college football season with a 2-0 record for the first time in 16 years.
More From 600 ESPN El Paso