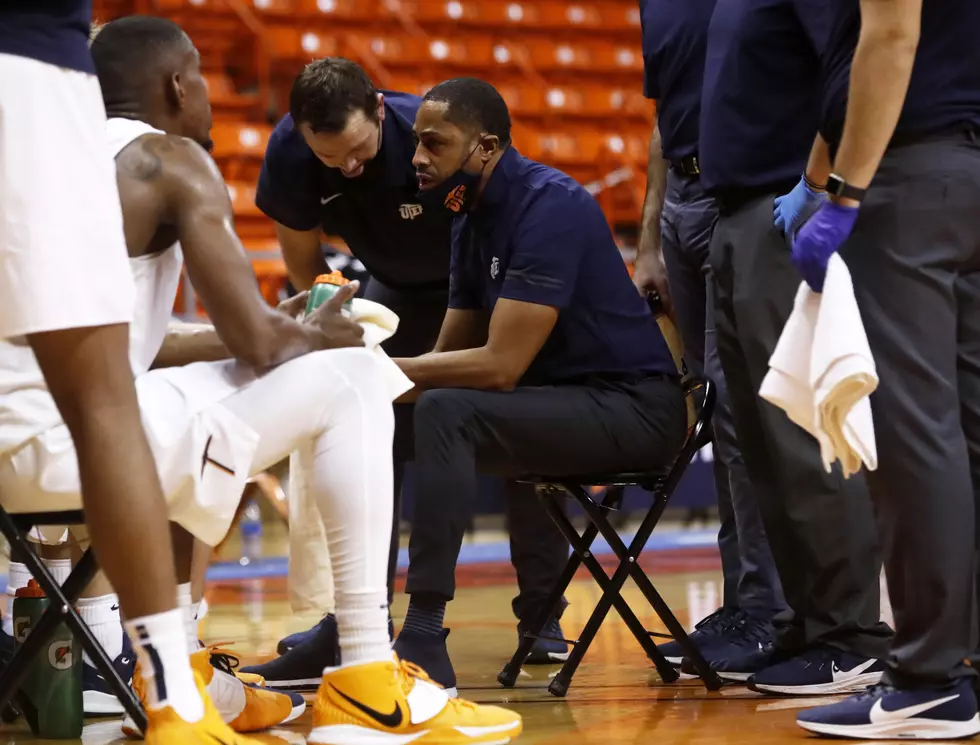 UTEP Men's Basketball Offseason Recruiting Outlook
Ruben R Ramirez
The offseason is here for the UTEP men's basketball team, which is the period that the program will deal with roster management, including transfers leaving the program and recruits committing to the team.
Head coach Rodney Terry, who will enter his fourth season at the helm this winter, stressed the word "continuity" when speaking about his team next season following the team's loss to Florida Atlantic in the C-USA Tournament.
Last year, the team saw six different players enter the transfer portal over the course of the offseason. This year, the team expects to try and retain as many players as possible from their core eight-man rotation: Jamal Bieniemy (PG), Souley Boum (SG), Keonte Kennedy (SG) Bryson Williams (PF), Tydus Verhoeven (PF), Kristian Sjolund (PF), Christian Agnew (SG) and Efe Odigie (PF).
Easier said than done.
College basketball has already seen nearly 900 players enter the transfer portal and we aren't even done with the NCAA Tournament. Significant players in C-USA have already declared their intentions to transfer out, such as James Reese of North Texas and Jerrod West of Marshall.
Since wrapping up the season about two weeks ago, UTEP has only seen one player enter the transfer portal. Backup point guard Vuk Vulikić entered the portal on Thursday, as the 21-year-old freshman will try to transfer to another program or go back home to Serbia to play. Maybe some of the other non-rotational players end up following Vulikić and leave the program.
But the key is trying to keep the core eight-man group. This year's group had unfamiliarity. The 2019-20 group was brand new and hadn't played with each other. The 2021-22 squad needs the "continuity" Terry preached. Starting back at square one with a whole new batch of players is the last thing this team needs going into next year.
Williams, who wrapped up his senior year, is an essential name. He can elect to return to the team next year if he sees that pro basketball aspirations might not be clear-cut. He could end up playing overseas if he chooses to do so. Or, he could follow guys like Reese and West as a graduate transfer to a contending Power-5 program. Williams earned Pac-12 interest before he transferred to UTEP from Fresno State. His future is completely up in the air.
The rest of the team's status is uncertain. Though, for a team that is made up of primarily Division I transfers, it might be difficult for some of the members to transfer away.
As it currently stands now, the Miners will still need to add some more pieces to their group. They need to develop more depth in their frontcourt. They are tasked to desperately find more shooters. And, they will need to add a backup ball-handler to provide relief to Bieniemy.
So far, UTEP has one commitment from Illinois State basketball transfer Keith Fisher. The 6-foot-8 senior forward averaged 9.6 points and 6.0 rebounds for ISU in 2019-20 after opting out of the 2020 season. He averaged 10.4 points and 6.3 rebounds for San Jose State in his first season of college basketball in 2017-18.
In addition, the Miners are targeting Cal State Bakersfield transfer Taze Moore, who is a combo guard listed at 6-foot-5.
Follow along at 600 ESPN El Paso for recruiting news throughout the offseason.
More From 600 ESPN El Paso