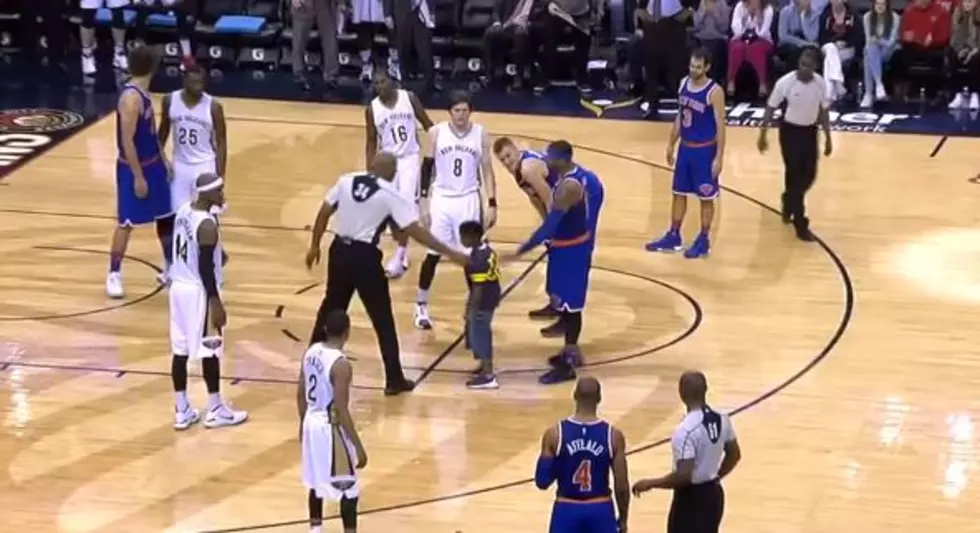 The NBA Might Need Better Security to Protect Players
Ximo Pierto Final via YouTube.
By now, most of you have seen the video of the cute little kid who rant onto the court during last night's NBA game between the New York Knicks and New Orleans Pelicans. The incident took place late in the 4th quarter with the Knicks trailing the Pelicans by seven points. At first, Anthony looked startled, but he soon warmed up to the young fan when he hugged the leg of the Knicks star.
"That never happened," Anthony said after the game. "That was the first time. Very surprised. He was a little kid. I was shocked. I really didn't know who was it until I looked down."
Despite the fact that the little boy was harmless and just wanted to hug Carmelo, the incident does make you wonder if the NBA needs to enforce better security to protect its players, coaches, and referees. It was just too easy for the kid to leave his seat in New Orleans and rush the court. What if it was an older fan who took a swing at a player? Anthony even admitted that it was a security issue, but "it was a little kid."
In New York City, any fan who walks onto the court during a game is subject to an arrest and possible fine. The "Calvin Klein Law" was passed in 2003 after the fashion designer walked onto the court at Madison Square Garden to try and chat with Knicks player Latrell Sprewell. Obviously a rule like this shouldn't apply to the little boy in New Orleans last night, but it will be interesting to see how the NBA addresses the issue.