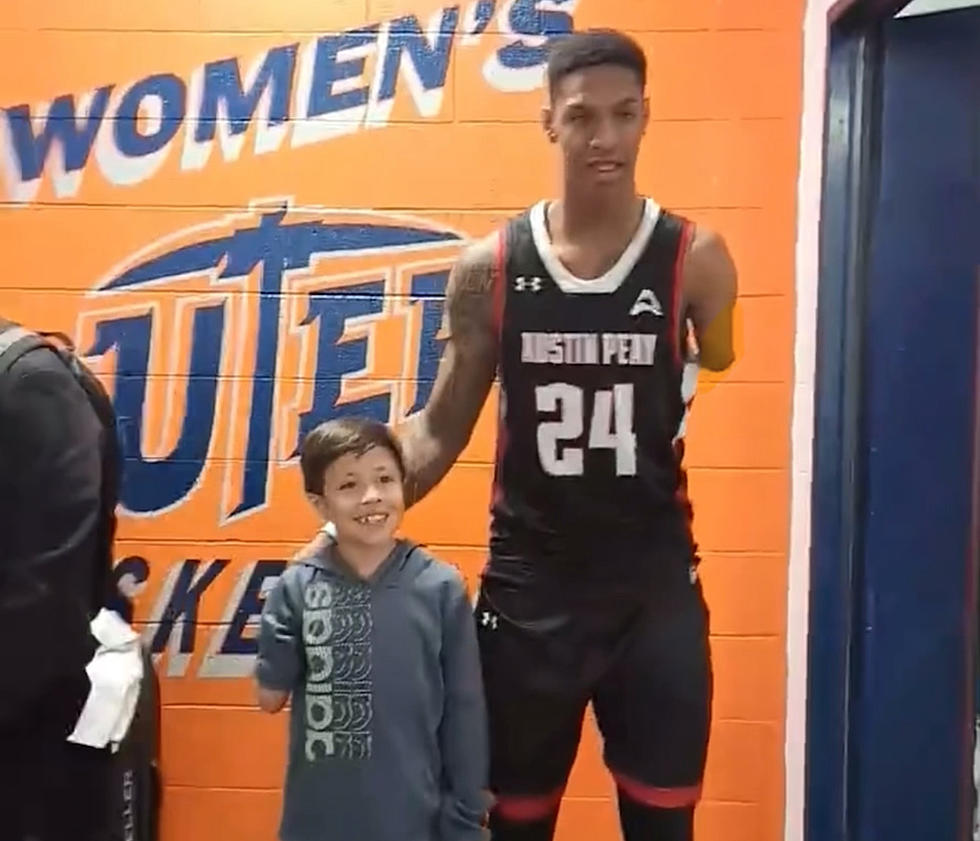 Austin Peay's One-Armed D1 Hoops Player, Hansel Enmanuel, Connects with Young Fan in El Paso
Courtesy of Joe Rodriguez
In what was an extra special moment between a fan and player, our own Joe Rodriguez captured an unforgettable moment from a player with an inspiring story.
UTEP won its fourth game (4-0) against Austin Peay, 71-63, on Friday night. Despite the nice start for the Miners, that wasn't the story after the game.
Austin Peay one-armed guard Hansel Enmanuel—who has been a viral sensation on social media for his basketball prowess since his youth basketball days—met with a fellow one-armed boy, Eli, after the game. After Enmanuel signed an autograph for him. the two posed for a photo together. It was a special moment for the two, as Enmanuel serves as an inspirational story.
Watch the interaction here:
Enmanuel, who joined coach Corey Gipson in his move from Northwestern State to Austin Peay, has scored six points this season and logs 18 minutes per game for the Governors. He totaled four rebounds and three steals on Friday against the Miners.
A native of the Dominican Republic, Enmanuel (6-foot-6) earned internet notoriety for his thunderous dunks, high-flying play style and, of course, his story. ESPN reported that Enmanuel lost his left arm after a cinderblock wall collapsed and fell on top of him. He was trapped for hours, resulting in his arm having to be amputated at only 6 years old.
He came onto the scene at Life Christian Academy, where he joined after traveling from the Dominican Republic. He was rated a 3-star prospect after averaging 26 points, 11 rebounds and seven assists. Check out some of his highlights:
He has 1.6 million followers on Instagram and continues to be an inspirational story to the basketball world. And for the young fan Eli, his Friday night was made after meeting Enmanuel.
More From 600 ESPN El Paso