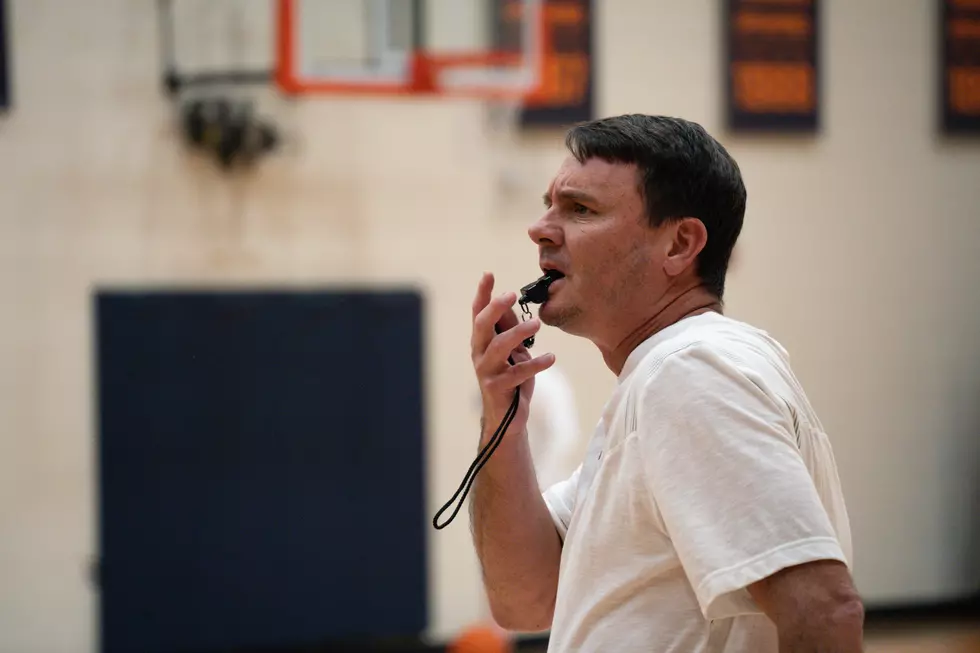 UTEP Basketball Receives Commitment from Seven-Foot High School Prospect for Final Scholarship
UTEP Athletics.
The UTEP men's basketball program landed a commitment from class of 2023 center Babacar Mbengue (7-foot, 225 lbs) from Olympus Preparatory Academy in New Jersey. The seven footer will take the final scholarship that the Miners had for the upcoming season.
The plan will be to redshirt Mbengue for the 2023-24 season and develop him within the system for next year, sources told 600 ESPN El Paso.
A 3-star recruit, Mbengue was ranked the No. 7 prospect out of New Jersey by 247 Sports. He received interest from the likes of Texas, Arizona State, USC, Kansas State, Xavier, Utah and Mississippi State. He initially signed with DePaul in November of 2022 before decommitting on April 23.
Adam Finkelstein, director of scouting at 247 Sports, said this about the new UTEP signee:
"Mbengue is an athletic and mobile big. He has good size and a solid frame that is well defined as it continues to fill-out. He runs and moves fluidly for his size and gets off his feet well. He impacts the game by being a shot-blocker, emphatic finisher, and consistent lob threat. He's an active offensive rebounder, but needs to find a better balance between protecting the rim and still finishing defensive possessions on the glass. He's a very limited scoring threat away from the rim. His hands are a little questionable and can appear hard at times. He shows flashes of being able to turn both shoulders in the post, but only in very close proximity to the rim. He's not without a bit of touch to develop, but drastically short-arms his release, really struggles to make free-throws, and even draws fouls at a low rate. Overall, he has legit size and the ability to change the game at both rims, but needs to keep developing the areas in-between."
As Finkelstein suggested, Mbengue has the upside to be a solid two-way big for the Miners. This is the first 7-footer UTEP's had on their roster since Matt Willms (7-foot-1) played for the men's squad in 2018. Mbengue will get to develop under associate head coach Jeremy Cox, who was tasked with improving players like Ze'Rik Onyema, Calvin Solomon and Derick Hamilton,
Here are AAU highlights from Mbengue:
Current Roster Breakdown 
Way-too-early depth chart preview
PG Zid Powell / Corey Camper / Antwonne Holmes
SG Tae Hardy / Baylor Hebb / David Terrell / Trey Horton
G Otis Frazier / Garret Levesque
PF Calvin Solomon / Elijah Jones / Jonathan Dos Anjos
PF Kevin Kalu / Derrick Hamilton / Babacar Mbengue
Newcomers: G Corey Camper Jr. (Tyler Junior College), G Baylor Hebb (Colorado State), G David Terrell (Mansfield High School), G Trey Horton (Providence Day High School), F Elijah Jones (Eastern Carolina), G Yazid Powell (Buffalo), C Babacar Mbengue (Olympus Preparatory Academy)
Departures: Shamar Givance (Graduation), Ze'Rik Onyema (Transferred to Texas), Jamal Sumlin (Transfer Portal), Malik Zachery (Transfer Portal), Mario McKinney Jr. (Transfer Portal), Carlos Lemus (Transfer Portal), Jamari Sibley (Transferred to Southern Utah)
More From 600 ESPN El Paso