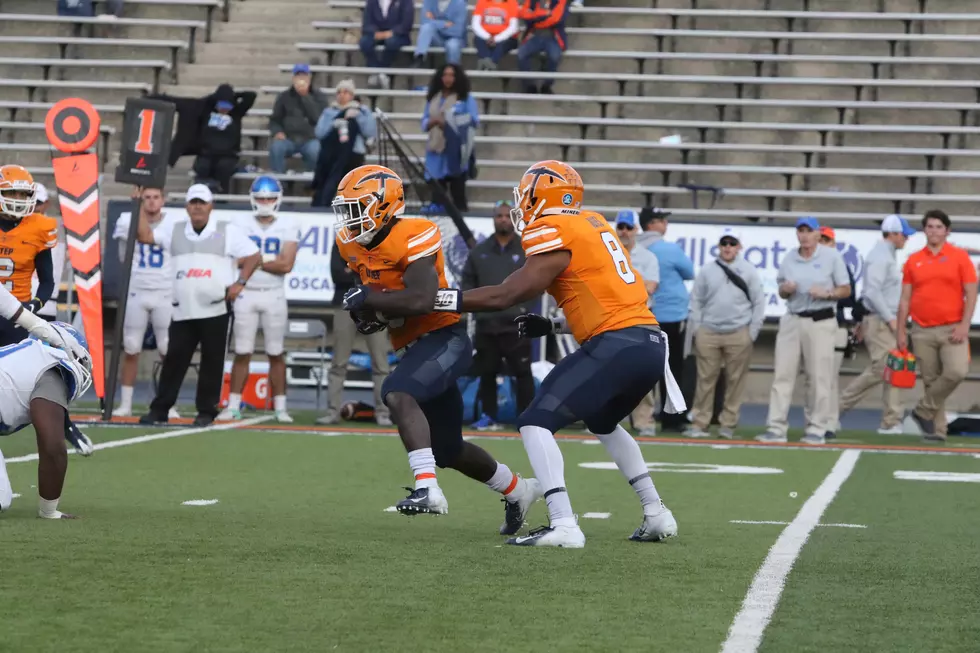 Southern Miss Stomps the Miners 39-7 on 'Senior Day'
Matthew Metz
UTEP committed four turnovers, including three interceptions, as Southern Miss rolled over the Miners 39-7 on "Senior Day."
Southern Miss (6-5) clinched their fourth bowl berth in a row, while UTEP (1-11) hasn't won a home game in two seasons (0-11).
"Obviously the start wasn't what we wanted it to be," UTEP coach Dana Dimel said. "We went in with the direct focus of eliminating turnovers, because I really felt like our defense matched up well against these guys and could hold their own if we didn't put them in bad situations early in the ballgame. But we had too many costly turnovers, three more interceptions in the game and then the fumble there to start the second half. We've got to eliminate those things, we've got to be more disciplined with our decision making."
The Miners started off lost and confused for the third straight week. Quarterback Brandon Jones, who started in place of the injured Kai Locksley, threw an interception on his first passing play of the game. It marked the team's third consecutive week where they turned the ball over on the opening offensive possession, and it was also the third straight game where UTEP was down two scores (9-0) within the first six minutes.
"Brandon had some really good games. He did not have a good game today," Dimel said. "That was disappointing but he showed some good things. Down the stretch here, we had seven offensive linemen healthy for this ballgame. We're playing guys who haven't played all year up front. And that makes us more one dimensional in what we do and we can't establish the run game."
The Miners were shut out at the half for the second week in a row (19-0). Southern Miss out-gained the Miners 157-77 for total offense in the first half, while holding UTEP to just 12 passing yards. 
The game looked like it was going to be a shutout after Southern Miss forced its third interception on Jones in the fourth quarter, as they led 39-0.
With just seven seconds left on the clock, Jones hit senior wideout Erik Brown for a 41-yard touchdown pass to make it 39-7. Prior to the final drive, Jones had just 52 passing yards with three interceptions. He finished the day completing 11-of-23 passes for 114 yards, five sacks, one touchdown and three interceptions.
Wadley led the Miners on the ground with 11 carries for 31 yards.
Southern Miss finished the game out-gaining UTEP 378-187 on the day. They held UTEP to converting just 2-of-12 third down plays and limited UTEP to 73 rushing yards.
Running back Trivenskey Mosley led Southern Miss with 107 rushing yards and a touchdown, while running back Steven Anderson chipped in with 92 yards on the ground and a touchdown.
Graduate transfer A.J. Hotchkins finished with nine total tackles, 2.5 tackles for losses and a sack against the Golden Eagles. He tied as the C-USA regular season leading tackler with 126 total tackles on the year.
UTEP will now turn its focus to the 2019 season, as Dimel says the team has 11 scholarships to give, three of which have been taken and JUCO/graduate transfer players being atop the team's most desired. Dimel says the team is in need of defensive backs, linebackers and a tight end, above all.
"I think they've really learned how to compete and to stay in ballgames and battle, and be that type of a football team that battles and has pride in what they do," Dimel said. "So I've been very happy with the progress and the buy-in that they've had. I brought the guys up on the field at the end of the game and wanted to talk to them about that and what the seniors have done for this program, and how proud I am that they've been able to contribute and of where they've taken us.
"Obviously, it's a development process for us. We had our ups and downs this year. We showed some stretches where we played really good football. Even when we were beat up and battered, we played some really good football. We have taken some steps, but in the end injuries just got to be insurmountable for our football team."
More From 600 ESPN El Paso