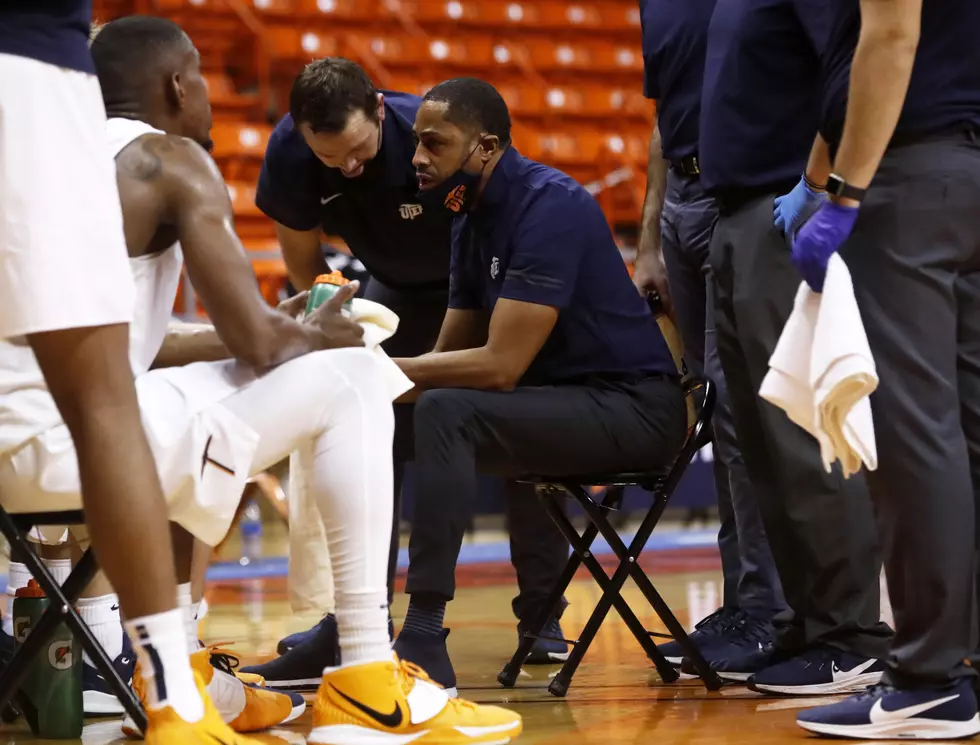 Saint Mary's Steams Through UTEP in First Road Game, 73-61
Ruben R Ramirez
Rodney Terry said that we will learn a lot about the Miners during this three-game road stretch.
As they fell 73-61 to Saint Mary's College in their first game of the road swing, one thing was learned about the team: UTEP has a ways to go this year.
Saint Mary's boasts a 47-5 record at home during non-conference play over the last six seasons. They are now on a five-game winning streak and saw Tommy Kuhse (24 points) and Matthias Tass (14) combine for 38 points against UTEP.
The Miners also had a pair of players combine for 38 points in the duo of Souley Boum (21 points) and Bryson Williams (17). The problem was, they were the only two Miners to get to double figures on Tuesday night in Moraga, Calif. Tydus Verhoeven (6), Keonte Kennedy (6) and Kristian Sjolund (5) were the other scoring options, but it wasn't enough to stay competitive down the stretch of this game.
"We did a lot of good things in terms of working the game, and really we're still trying to season ourselves a little bit. [Saint Mary's College] has played five games to this point and played some pretty good competition, and have a feel for who they are," third-year head coach Rodney Terry said. "They shot over 61 percent in the first half and they ended up getting to the foul line 14 times. We really didn't do a great job of putting pressure on the basket and getting ball movement."
Through the first half, the Miners had several abysmal shooting stretches and simply couldn't stop the tandem of Kuhse and Tass. After holding the 12-11 lead at the 12:56 mark, the Miners allowed Saint Mary's to go on a 24-6 run. The Gaels led by as much as 17 through the last stretch of the opening half, where Williams racked up two quick fouls and spent time on the bench.
The Gaels shot 62 percent from the floor (13-of-21) and 50 percent from 3-point range (2-of-4), while attempting 14 free throws (10-for-14) in the opening period. Kuhse (14) and Tass (10) combined for 24 in the first half alone. The Miners, on the other hand, had major shooting woes in the opening half, going 39 percent on field goal attempts (14-of-36), 13 percent from 3-point land (1-of-8) and didn't attempt a free throw shot.
Although UTEP came into the second half with a little more urgency to start, they had no way of sustaining it.
The Miners cut the Gaels' lead to four points after back-to-back 3-pointers by Williams. Then, Saint Mary's went on a run that the Miners simply couldn't climb back from.
Starting point guard Jamal Bieniemy, who returned after being inactive against Sul Ross, struggled in this game in the shooting category (1-of-8, 2 points) but had a team-high four assists and three steals. Williams led the team with eight rebounds.
Next up: The Miners (2-1) will face Pac-12 affiliate Arizona (4-0) on Saturday in Tucson, Ariz. The Wildcats previously had NM State scheduled for Saturday, Dec. 12, but the Aggies were forced to pause football operations after a positive COVID-19 case internally. The Miners, who weren't scheduled to play until Dec. 16 against Arizona State, replaced NMSU and will play Arizona this week.
More From 600 ESPN El Paso