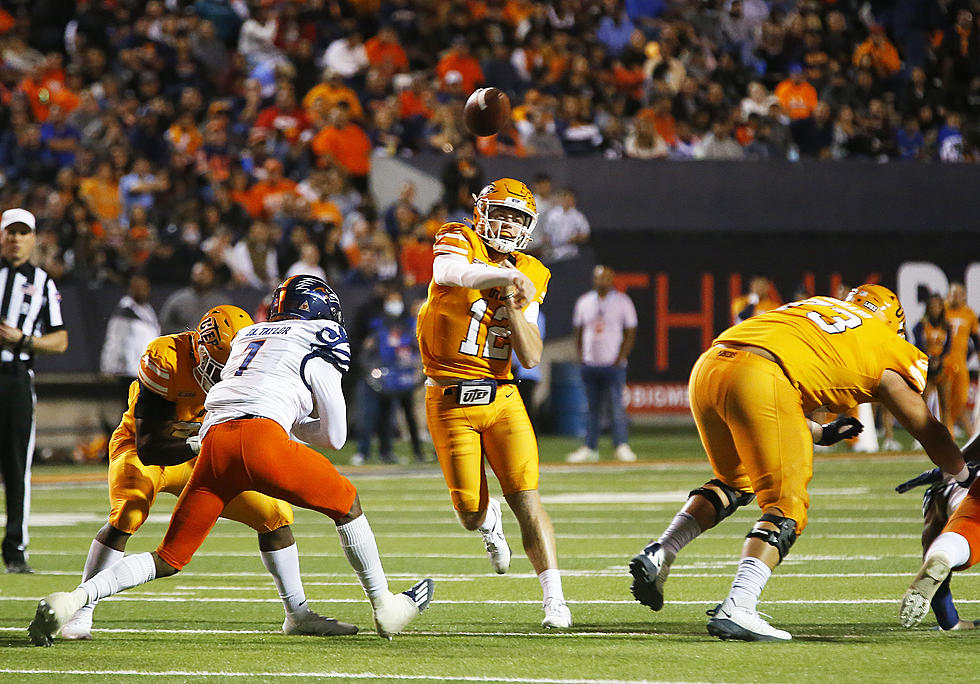 Next Two Games Will Tell Us A Lot About UTEP Football Team
Ruben Ramirez/UTEP Athletics.
Two weeks ago, UTEP fans were believing that the 2021 Miners football team had a chance for a special season that only happens once every generation. Instead of winning their first game ever in the Eastern Time Zone and upsetting a nationally ranked conference opponent, UTEP was dealt a harsh reality check. What everyone discovered is that the Miners are an improved group from the last three seasons, but they are not ready for primetime just yet.
One thing head coach Dana Dimel has done all season long is win against the lesser opponents on his schedule. The Miners will have a pair of opportunities to do just that over their next two games. North Texas and Rice are both 3-6 on the season, although the Mean Green have a two-game win streak (Rice and Southern Miss). On the flip side, Rice has lost three of its last four games, but they were competitive against everyone but UTSA and they also upset UAB on the road. As important as the games against FAU and UTSA were to the Miner Nation, these next two will give us a much better handle on where this team is as far as its development in year four of the Dimel era.
UTEP will travel to Denton and play North Texas Saturday afternoon. Last year, the Miners lost to the Mean Green 45-43 when Calvin Brownholtz filled in at quarterback for Gavin Hardison. The Miners were also without almost every starter in their defensive backfield for that game. This time around, Hardison will play and try to improve on his passing efficiency from last week against UTSA (13-30, 247 yards, 3 TDs). The bigger key on offense for the Miners will be establishing their run game. UTEP has not had a 100-yard rusher since Southern Miss, and they have struggled to move the ball on the ground. Quadraiz Wadley is expected to return this weekend, and he will give the Miners a third running back behind Ronald Awatt and Deion Hankins. UTEP's offense will have to score points in Denton if they will have a chance to win their seventh game of the season.
The fact is, North Texas will not be an easy game for the Miners. The Mean Green's offense can score, and they racked up 537 yards and 38 points against Southern Miss last week. Their biggest strength is their run game. The four-headed monster consists of senior DeAndre Torrey and a trio of freshman running backs (Isaiah Johnson, Ikaika Ragsdale, and Ayo Adeyi). UTEP could not stop Sincere McCormick last week, and a big reason for that was UTSA's massive offensive line. North Texas is not nearly as big up front, but they will still be a handful for the Miners defensive front four.
When every preseason college football publication came out this summer, they all expected UTEP to struggle during their final six games of the season. Nobody saw the Miners winning six of their first seven games and being bowl eligible by mid-October. Despite their terrific play against the weaker opponents on their schedule, the 2021 season still has three games left and now it is gut check time for the Miners. Do they get back to their winning ways over the next few weeks and continue to build on what has been for the most part a promising season? Or do they struggle against a pair of winnable opponents and limp to the finish line? I predicted 7-5 before the season started and that still looks good at this point. However, there is no reason why this team cannot win two of their final three games to go 8-4 for the first time since the 2005 season under Mike Price, who always preached that "fans remember the games in November."
UTEP Football Could Not Keep Up with UTSA at Sun Bowl
The nationally ranked UTSA Roadrunners started fast and never allowed UTEP to get close. The Miners lost the game at the Sun Bowl 44-23 to drop their second straight contest and fall to 6-3 on the season.
More From 600 ESPN El Paso