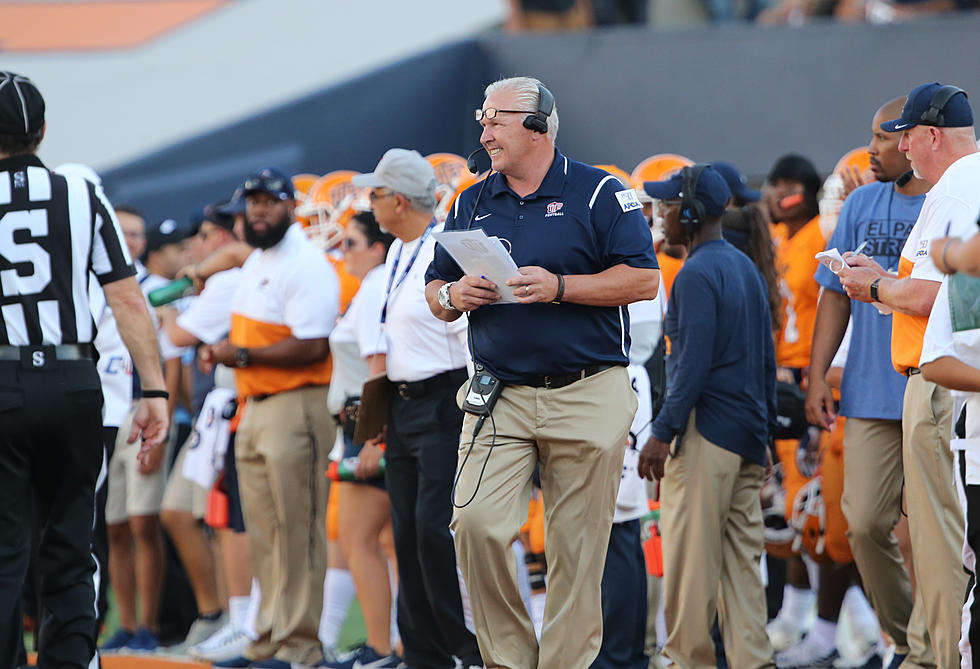 More Fireworks and Highlight Plays Expected For UTEP Football
UTEP Athletics
As his first weekly media press conference was winding down, I asked UTEP head football coach Dana Dimel what fans would notice about this year's team that is different from his previous three seasons. His answer was that the 2021 Miners would be more explosive on both sides of the football.
"I hope that we allow some of our best players to make plays and do some special things and have some high level performances," Dimel said. "I would like to see us continue to make strides in our kickoff return game on special teams. Being more disruptive on defense is really important for us as well."
The good news is that UTEP has plenty of highlight makers on their roster. Quarterback Gavin Hardison can throw the deep ball as good as anyone in C-USA, and he has a pair of big-play targets in Jacob Cowing and Justin Garrett.
Running back Deion Hankins is a battering ram, and he looks even more physically jacked this year after an unbelievable summer in the weight room. The return of Quardraiz Wadley combined with Ronald Awatt and Willie Eldridge gives the Miners four legitimate game breakers running the football. Wadley can also be dangerous as a receiver in the backfield.
On the defensive side of the ball, linemen Praise Amaewhule and Keenan Stewart can both have monster seasons and they should provide plenty of highlights sacking quarterbacks and disrupting opposing teams' offenses. Amaewhule led the team with seven sacks in eight games last season, while Stewart had seven tackles for a loss (one behind Amaewhule for the team lead). Another player who could emerge as a big defensive weapon is linebacker Breon Hayward, who transferred to UTEP from Marshall. Hayward will be paired in the starting lineup with Tyrice Knight, and both linebackers could thrive in new Defensive Coordinator Bradley Dale Peveto's 4-2-5 system. In addition, former Kansas State starter and spring transfer Walter Neil Jr. looks to anchor the Miners defensive backfield.
UTEP football fans do not ask for much, since they are used to season after season of failure and disappointment. However, if the team can live up to Coach Dimel's prophecy, the wins will come and fans will finally get what they have been waiting years for.
LOOK: Best Beers From Every State
To find the best beer in each state and Washington D.C., Stacker
analyzed January 2020 data from BeerAdvocate
, a website that gathers user scores for beer in real-time. BeerAdvocate makes its determinations by compiling consumer ratings for all 50 states and Washington D.C. and applying a weighted rank to each. The weighted rank pulls the beer toward the list's average based on the number of ratings it has and aims to allow lesser-known beers to increase in rank. Only beers with at least 10 rankings to be considered; we took it a step further to only include beers with at least 100 user rankings in our gallery. Keep reading to find out what the best beer is in each of the 50 states and Washington D.C.
More From 600 ESPN El Paso