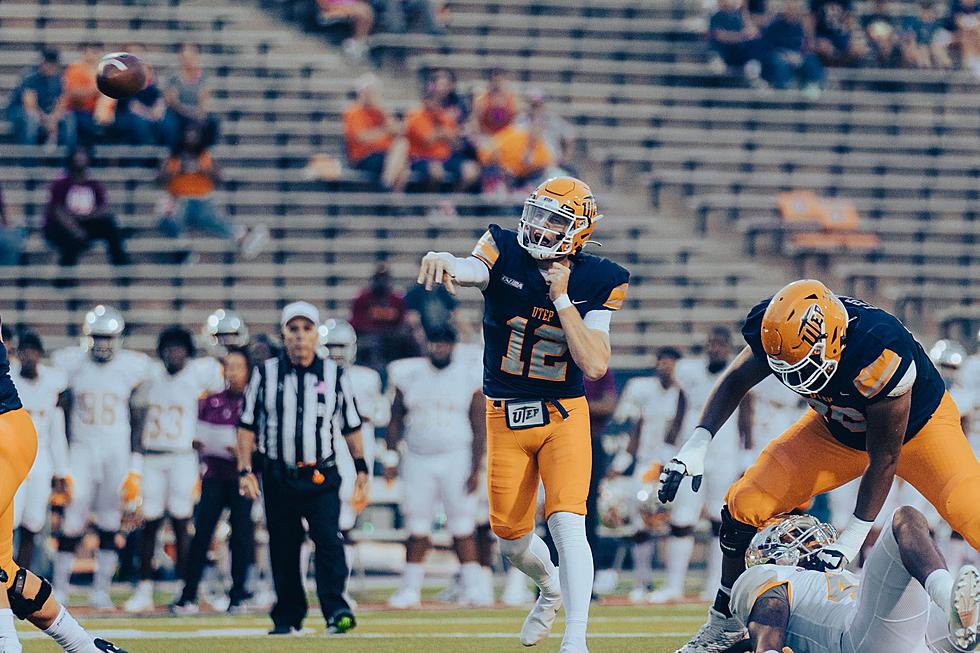 MinerTalk: Stop with the Hate, QB Gavin Hardison is Here to Stay
Jorge Salgado
Following a 54-13 blowout loss to Boise State, the Miner football team (2-1) is left to regroup during the bye week before wrapping up non-conference play against New Mexico (2-0) on Saturday, Sept. 25.
The main priority this week will be health. Running back Deion Hankins, tailback Quardraiz Wadley, safety Justin Prince and corner Josh Caldwell didn't suit out for the Miners on Friday. Against Boise State, UTEP saw defensive tackle Keenan Stewart, center Andrew Meyer and running back Rey Flores each exit the game with injuries. Head coach Dana Dimel said that nothing was a serious injury and that the team will focus on getting healthy this week.
The next priority for UTEP is to learn from their mistakes against the Broncos, especially on offense.
It was expected that the Miner fan base would be upset with the loss on MinerTalk following the game on Friday. But what we didn't expect is the hate flowing from fans directed toward UTEP quarterback Gavin Hardison.
Subscribe to the NEW MinerTalk podcast to listen On Demand. 
There's not much debate around it. Hardison had arguably his worst performance against the Broncos. He started the game pretty sharp, completing 9-of-12 passes for 148 yards, including a 48-yard touchdown pass to Jacob Cowing. After that, Hardison finished with 6-of-12 through the air and tossed three interceptions.
Hardison ended the day 15-of-24 for 223 passing yards, one touchdown and four total turnovers (three interceptions, one fumble). He was responsible for four of the six uncharacteristic UTEP turnovers in this game.
Callers on MinerTalk were completely out on Hardison, claiming that he is a mediocre quarterback at best.
As the season goes on, Hardison will have a chance to prove to everyone not only why he is the best choice for the position, but he could also show that he can win in this conference.
Going into Friday's game, Boise State had a lot more to lose than UTEP had to gain. A week earlier, the Broncos blew a 24-6 lead to UCF, eventually falling 36-31. First-year head coach Andy Avalos—who is also considered one of the best former players in Broncos history—was vying for his first win with the program against the Miners. They simply weren't going to let UTEP beat them and they won in dominant fashion.
Hardison has only 10 UTEP starts under his belt over his shortened redshirt year in 2019, a pandemic-affected 2020 season and three starts from this year. Through the 10 starts, he's shown that he has a strong arm, good pocket presence and promising big-play potential. The areas he can improve are his accuracy, decision-making and reading the defense. Look at his numbers through three games so far:
Statistically, he's in the top-5 of Conference USA for most major passing categories like passing yards (655, 3), passing efficiency (159.1, 3rd) and total passing touchdowns (4, 4th).
However, one can make an argument that the offense isn't completely built around Hardison's strengths. The coaching staff favors the run game and has shown lopsided splits over the first three games:
New Mexico State (42 rushing, 20 passing plays)
Bethune-Cookman (50 rushing, 23 passing)
Boise State (40 rushing, 26 passing)
I also understand the argument for why this team is a run-based-oriented offense. They have a stable of backs that includes Deion Hankins, Quardraiz Wadley, Rey Flores, Willie Eldridge and Ronald Awatt. Those are five really talented running backs that deserve their own share of carries.
But Hardison is a rhythm quarterback. He needs a higher volume of passing attempts to feel comfortable with this offense. I'm not sure he will get his share of attempts based on the first three games. Even with guys like Hankins and Wadley out against Boise State, UTEP still was adamant about running the ball and finished with 104 yards on 40 carries (2.6 average yards per carry). If the offense didn't throw the ball 30-or-more times with a depleted running back group, will they ever throw for 30-plus in a game? The answer is probably not.
Film analysis 
Touchdown #1—Nice job here by Hardison to recognize the one-on-one coverage for Jacob Cowing. He hit his standout wide receiver right in the chest and Cowing was able to make a nice play using his feet and with the help of some good blocking.
Interception #2—This was by far the worst turnover of the game. Hardison, who helped drive the ball deep inside Boise State territory before half, forced the ball on 2nd and goal. There was man coverage on this and the Miners did a simple slants play in shotgun formation. Instead of looking left with a lot of open field, Hardison forces the pass right and the ball is intercepted. I would've liked Hardison to throw the ball away in this situation instead of either taking the sack or tossing the ball at all here.
Interception #3— On 2nd and 10, it appears that Hardison looks briefly toward a short pass situation, but when he doesn't find tight end Trent Thompson open, he fires a deep shot to Tyrin Smith. The triple coverage is there to swarm the play, as the pass is tipped and intercepted by Broncos safety Seyi Oladipo. In this situation, I would like to see Hardison roll out to the left and possibly run the ball instead of forcing a throw.
---
All The Big Moments From UTEP Football's Win Over Bethune-Cookman
The UTEP Football team defeated Bethune-Cookman 38-28 last Saturday night to start the 2021 college football season with a 2-0 record for the first time in 16 years.
More From 600 ESPN El Paso