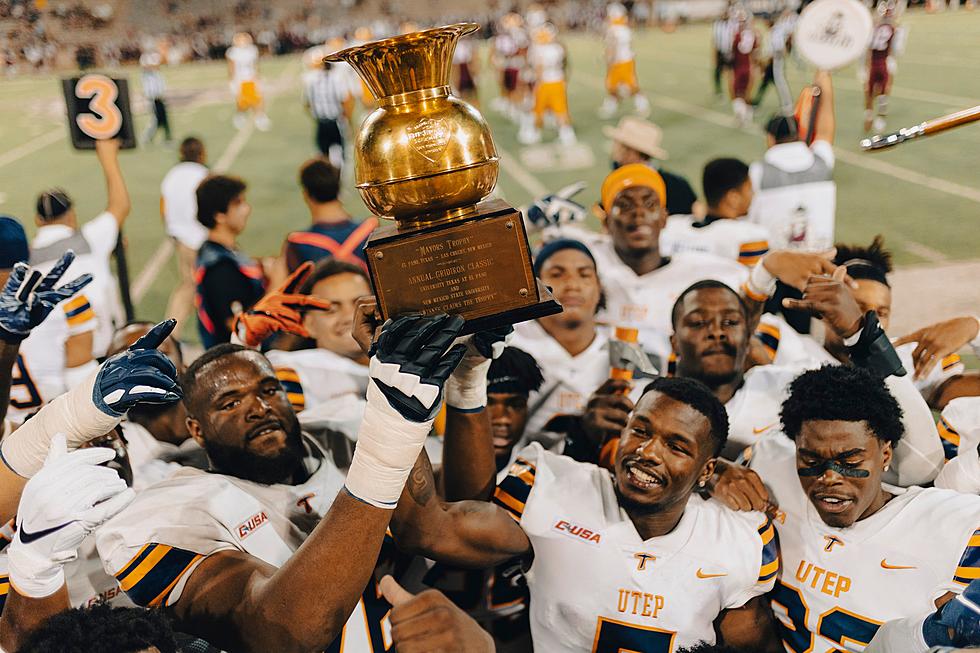 MinerTalk: 3 Things We Learned from UTEP Football After NMSU Win
Jorge Salgado
The UTEP football program celebrated their 30-3 victory over rivals NM State, which marked their first win in the Battle of I-10 since 2016 and the first under fourth-year head coach Dana Dimel.
Subscribe to the MinerTalk Podcast On-Demand wherever you listen to podcasts and listen to the first edition of MinerTalk over the weekend on 600 ESPN El Paso.
Although last week's matchup wasn't the most challenging for the Miners, we still learned a few teams from the squad after their blowout victory against NMSU. Read the full game recap online here.
Miners maintain composure despite penalties
In years past, penalties would completely deflate UTEP's momentum. At times,  penalties led to losses. For a team that was penalized 12 times on Saturday for 140 total yards, UTEP didn't seem rattled at all.
The perfect example came on UTEP's opening drive when quarterback Gavin Hardison hit Jacob Cowing in stride for a 50-yard connection. The play was immediately called back due to holding. Yet, the Miners pushed past the hiccup as Hardison launched a bomb to Cowing two plays later for a 72-yard play to the NMSU 20. UTEP was able to pound it on the ground in back-to-back plays by Deion Hankins to cap off a commendable touchdown drive.
Previous Miner teams would've been deflated as soon as the first penalty happened. Not this team.
The 12 penalties weren't pretty by any means. They were called several times for personal foul penalties on defense, but the Miners stayed strong and allowed only three NMSU points through five red zone tries. The defense held the Aggies to only 190 yards of total offense. Even if you wanted to pick on UTEP for their penalties against the Aggies, it's important to note how they responded after.
Defense backs up significant depth that Dimel spoke about
All offseason, Dimel expressed his excitement for the team's depth this year across the board. Defensively under new coordinator Bradley Dale Peveto, the team debuted their brand new 4-2-5 scheme and it delivered some impressive highlights against a struggling Aggies offense on Saturday.
More than anything though, UTEP was able to play a ton of players defensively. Backups like linebacker Gary Theard (three tackles), cornerback Torey Richardson (three tackles), defensive lineman Sione Tonga'uiha (three tackles, one QB hurry) and safety Tyson Wilson (two tackles, one pass breakup) each contributed for the Miners and played significant snaps. Beyond them, we had a chance to see newcomers like defensive lineman Tevita Tafuna, defensive lineman Dresden McIver-Brown, corner Trejon Hugue, linebacker James Neal and defensive lineman Michael Ike.
Point is, the Miners are deep defensively. The offense showed that they can rotate receivers galore. They proved they can run the ball efficiently beyond Deion Hankins, seeing Ronald Awatt leading the team in rushing (74 yards and one touchdown), along with Quardraiz Wadley (51 yards) and Willie Eldridge.
Standout defensive interior tackle Kelton Moss and Hankins didn't play the majority of the second half. Dimel called it more precautionary than anything, but it's encouraging to know that the team has serious depth beyond their starters. We got the first taste of the defensive depth on Saturday.
Offense was big-play oriented on 1st & 2nd; struggled on 3rd downs 
According to Sport Source Analytics, 72% of UTEP's first downs against NMSU came on 1st and 2nd down plays. UTEP also had six passing big plays (gain of 15+) and five rushing big plays (gain of 10+). It turns out that 10 of their 11 big plays came on 1st and 2nd down plays.
UTEP was just 3-for-12 on 3rd down conversions against New Mexico State. Fortunately for the Miners, they were successful on two fourth down conversion attempts. But the 3rd down inefficiencies were evident.
Hardison was 9-for-14 for 222 passing yards and a touchdown on 1st and 2nd down. He was subpar on 3rd downs, going 2-for-6 for 27 passing yards. Even though UTEP utterly dominated in this game, 3rd downs could be something to look at for next week.
Up next: UTEP will face Bethune-Cookman (FCS) in the season home opener at the Sun Bowl on Saturday, Sept. 4. Kickoff is set for 7 p.m.
UTEP vs. NMSU Battle of I-10 Gallery Recap
These photos were taken Saturday, August 28th, 2021 when UTEP defeated NMSU 30-3 in the annual Battle of I-10 at Aggie Memorial Stadium.
More From 600 ESPN El Paso