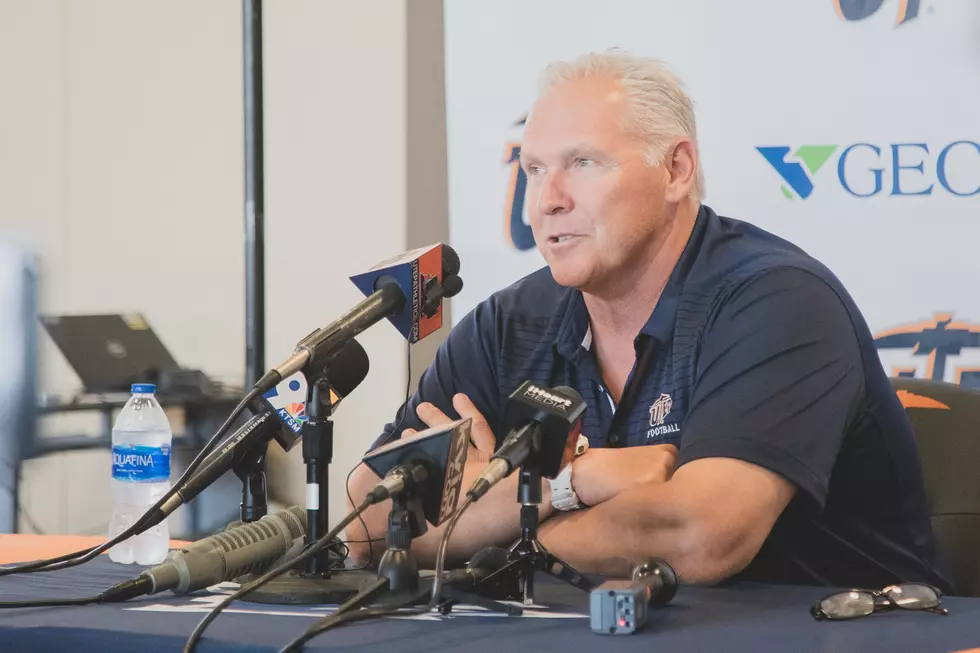 Miners Gear Up For Texas Tech in Week Two
Gaby Velasquez
The undefeated Miners (1-0)—been a while since you could call the Miners "undefeated"—will hit the road this week to face Texas Tech (1-0) on Saturday, Sept. 7, at Jones AT&T Stadium in Lubbock.
And even if it was against FCS Houston Baptist, head coach Dana Dimel expressed how much the win in the season opener (36-34) meant for the program.
"First games are first games," Dimel said. "In 2012—and I'm not saying we're anywhere near this team—we beat Missouri State 10-7. Nine weeks later we were No. 1 in the country. To me, it was a win and that's the most positive part of it. The big thiing—no matter if we won 60-0 or lost 0-60—is to continue to improve each and every Saturday. Here we are, it's week one and now it's about how much better does your team get throughout the season."
The yearly Power-5 bout for the Miners will be Texas Tech this season, who is coming off a tough 45-10 win over Montana State in their season opener.
"Tech only ran 95 plays last game so they didn't get to work their entire offense," Dimel said. "They're running a play every 18 seconds. It's as fast as I've seen. It's very indicative of the Baylor offenses that we faced at Kansas State. We've seen this offense, we've seen this tempo and it's a challenge."
Texas Tech enters the game under first-year head coach Matt Wells and opened the week as a 34.5 point favorites over the Miners.
Even though the Red Raiders are the heavy favorites Saturday, the value of playing a high-level program is one of the prime takeaways for Dimel entering Saturday's game.
"It's going to be a huge challenge for us, a fun challenge to play in Lubbock," Dimel said. "Always a tough place to play at and our guys worked all day today on their tempo."
Senior quarterback Brandon Jones completed half of his pass attempts (10-of-20) in UTEP's season opener, while throwing for 268 yards, including an 80-yard touchdown pass to Tre'Shon Wolf, a rushing touchdown and an interception that was returned for a touchdown. Overall, Jones had a promising outing and helped orchestrate four touchdowns against Houston Baptist, and Dimel believes that Jones can get better as the season progresses.
"Brandon knows he didn't play nearly as good as he can play," Dimel said. "He played well enough for us to win, he played well enough for us to have 500 yards of offense but he can play better and he knows it. It was the first start for him this season, the second start of his career."
The scoring improvement by the Miners was seen instantly. UTEP averaged just over 17 points per game last season and more than doubled it on Saturday. It was the balanced attack that the Miners posed through the air and on the ground—led by senior tailback Treyvon Hughes' 144 rushing yards and two touchdowns.
"Treyvon did an outstanding job running, kept his feet moving, was very physical with what he did," Dimel said.
UTEP finished with 508 yards of total offense against Houston Baptist, including 240 yards on the ground (5.8 yards per carry). They were 6-for-6 scoring in the red zone but settled for field goals in three of those instances.
Defensively, the Miners struggled in their season opener, allowing 413 total yards of offense and 300 passing yards. As an air raid, up-tempo team, Texas Tech will pose some similarities that Houston Baptist had. Their defense also lost linebacker Kalaii Griffin to an arm injury, which barring surgery, could be out eight to 12 weeks, per Dimel.
"I didn't think our tackling was poor by any means," Dimel said. "[HBU] really made some great football plays. We'll work on that this week—defending the deep ball and improving our effort in that aspect. We really stuffed the run but then we gave up some yards, so it was a bit inconsistent."
Kickoff between the Miners and Red Raiders is set for 6 p.m. MT and will be aired on 600 ESPN El Paso. After the game, there will be a special season-opening edition of Miner Talk, where fans will have a chance to chime in on their thoughts after the game.
More From 600 ESPN El Paso