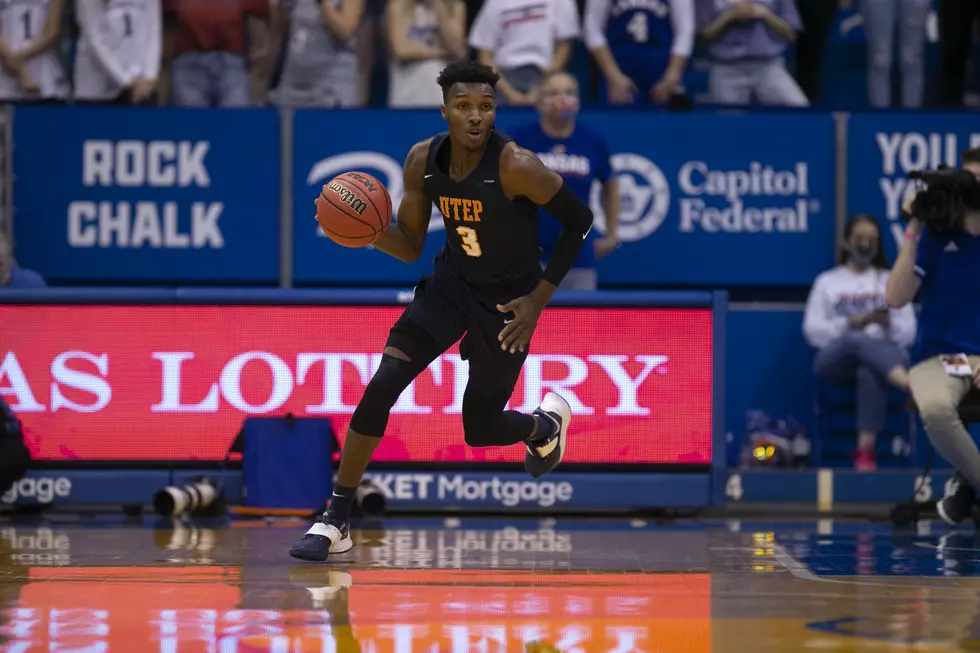 KU 67 – UTEP 62: Jayhawks Squeeze Past Miners in Regular Season Finale
Courtesy of Brent Beerends
For 34:38 minutes of the game, UTEP was the better team on the court against the No. 13 Kansas Jayhawks.
But the tides turned in the final two minutes, as Kansas chipped away at the Miners' second half lead to steal a 67-62 win at Allen Fieldhouse.
The Miners led by as much as 15 points (48-33, 14:28), but the Jayhawks' stifling defense that forced 10 second half turnovers and some late-game buckets put them ahead in the final 1:26. The Jayhawks took a 62-60 lead with less than a minute of play, and on the final possession, Souley Boum fumbled his dribble and Kansas was able to ice the game at the free throw line.
Senior Bryson Williams had a dominant 23 points, 13 rebound performance, yet it wasn't enough. Boum poured in 16 points to join Williams as the only Miners to score in double figures.
Kansas used a 57.7 percent shooting effort from the field in the second to propel them to the comeback victory, along with David McCormack's 16 second period points.
"I thought we came out with really good energy and really good activity in the first half," Rodney Terry said. "We were really guarding and did a great job of blocking out. We did a good job taking care of the basketball, we only had four turnovers in the first half. We know [Kansas] was going to come out in the second half and try to rev it up defensively. We we're going to have to be strong with the ball, make physical plays in the post and I thought we did that for the better part of the second half. But we give [Kansas] credit, they battled through it."
The Miners had a first half start that saw them lead the Jayhawks 11-2 in the first six minutes. They built their lead to 12 (28-16) by the 3:00 mark. At the end of the half, UTEP led 34-20.
Yet, they couldn't seem to make shots in the second half when it mattered, including zero field goals in the final four minutes.
Other key contributors included junior forward Tydus Verhoeven, who blocked five shots, had two steals and grabbed six boards. Also, junior point guard Jamal Bieniemy scored eight points and dished out a game-high five assists.
UTEP shot 37.3 percent in the game, including just 8-for-26 from 3-point range. They out-rebounded Kansas 40-34.
Up Next: The Miners will gear up for the Conference USA Tournament in Frisco, Texas. They will play on Wednesday, March 10 as the fifth seed in the West Division. They will likely face the fourth seeded Florida Atlantic Owls, barring any changes.
More From 600 ESPN El Paso