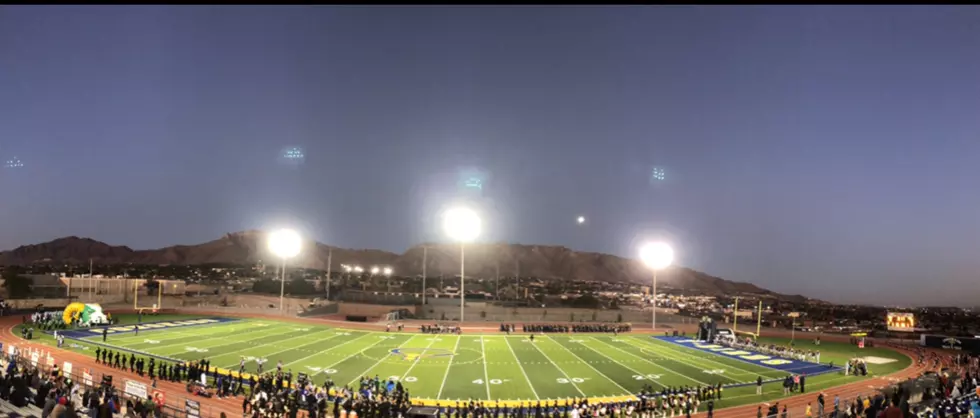 Football Friday Night Roundup: Week Seven Scores & Recaps
Adrian Broaddus
Week seven of Texas High School football featured some thrillers, a few upsets and the opener to most team's district slate. Here's a rundown of the games:
Parkland 56 - Hanks 41 Sarah Farms Game of the Week by Steve Escajeda 
Matadors spoil Blanco's record-setting evening
Hank's Mykal Blanco may have broken the record, but it was the Parkland Matadors (1-0 district, 6-0 overall) who came away with the all-important 56-41 District 1-5A Div. 2 victory.
The loss dropped Hanks to 0-1 in league play and 3-2 overall.
Parkland's Gabe Herrera threw six touchdown passes, four of them to speedy wide receiver Donta Hayes, who finished with five catches for 123 yards.
Herrera completed 13 of his 24 passes for 279 yards. The six TD passes raised his Parkland career total to 59 scoring tosses and just six interceptions.
Speaking of stellar careers, Blanco set the city's all-time high school pass-receiving yardage record with his seven catch, 85-yard night. The senior came into the game needing 52 yards to break the record (Richie Rodriguez, Eastwood, 3,467 yards, 2015) and tied it midway through the fourth quarter.
Blanco, who also returned a kickoff 80 yards for a touchdown in the first quarter, broke the record in spectacular fashion, taking a screen pass from quarterback Aaron Molina and racing 34 yards for the score with just 24 seconds left on the clock.
Eastlake 24 - Eastwood 21 by Beau Bagley 
All hail Julian Melucci! The Eastlake freshman kicker nailed a 45-yard field goal as time expired, and the Falcons topped the Eastwood Troopers to begin district play, 24-21.
After Eastwood's Luca Gandara ran in from one yard out to tie the score with 2:30 left, Orion Olivas (23-33, 222 yards, one touchdown and two interceptions) led the Falcons (2-4, 1-0) down the field, hitting Matthew Jones (8 catches for 68 yards) and Daine Kirtley (7 catches for 72 yards) several times, setting up Melucci's game-winner.
Eastwood (1-5, 0-1) was hampered by 12 penalties, and two fumbles by quarterback Andrew Martinez. Insert third-string quarterback Aidan Garcia, who went 12-18 for 234 yards helping the Troopers back in it, and they nearly pulled off the comeback.
Next week, Eastwood hosts Del Valle while Eastlake hosts Chapin.
Pebble Hills 43 - Socorro 2 by Beau Bagley 
Pebble Hills opened up district play in style, a 43-2 victory over the winless Socorro Bulldogs. The Spartans (4-2, 1-0) jumped out to a 36-0 halftime lead, thanks to 303 total yards in the first half. They finished the game with 368 total yards, and got touchdowns from OJ Avila, Sebastian Ochoa, and Isaiah Davis. Socorro (0-6, 0-1) has now lost 43 straight games, including 41 straight district games.
Next week, Pebble Hills will host Montwood while Socorro will face Americas Thursday.
Canutillo 28 - Ysleta 20 by Jaime Chavez
The Canutillo Eagles won their District 1-5A Division 2 opener by holding off the Ysleta Indians 28-20 Friday night at Canutillo's Lowenberg Stadium. Canutillo's Joaquin Carrasco scored on a two-yard run with 1:35 left in the fourth quarter for the go ahead score. Carrasco also had an eight yard touchdown run early in the fourth quarter to lead the Eagles' ground attack. He finished the game with 93 yards on 12 carries. Ysleta quarterback Adrian Jacquez threw a pair of touchdown passes to Lucas Flores, for 74 and 20 yards. Jacquez also scored on a yard run.
Canutillo, 5-1 overall, will visit Riverside next week while Ysleta (3-3, 0-2) travels to Parkland next Friday.
Bowie 26 - Irvin 14 by Jeremy Carranco 
Dominic Darduza rushed for a late touchdown in the fourth quarter to help Bowie outlast Irvin 26-14 at Tony Shaw Field on Friday night.
Irvin got on the board first with a three-yard rushing touchdown by Yeremiah Yhisreal late in the second quarter with Bowie responding before halftime.
Irvin led 7-6 at the break.
The Bears would score twice more to go up 19-7 in the fourth quarter before Irvin's Yhisreal ran for another touchdown, this one coming from 18 yards out to close the gap to 19-14 with eight minutes remaining.
That's when Darduza capped off a quick, five-play 55-yard drive with a seven-yard rushing touchdown to secure the win for the Bears.
Justin Diaz finished with 183 yards passing and Carlos Varela brought in 123 yards on seven receptions for Bowie.
John Murillo contributed with 62 yards on five carries and a touchdown.
Irvin was led by Yhisreal's 85 yards on 19 carries and two touchdowns.
Bowie (4-1, 2-0) will host Austin next week in a huge district 2-5A battle. Irvin (2-4, 1-2) will be off before facing Austin on the road the following week.
Austin 40 - El Paso 6 by Brandon Cohn
On an evening with true football weather, a chill was in the air for the oldest rivalry in the city of El Paso as the Austin Panthers retained bragging rights by winning the 89th "Battle of the Claw" 40-6 over El Paso High.  The stage was set at R.E. McKee Stadium as an enthusiastic crowd witnessed a game that was designated as a top 100 contest in the nationwide 2019 Great American Rivalry Series. READ MORE.
Montwood 38 - Coronado 14 by Adrian Broaddus 
Montwood running back entered this game averaging 2.5 touchdowns per game but it was quarterback Sebastian Galvan that dominated through the air, throwing four passing touchdowns and completing 15-of-24 passes for 191 yards. Ramos finished with 221 rushing yards and a final touchdown in the fourth quarter that gave Montwood the 38-14 win.
Coronado struggled to create any offense throughout the night, turning the ball over twice along with faling to convert on three fourth down conversions. Next week, Montwood (4-2) will take on Pebble Hills, while Coronado (1-5) will face Franklin in the Westside Bowl.
More From 600 ESPN El Paso