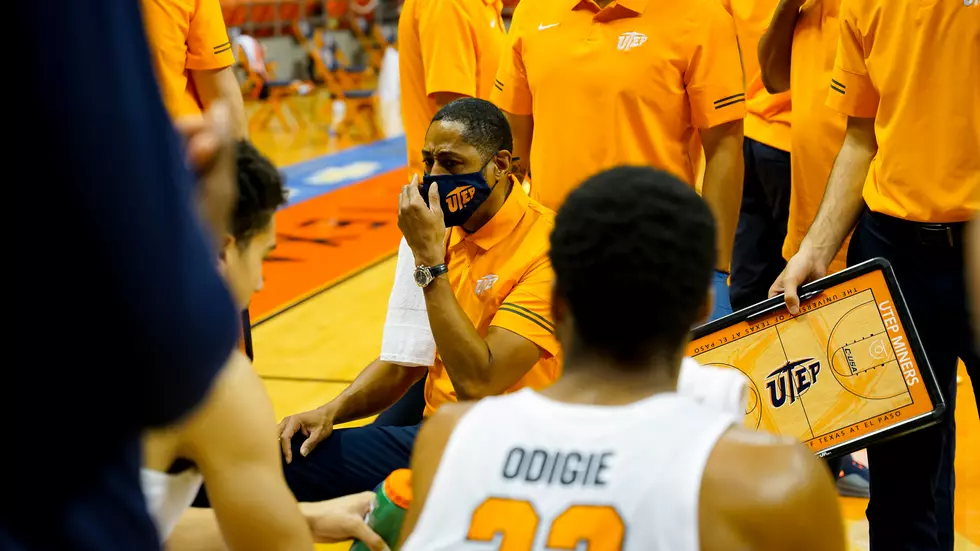 Five Takeaways From UTEP's Win Over Benedictine Mesa
Ace Acosta
The Miners won their second consecutive game on Sunday, defeating Benedictine University at Mesa 79-59. Even though it was an expected win against an NAIA school, there were some good takeaways for the Miners, who are now 4-2 on the season.
1. Lineups show tons of variations 
As expected against an NAIA program, the Miners had multiple opportunities to flash various lineups and dip deeper into their bench. They remained with their lineup since day one—Bryson Williams, Tydus Verhoeven, Jamal Bieniemy, Souley Boum and Keonte Kennedy. Three lineups I enjoyed watching included:
Christian Agnew, Vuk Vulikic, Verhoeven, Williams & Boum
Vulikic, Sjolund, Odigie, Bieniem & Agnew
Williams, Agnew, Vulikic, Williams & Verhoeven
We pretty much know that four of the five starting spots are all but locked in for the duration of C-USA, unless we see something out of the blue in the coming weeks. Williams and Verhoeven are the locks at the No. 4 and 5 in the frontcourt. The backcourt will likely always feature Bieniemy at the point guard spot and Boum as the off-ball scoring option.
Though I don't see it happening any time soon, the final starting spot could ultimately change from Kennedy to Agnew—and it might not be a bad thing.
2. Christian Agnew continues to get his footing
After only two games, you can see exactly why Rodney Terry thinks that Agnew could complete this team. The North Alabama transfer provides veteran presence to the backcourt that they didn't have alongside Bieniemy and Boum. Kennedy continues to be a versatile two-way guard and he's the x-factor for this team, but Agnew gives you a gifted spark to plug at the shooting guard position.
The junior transfer previously scored almost 13 points per game last year. Based on his baseline jumpers and ability to attack the basket, he can be a scoring option for the Miners in conference play. His defensive presence that was showed against Arizona State in his debut was impressive.
Agnew finished Sunday's game with a team-high 16 points on 6-of-13 shooting, six rebounds one steal, two assists in 26 minutes off the bench.
3. Tydus Verhoeven dominates in the paint
Credit Verhoeven, who has played some really good basketball over the last four games. He gives UTEP a veteran forward down low that can block shots, rebound on both sides and, as we saw today, can generate some points in the paint.
The junior forward ended today's game with his career-high for scoring (15 points) and rebounding (10 boards). Verhoeven's double-double was the first of his UTEP career and the 6-foot-10 forward continues to better his game.
On the season, Verhoeven is UTEP's most efficient scoring option in the low post, posting a 73.0 field goal percentage on the year. He also leads the Miners in blocked shots this year (six).
4. Not the best shooting game, but it was another strong defensive effort for UTEP
It wasn't like UTEP lit up the scoreboard on Sunday against Benedictine Mesa, but they did just enough to dominate and still held strong defensively. UTEP's been on a nice defensive stretch lately.
The Miners shot 42 percent from the floor in this game (30-for-71), and their 3-point attempts fell flat at times, as the team ended shooting just 22 percent (7-for-32) beyond the arc. They only turned the ball eight times today and totaled 13 assists.
Defensively, the Miners held the Redhawks to shooting 28 percent from the floor (season-low) and 27 percent from 3-point range. UTEP had 11 turnovers and won the rebounding margin 54-42.
5. Can UTEP add another non-conference game to their schedule? 
It doesn't seem like the Miners will add another team to their non-conference slate, as coach Terry talked about giving his team a bye for the Christmas holiday. When Terry met the media on Friday, he dispelled any notions of playing NM State in the future.
"New Mexico State has been shut down twice so I don't know how you play them. And the only time when we could've played them, they would've had to come here. There was a lot of conversation about that," he said on Friday. "There's always been an open invitation to come play here. No one said you couldn't play here but they've been shut down twice so they haven't been up and running for a minute. Probably with all practicalities, there isn't a chance to play this year, but it wasn't because we didn't want to play. We had plenty of opportunities to play. Our gym's been open the entire time."
Up next: UTEP will face Our Lady of the Lake (1-1), who is coming off a regular-season 61-58 victory against Texas State on Dec. 12. They fell to Incarnate Word (84-72) in their opening game, while facing other Division I opponents like Rice (L, 103-64) and New Mexico (L, 104-65). Similar to Sul Ross State, Our Lady of the Lake has several freshmen El Pasoans on their roster, including Colby Borak (Franklin), Elijah Davis (Pebble Hills) and Diego Torres (Socorro).
More From 600 ESPN El Paso