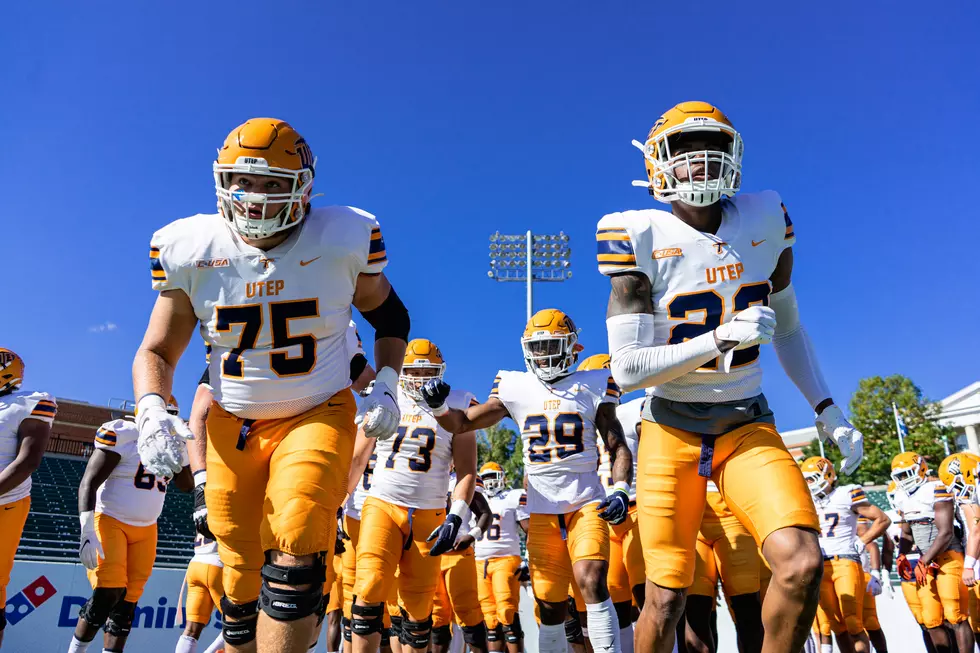 Charlotte 38 – UTEP 28: Miners Must Regroup After Second Straight Loss
Connor Putman | UTEP Athletics
The Miners are close but simply not there yet.
They competed well in the first half for UTEP's third straight road game against Charlotte, but the Miner offense totaled three turnovers and the 49ers raced away in the second half by beating the Miners 38-28.
UTEP (3-3, 0-2 C-USA) has now lost 12 straight games in conference play dating back to 2018. They are 0-25-1 all-time in eastern time zone games.
"This one will be a hard one for me to watch," said head coach Dana Dimel. "So many positives, we're playing at a high level. Three road games in a row playing on a high level. Now we got to get home and finish a team. We let them get back in the game, swing the momentum and that's the Miners, that's not what Charlotte did. That's what's frustrating."
Sophomore quarterback Gavin Hardison just couldn't get going through the air at the beginning. His final stat line was decent—19-of-35 for 204 passing yards, two touchdowns and his season-high two interceptions (110.7 QB rating)—though, in key moments, the passing game couldn't click. Redshirt freshman tailback Deion Hankins had his third 100-plus rushing game (119 yards, one touchdown) but had a crucial fumble in the second half.
If you take out the start and finish of the opening half, the Miners dominated in all areas of the game through the first and second quarters.
Charlotte got on the board first after linebacker Tyler Murray picked off Hardison's pass and took it all the way to the UTEP 7. Running back Aaron McAllister punched it in two plays later from seven yards out to give the 49ers an early lead.
UTEP responded in a big way through two encouraging touchdown drives.
They responded to the 49ers opening touchdown off the turnover with a 15-play, 64-yard drive that lasted nearly nine minutes. Hankins capitalized on a goal-line situation by punching in a two-yard touchdown score to tie the game, 7-7 in the first quarter.
Two drives later backed up at their own 2-yard line, UTEP put together another long, time-consuming touchdown drive. Hankins got the momentum going with a 30-yard running play on the drive. Hardison was able to connect on a 26-yard pass to Jacob Cowing and hit Justin Garrett on a 13-yard play. Junior tailback Ronald Awatt scored on an eight-yard rushing touchdown to finish the 98-yard drive.
Late in the opening half, the Miners dominated time of possession (18:45-5:40).
Charlotte was able to capitalize on three third down conversions on their final drive and put together a 79-yard drive. Quarterback Chris Reynolds hit receiver Victor Tucker on back-to-back plays and scored on a 22-yard pass-and-catch play. UTEP safety Justin Prince had an interception on the drive but it was called back due to a neutral zone infraction against defensive lineman Keenan Stewart.
The Miner offense opened up the third quarter with a pair of turnovers—Hardison's second interception of the game and Hankins' fumble. Charlotte capitalized on the fumble with a touchdown from Reynolds to Cameron Dollar for a 10-yard go-ahead touchdown play.
To close out the game, Charlotte out-scored UTEP 17-14 to extend their lead and cap off the game. UTEP's offense out-gained Charlotte, 374-329, but it wasn't until the late part of the game when they started getting the passing game going. The Miners won in the time of possession category (31:02-28:58).
Next up: UTEP will get set to host North Texas on Halloween at the Sun Bowl for their first home game in six weeks. The Miners have played three consecutive road games and were set to play on Oct. 17 versus Southern Miss but the game was postponed due to COVID-19.
Enter your number to get our free mobile app
More From 600 ESPN El Paso