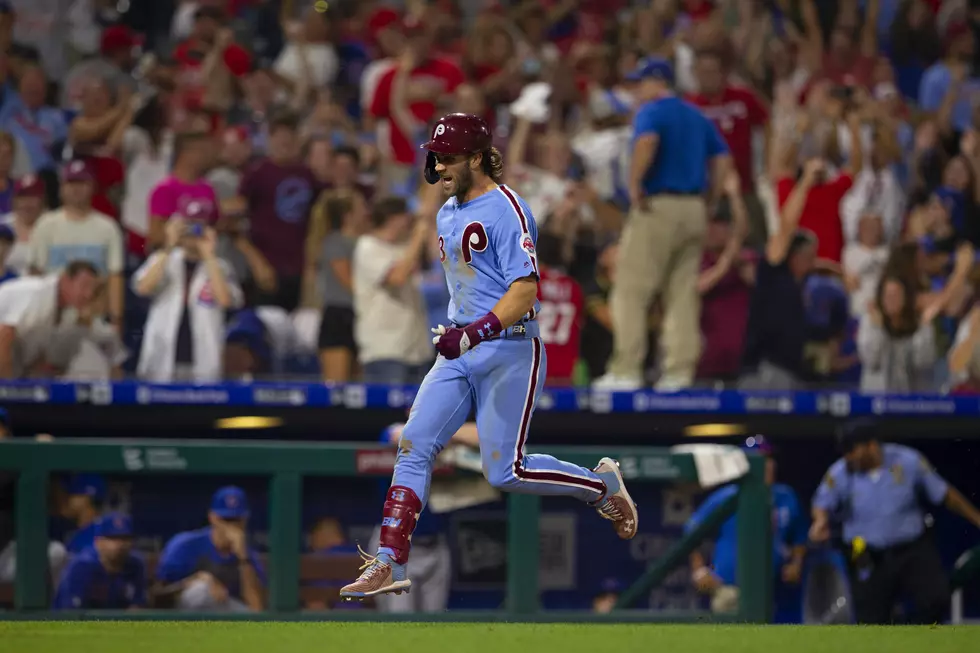 Bryce Harper: "One of the Coolest Moments I Have Ever Had"
Getty Images
The Phillies trailed 5-1 entering the final inning of a sloppy game.  The team had fought and battled back to make it a 5-3 contest when Bryce Harper came to the plate with bases loaded in the bottom of the ninth.
"I think before I went to the plate, I touched my heart, like why am I not like jittery, why am I not kind of excited - that's just how I am," Harper explained to reporters in the Phillies locker room after the game winning blast. "I go up there and each at-bat is the same. I don't really don't worry about bases loaded, guy on first, I just try to get a pitch over the plate, something I can handle."
Cubs reliever Derek Holland delivered the pitch and Harper got all of it, sending the fans into hysteria at Citizens Bank Park. Harper heroic's helped to complete a comeback with a grad slam that landed deep in the second deck beyond the right field wall, sending the Phillies to maybe their most impressive win of an up-and-down season.
"I think it was the best one of the season," Phillies manager Gabe Kapler admitted.  "It was definitely the most energizing."
Harper seemed energize as well, as he sprinted at full speed around the bases for his 25th home run, 87th RBI and 72nd run scored, and said it was one of his most memorable moments he can ever remember.
"That was sick, wow...that was awesome," a overwhelmed Harper told Gregg Murphy on NBV Sports Philadelphia, right after the home run.  "Besides winning the division and getting into the playoffs, this is one of the coolest moments I have ever had in my life...this is unbelievable."
"I just love it, its a lot of fun," Harper continued.
More From 600 ESPN El Paso