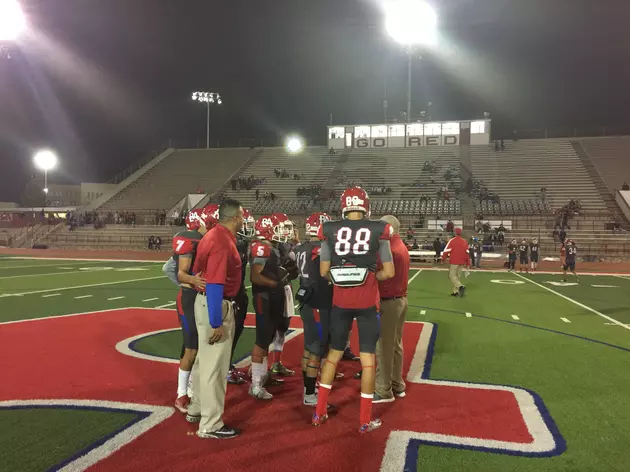 Bel Air Clinches Final 2-5A Playoff Spot with a Win Over Ysleta
Bel Air vs. Ysleta on 11/10/17. (Photo by Brandon Cohn)
Going in to Friday's game at Highlander Stadium, Bel Air had one simple task in order to solidify the final playoff spot in District 2-5A; beat Ysleta on senior night.  Prior to kickoff, fans, players and coaches alike were a bit nervous considering that Bel Air hadn't won a home game all season long.  That all changed though as the Highlanders took care of business with a convincing 42-14 victory over Ysleta.
Bel Air got on the board first as QB Isaac Ybarra found wide receiver John Diaz on a 4th and goal with 7:30 left in the first quarter to put the Highlanders up 7-0.  It looked to be a game when Ysleta tied up the contest at 7 when QB Joziah Salazar completed a 24 yard TD pass to Gino Martinez with 2:57 remaining in the opening quarter.  That is as close as the Indians would get all night as Bel Air scored on their next three possessions to take a 28-7 lead at the half.
The Highlanders kept their relentless scoring frenzy going in the second half as well by adding on another two touchdowns en route to the easy victory.  Bel Air QB Isaac Ybarra finished up by going 16 of 22 for 211 yards and 4 TD's, while RB Willie Perez had 33 carries for 207 yards, putting him at 1,016 for the season.  Wide receiver John Diaz caught 2 TD's, Rudy Quezada had 4 receptions for 88 yards and a TD, and Ryan Reza completed the trifecta with 10 receptions for 137 yards and 1 TD.
The Highlanders finished the regular season with a 5-5 mark, 5-3 in District 2-5A, and will travel to Andress to face the 1-5A champions in the Bi-District playoffs.  Ysleta QB Joziah Salazar went 14 of 29 for 96 yards and 2 TD's.  The Indians conclude their season with a 2-8 record, 1-7 in 2-5A.
More From 600 ESPN El Paso