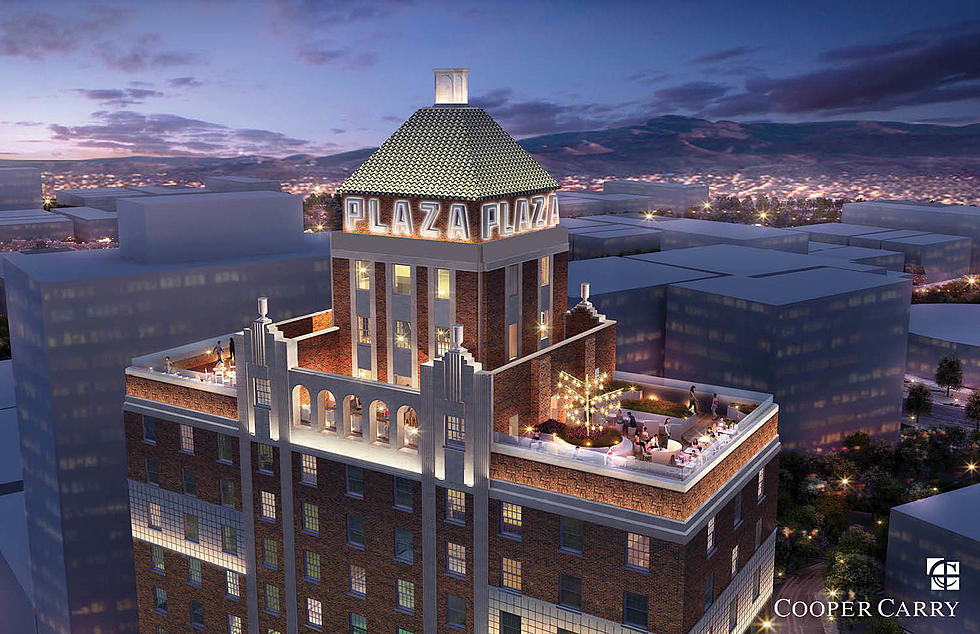 A Peek Inside The Plaza Hotel Pioneer Park
Credit: The Plaza Hotel Pioneer Park
As I watched the live stream, I couldn't wait to get an up-close look at one of El Paso's most iconic buildings.  Luckily for me, Amy Hussman, Director of Sales for the Plaza Hotel Pioneer Park was gracious enough to give me a tour of the hotel's public areas.
As soon as I walked in, it became apparent that this renovation was worth the wait it took to be completed.  Another thing to point out is that this was just as much of a restoration job as it was a renovation of the building.  Amy pointed out that great care was taken to restore and keep as many original materials or fixtures as possible.  This includes some of the nearly 100-year-old tiles in the lobby area, the elevator doors, some 2nd floor beams, and the impressive arches on the later to be opened rooftop bar, La Perla.
Once you walk in, your attention is immediately taken by a beautiful, two-story-tall tequila shelf, which then draws your eyes to some wonderfully decorated beams.  It's an inviting first impression and there's no doubt it will become a popular place to enjoy a beverage or two.  Directly adjacent to the bar, you'll find the Ámbar Restaurante which is already taking reservations.
Working your way up to the 2nd floor, you'll find several meeting rooms and a ballroom that will be host to countless functions as the years go on.  There are already several events booked for the ballroom with at least one of them being a wedding.
Amy then took me to the 14th floor and showed me guest rooms that are cozy, modern, and inviting.
The almost literal cherry on top in my opinion is the La Perla rooftop bar which is set to open in the Fall.  Named after Conrad Hilton's nickname for Elizabeth Taylor, La Perla will be a popular destination on beautiful desert nights, also there is not a bad view to be seen.
See the Must-Drive Roads in Every State
More From 600 ESPN El Paso