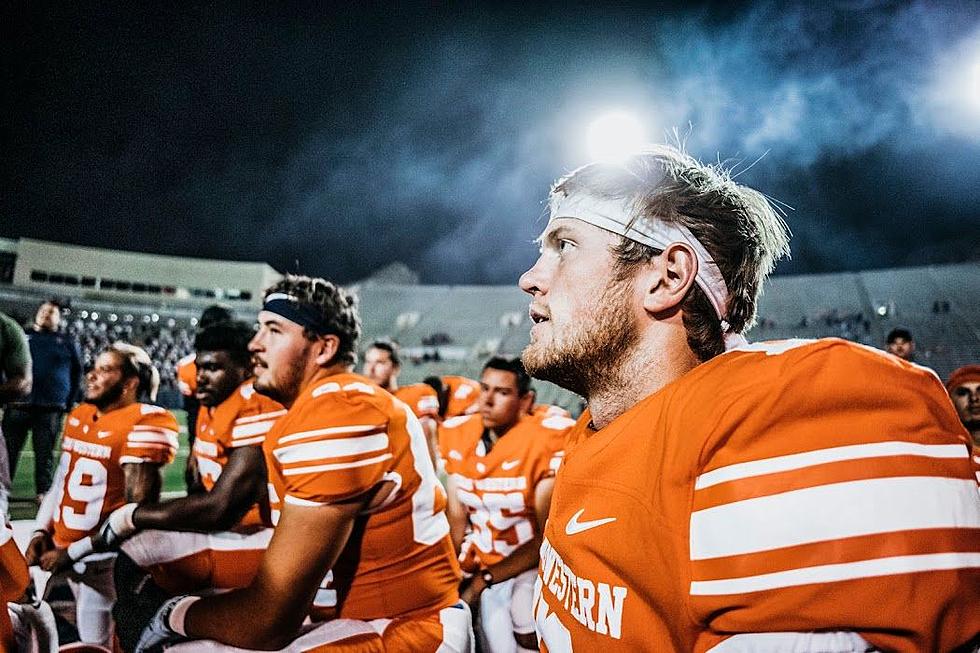 5 Things UTEP Must Do to Beat NM State
Jorge Salgado
Editor's note: The Battle of I-10 kicks off on 600 ESPN El Paso beginning with 1st and 10 on 600 ESPN El Paso at 5:45 p.m. Countdown to kickoff is set for 6 p.m. on KLAQ (95.5 FM). Then, after the broadcast, MinerTalk will follow on 600 ESPN El Paso. Let's hear from UTEP Zay, one of SportsTalk's newest interns. 
After losing their sold-out season opener against UNT, and falling to 9th-ranked Oklahoma in Norman, the 0-2 Miners return to El Paso with one thing in mind: beat the Aggies. With expectations for the season quickly falling, the Miners are in a must-win situation against their arch-rival, NMSU. The Aggies, who are also 0-2 following a 38-0 loss to Minnesota, are also very fired up about this game.
Freshman quarterback Gavin Frakes said this in an interview: "It's a big deal. Two FBS teams 45 minutes away from each other. We are going to come out with some intensity," Frakes told the Las Cruces Sun News.
With both teams searching for their first win this Saturday in El Paso, it should be a fun, chippy, old fashion rivalry game. Here are 5 key things UTEP will need to execute to come out on top against their neighbor 40 minutes north.
 Average over 4.0 YPC
Throughout their 2 games in this young season, the Miners have yet to have a rusher run for more than 40 yards, have averaged only 2.2 per rush this season, and only have one rushing touchdown. Also, in both games this season, Hardison has thrown over 40 passes. That isn't a sustainable scheme, at least not at this point. Unfortunately, the run game just hasn't been there for UTEP. In the press conference this week, Dana Dimel said that UTEP would try and run it a little more this week. The talent in the backfield is there. Fans have all seen Awatt and Hankins at their best, and they both looked very good at their peak. However, the Miners haven't seen many holes open up in the run game. With four returning starters, the Miners offensive line has disappointed, to say the least, but the experience is there. If the Miner offensive line can gel this week, and the running backs are playing on point, the Miners can easily average over 4.0 ypc, a stat they have yet to hit this season. Doing that will take some pressure off Hardison and help open up the passing game. I believe UTEP does hit this goal.
  3+ sacks and 4+ TFLs from the D-Line
No doubt that coming into this season, the UTEP defense was being hyped up and was expected to be one of, if not the best defense in C-USA. However, it's safe to say that the unit has underperformed thus far. In particular, the front six struggled immensely, compared to the hype they were getting. Breon Hayward not being eligible and the many injuries at the linebacker position can be tossed up as one of the reasons they have struggled, but no doubt that the D-Line has not played great. Praise Amaewhule hasn't put up great numbers, but he is consistently being double-teamed and teams aren't running it toward him. Jadrian Taylor played very well against OU, including a sack. The interior hasn't played great either. The defense as a whole has allowed 5.6 YPC this year and the D-Line specifically, has only put up one sack and 10 TFLs, which definitely isn't bad, but with the talent UTEP has on the defensive line, the expectation is higher than that. To add to this, UNT and OU both have great offensive lines. Compared to NMSU's offensive line, the UTEP defensive line has a chance to prove why they were so hyped, and get to the quarterback consistently. I believe UTEP does hit this goal.
 Force 2+ turnovers
The Miner defense forced plenty of turnovers during their 6-1 hot start last year, and that was a big part of why UTEP won so much early last season. So far this season, the Miners have "forced" one turnover, which came on a dropped snap from Austin Aune late in the second quarter against UNT. The secondary hasn't found a playmaker thus far. Dennis Barnes had 2 INTs last year, but apart from him and Amewhule (who forced 3 fumbles last year), the defense has yet to find another playmaker. Forcing early turnovers against NMSU could lead to the Aggies having to pass the ball a lot more than they would like, and put the Miner defense in a great position. However, I think at this point, the Miner defense hasn't found its identity and is unable to force 2+ turnovers against the Aggies. I do not believe UTEP hits this goal.
 8 different receivers catch a pass
Last week against OU, the Miners had 10 different receivers catch a pass. The Miners may not have a solidified no. 1 wideout, but the depth is there. Rey Flores, Tyrin Smith, Kelly Akharaiyi, Jeremiah Ballard, Walter Dawn, Marcus Bellon…I could go on about the depth UTEP has at that spot, and if they all get involved, NMSU's secondary could be in for a long one. With Hardison finding a nice groove last week against OU, I think he goes out and has his best game in a Miner uniform and spreads the love out, as the Miners easily surpass this goal.
 Capitalize on opportunities
The biggest problem with UTEP so far has been the fact that they haven't capitalized on the opportunities given to them. Just last week, the Miners were in field goal range with under 10 seconds to go before the half, and Hardison took a costly sack to end the half and put the Miners out of field goal range. Another example of UTEP blowing their opportunity to score is when the Miners were about to score on a 4th and goal against UNT, and the snap is muffed. The opportunities for UTEP have been there, but the Miners just haven't capitalized on them. The dropped pass in the endzone, the muffed snap, the missed field goal. Those are all the missed scoring opportunities UTEP had against UNT. They left 17 points on the board. That cannot happen against NMSU. The key point is red-zone conversion. As long as they convert when in the red zone, the Miners will be fine. I think they clean up the mistakes from the first two weeks and convert. I believe UTEP hits this goal.
 The Bottom Line
I think that if UTEP completes at least 3-of-5 of these goals, they will win this game, by at least double-digits. These are all achievable goals for the Miners and achieving these goals can kickstart the season for the Miners. However, if the Miners lose to their I-10 rival, it could be a rough couple of weeks for the Miners.
Kickoff against the Aggies is set for 7 p.m. at the Sun Bowl. The game broadcast can be heard on KLAQ (95.5 FM) and MinerTalk will follow the broadcast on 600 ESPN El Paso.
All The Big Moments From UTEP Football's Win Over Bethune-Cookman
The UTEP Football team defeated Bethune-Cookman 38-28 last Saturday night to start the 2021 college football season with a 2-0 record for the first time in 16 years.
More From 600 ESPN El Paso