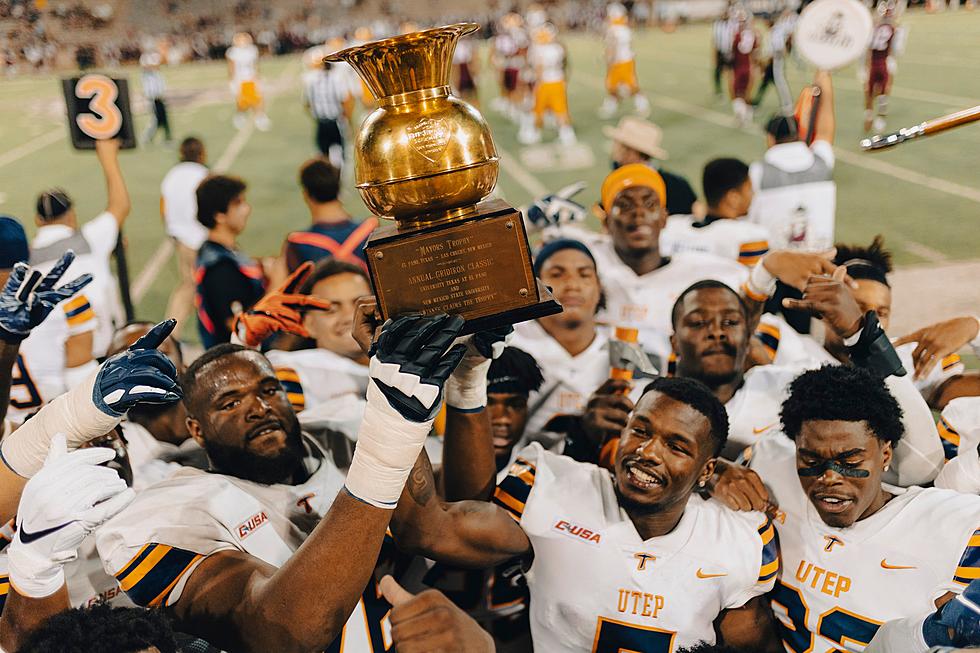 100th Edition of the Battle of I-10: UTEP Hosts NM State in Pivotal Matchup for Both Programs
Jorge Salgado
UTEP has emerged victorious in the Battle of I-10 against their rivals NM State for back-to-back seasons. This season's 100th edition of the rivalry series—where the winner will be awarded the Silver Spade Trophy and the Mayor's Cup (Brass Spittoon)—features a UTEP squad (2-5, 1-2 CUSA) needing a win to keep bowl hopes alive and an NM State group (4-3, 2-1 CUSA) that is seeking consecutive bowl seasons.
This will also mark the first time in 62 seasons that the two schools face off in a conference game.
600 ESPN El Paso will have all the coverage of Wednesday night's Battle of I-10, with a MinerTalk pregame tailgate at The District West (3233 N. Mesa) kicking things off at 4. The tailgate will lead into the Countdown to Kickoff show with Jon Teicher, Cole Freytag and Mando Medina. Kickoff is officially slated for 7 p.m. and MinerTalk will follow the broadcast's conclusion afterward.
History of the rivalry
The Miners lead the all-time series 59-38-2. In fact, UTEP has won 13 of 18 matchups since 2004 and also won eight straight games between 2009 and 2016. NM State won three straight from 2017-2019.
The Miners won 20-13 in last season's matchup at the Sun Bowl. Because of the conference realignment, this is the first time that UTEP has hosted in back-to-back seasons since the 1999-2000 seasons.
Both squads compete for a traveling trophy. The older of the two trophies is known as the Silver Spade, which originates in back to 1955. The Silver Spade is a model of a prospector's shovel from an abandoned mine in the Organ Mountains. The Mayor's Cup was added in 1982 and is nicknamed the Brass Spittoon.
Scouting NM State 
NM State clearly has been playing the better football of the two programs this season and enters this matchup on a two-game winning streak. They are 34th in FBS in total offense (UTEP is 88th), while ranking No. 24 in the country for their rushing offense. They are led by quarterback Diego Pavia, who has amassed over 2,000 total yards on the season, and recently was named CUSA Player of the Week after posting 286 passing and 115 rushing yards against Sam Houston State. His QB rating of 166.9 is second-best in CUSA, 18th in FBS.
Defensively, the Aggies are much improved from last season. They yield only 23.1 points per game to their opponents and it's largely due to their run defense (3.9 yards per opponent). They are a top-50 red zone defense, which will be key in the matchup as UTEP has struggled to score touchdowns in the red zone this season.
UTEP's outlook 
The Miners are coming off a seemingly unprecedented win at FIU last Wednesday, 27-14. Quarterback Cade McConnell made his first career start in place of the injured Gavin Hardison, and he flourished in the offense with 262 passing yards and a pair of touchdown passes. Wide receiver Kelly Akharaiyi totaled eight catches for 223 yards and a pair of touchdown grabs. Defensively, Maurice Westmoreland led the way with 2.5 sacks, which earned him CUSA Defensive Player of the Week honors.
UTEP's defense is their strong point leading into the rivalry game on Wednesday. They are among the top teams in CUSA in total yards allowed (382). They have 16 sacks as a team, led by Westmoreland (4.5) and Praise Amaewhule (4.0). Linebacker Tyrice Knight ranks third in FBS and leads CUSA in tackles (82).
Offensively, the Miners average 156 rushing yards per game, with two of the top five running backs in CUSA on their roster in Torrance Burgess Jr. (452 yards) and Deion Hankins (442 yards).
Analysis
The key in this matchup for the offense is simple: play turnover-free football. They are 2-0 when they have no turnovers in games this year and 0-5 when they have at least one turnover in a game. Asking for a second turnover-free game from McConnell seems like a tough task. Though, McConnell's performance at FIU outplayed any performance from any other UTEP quarterback this season.
Defensively, they need to do what other teams in CUSA have struggled to do—slow down Pavia. They also need to get off on third downs, as opponents are converting 43.4% of third down attempts against UTEP.
Can UTEP get a game in which they play mistake-free on special teams? Mishaps on special teams include a punt block against UNLV, a punt return for a touchdown by LA Tech and an onside kick at FIU—all of which has hit this special teams unit in three consecutive weeks.
I'm ready for the 100th edition of this rivalry series. This feels like a toss-up and could go down to the bitter end. Both fan bases believe their respective team should win tonight, but only one will come away with a win.
UTEP Basketball Practices Ahead of McMurry Home Opener on Nov. 6
Gallery Credit: Zay Galindo
More From 600 ESPN El Paso