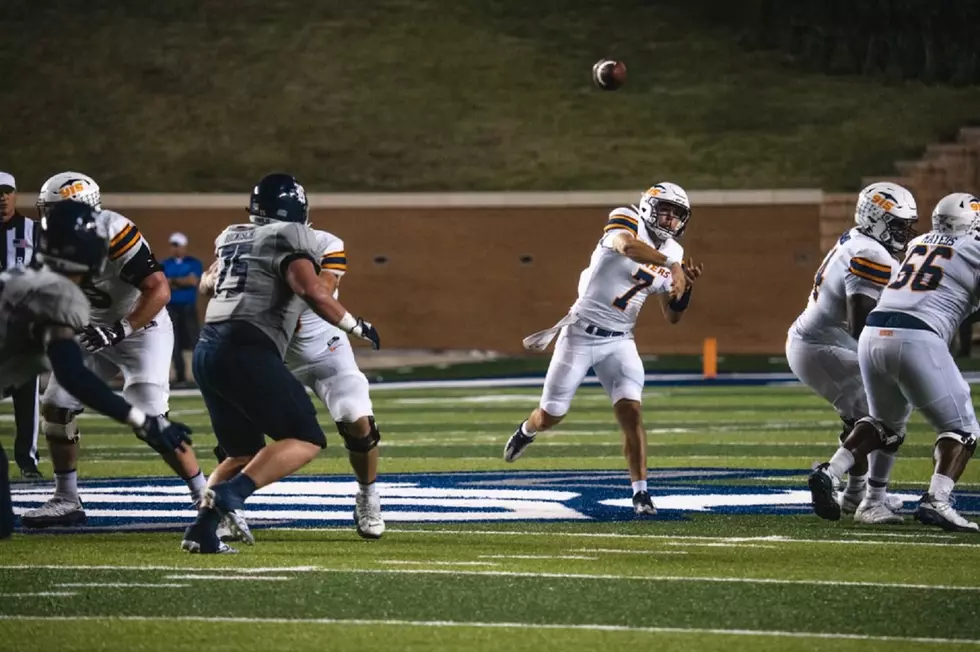 UTEP's Calvin Brownholtz Shines in Relief Appearance Against Rice
UTEP Athletics.
Last night the UTEP football team lost for the third time in their last four games and are now a long shot to make the postseason for the second straight year. There are few consolations with this underperforming team that was expected to finish in the top third of Conference USA. If there was one takeaway from last night's loss to he Owls that has Miner fans talking, it was the play of backup quarterback Calvin Brownholtz.
The redshirt junior played well in his two offensive series after starter Gavin Hardison left the game with what appeared to be a right ankle injury. Brownholtz led the Miners to a pair of scoring drives, highlighted by a 25-yard touchdown run early in the fourth quarter which had tied the game at 27.
The veteran backup finished the game 7-10 for 56 yards and he added another 64 yards rushing on eight carries with the TD. The only thing UTEP head coach Dana Dimel was upset about was Brownholtz's decision to audible at the line of scrimmage on a third and three which ended up being an incomplete pass to Tyrin Smith. However, the Miners were already out of timeouts at the time, and they had used them up on questionable situations including a 59-yard field goal attempt that they later changed to a punt. If I went into detail on UTEP's clock management, there would not be enough words to describe the frustration that every Miner fan goes through each game.
When you compare the skillsets of Hardison and Brownholtz, they could not be more different. Gavin is a pocket passer with a huge arm who lacks speed. In his defense, Hardison has run a little more as of late and with success. In contrast, Calvin is a much better athlete who relies on his speed to make plays. His biggest weakness is his lack of arm strength, which was apparent in a few of his throws last night. Still, Brownholtz brings a running package to the quarterback position, which complements both Deon Hankins and Ronald Awatt.
When Brownholtz was running well, the Miners did not use Hankins or Awatt in the backfield. Instead, they brought in fullback James Tupou to block for him. As the team prepares for their final two games against FIU and UTSA, Hardison's status could be up in the air. Hopefully as Brownholtz takes more first team reps in practice, Coach Dimel can include packages with both running backs. Given their success against Rice and other opponents, the Miners will have an opportunity to play to their strength as they feature their running game more. The team gets another bye week to sort things out before their home finale against FIU two weeks from tomorrow. If you ask fans, many of whom have been disappointed by another lackluster season, they will tell you that the Miners should give Calvin Brownholtz every opportunity to see what he can do as the team's starting quarterback.
UTEP vs. NMSU Battle of I-10 Gallery Recap
These photos were taken Saturday, August 28th, 2021 when UTEP defeated NMSU 30-3 in the annual Battle of I-10 at Aggie Memorial Stadium.
More From 600 ESPN El Paso