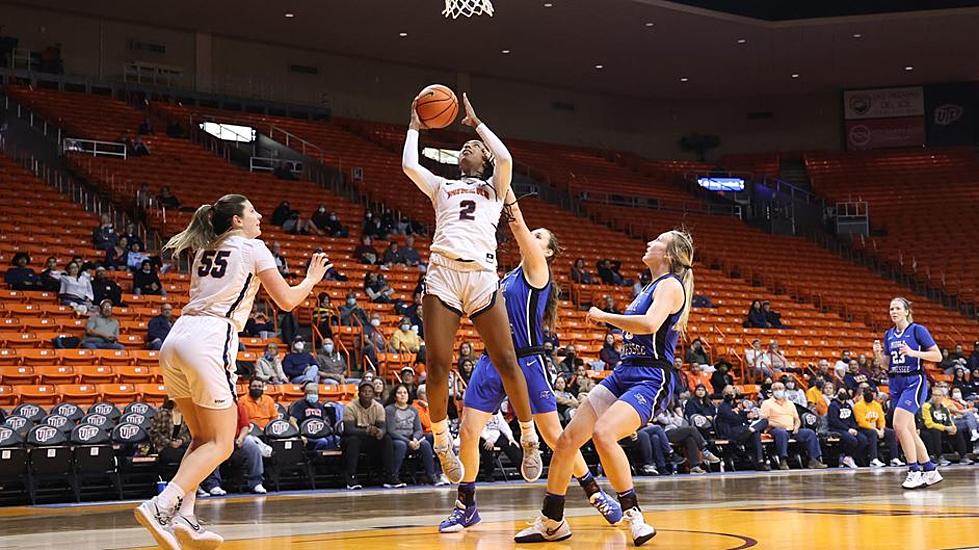 UTEP Women's Basketball Faces More Postponements Due to COVID
Ruben R. Ramirez | UTEP Athletics
COVID-19 strikes UTEP again. This time, it's the women's basketball squad that is affected.
Due to multiple positive cases of COVID-19 and subsequent contact tracing, UTEP's road games against LA Tech and Southern Miss have been postponed. It's unclear when the game will be potentially rescheduled.
The news is coming after the Miners posted arguably the best win in the Kevin Baker era. They upset perennial Conference USA power Middle Tennessee, 56-55, on Saturday. Elina Arike nearly had a double-double (13 points, eight rebounds) and Teal Battle also totaled 13 points in the win.
UTEP is set to host Charlotte on Thursday, Jan. 13.
Miners sign Colorado transfer Allysa LaFontaine
In some more Miner basketball news, redshirt freshman transfer Allysa LaFontaine signed to play with the Miners on Monday and she will be eligible to play at the start of the 2022-23 season.
The Colorado transfer is 6-foot-0 and played high school basketball at Boswell in Fort Worth. LaFontaine came off the bench for the Buffs in which she averaged 5.4 minutes per game. Her best performance came against Air Force where she scored five points in 11 minutes. At the high school level, LaFontaine averaged 16.2 points, 5.7 rebounds and 2.1 assists per game in 37 contests as a senior.
"We are thrilled to add Allysa to our roster. She was a standout high school player and was heavily recruited by Power 5 schools. She has been unlucky at Colorado with injuries. What we like about her game is that she fits what we do. She can play multiple positions on the floor, can score the ball in a variety of ways, and she can defend all kinds of players. She is very athletic, has great court vision, and fits into the kind of culture we always look for. She will be listed as a red shirt freshman so we look forward to a long run of success as a UTEP Miner." – Coach Baker said in a release.
UTEP Falls in New Mexico Bowl to Fresno State, 31-24
More From 600 ESPN El Paso