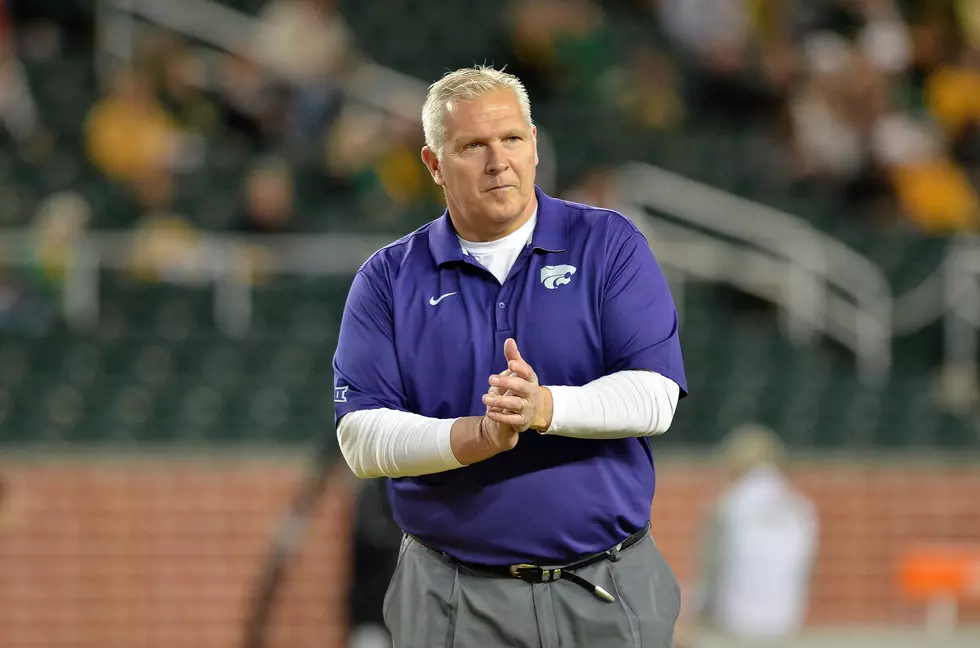 UTEP Names Dana Dimel Head Football Coach
UTEP Athletics.
Courtesy: UTEP Athletic Media Relations
Dana Dimel was named the 26th head coach in UTEP football history by University President Diana Natalicio and Director of Athletics Jim Senter on Wednesday.
Dimel, 55, was previously the head coach at the University of Wyoming and the University of Houston. He most recently served as the offensive coordinator, running backs coach and tight ends coach at his alma mater, Kansas State University, where he has worked since 2009. He also spent three seasons on the staff at the University of Arizona.
UTEP and Coach Dimel are working on a mutually agreeable start date following completion of his coaching responsibilities with Kansas State in the Cactus Bowl on Dec. 26 in Phoenix.
"We welcome coach Dimel, his wife Julie, son Winston and daughter Josey to El Paso," UTEP President Diana Natalicio said. "We look forward to an exciting new era of UTEP Football under his leadership. His prior experience as a head coach at Wyoming and Houston and as offensive coordinator in the turnaround at Kansas State make him a great fit for UTEP and the El Paso community at this time."
"We are very pleased to find a coach with the talent, expertise and experience of Dana Dimel," UTEP Director of Athletics Jim Senter said. "He has strong ties to the state of Texas. He will immediately impact recruiting in the state of Texas and he is a proven winner."
"I'm greatly looking forward to the opportunity at UTEP to build a program utilizing a '1-0' concept," Dimel said. "I would like to thank President Natalicio and Jim Senter for the opportunity. We will work diligently to elevate UTEP football to the highest level in Conference USA. Having been a part of a major turnaround at Kansas State and having the success we did at Wyoming, I'm just really excited about the leadership challenge that's ahead."
Dimel is completing his third tour of duty with the Wildcats, including a year (2005) continuing work on his graduate degree. Working under legendary coach Bill Snyder, he has been a part of 12 bowl teams during 19 seasons in Manhattan. The Wildcats have posted an 11-win season (2012), two 10-win campaigns (1995, 2011) and five nine-win seasons (1993, 1994, 1996, 2014, 2016) during that span, and have finished in the top-18 of the national poll on three occasions (2011, 2012, 2014). They won the Big 12 championship in 2012.
Dimel has the most wins of any active offensive coordinator in college football since 2011 (60), and has been a part of eight straight bowl appearances including in 2017. The 2016 Wildcats defeated Texas, Texas A&M, Texas Tech, Baylor and TCU. With Dimel calling the plays over the last seven seasons, the Wildcats have averaged 33.4 points per game and 6.2 yards per play. They have ranked third nationally in fewest turnovers per game behind LSU and Alabama over the last seven years.
During Dimel's tenure as offensive coordinator, Kansas State has routinely ranked among the nation's best teams in red zone and third down efficiency.
In 2014, Kansas State led the nation in scoring efficiency (scoring drives/total drives) while shattering the school record for passing yards (3,736) and completion percentage (65.3).
Dimel's play calling helped wide receiver Tyler Lockett leave K-State with the school's career receptions, receiving yards and receiving touchdown records, while quarterback Jake Waters broke the school marks for single-season passing yards (3,501) and total offensive yards (3,985).
In 2012 Dimel coached Heisman Trophy finalist Collin Klein, who passed for 2,641 yards and 16 touchdowns while rushing for 920 yards and 23 scores.
In 2011, Dimel led a rushing offense that saw Klein set a new Big 12 record and NCAA record by a quarterback with 27 rushing touchdowns while rushing for 1,000+ yards.
Dimel started his career at K-State as a graduate assistant from 1987-88 prior to being elevated to offensive line coach in 1989. He took over as offensive coordinator in 1995. Overall Dimel spent 10 seasons in Manhattan (1987-96) prior to accepting the head coaching position at Wyoming. At the time of his hire, he was the youngest Division I-A head coach in the nation at the age of 34.
Wyoming's three seasons at Wyoming (1997-99) produced a record of 22-13, with one eight-win season (1998, 8-3) and two seven-win campaigns (1997, 7-6 and 1999, 7-4). In 1998, Wyoming was 6-2 in the WAC's Mountain Division (second place). Dimel coached three Academic All-Americans at Wyoming.
Dimel spent 2000-02 as the head coach at Houston. Spearheading a major rebuilding effort, he led the Cougars to five wins in 2002 following a 0-11 campaign in 2001. In Dimel's final game with the Cougars, Houston upset conference champion Louisville. Dimel brought in the top-ranked recruiting class in Conference USA in both 2001 and 2002.
He continued work on his graduate degree at Kansas State in 2005 prior to taking over as Arizona's tight ends coach and, eventually, run game coordinator from 2006-08. In 2008, he added running backs to his list of responsibilities as he was promoted to Associate Head Coach with the Wildcats. The 2008 Arizona squad finished 8-5 while posting a bowl victory (Las Vegas Bowl) for the first time in 10 years. Among Dimel's protégés at Arizona was Rob Gronkowski, who has emerged as one of the top tight ends in NFL history with the New England Patriots.
During his initial tenure at K-State, Dimel coordinated an offense that established school records for touchdowns, points and yards in 1995. He mentored 11 offensive linemen who went on to sign NFL contracts over those 10 years, as well as three All-Americans.
During his career as a head or assistant coach, Dimel has coached 37 players who have gone on to play in the NFL.
Dimel was a two-year letterman as an offensive lineman at Kansas State. He was a member of the Wildcats' All-Decade Team for the 1980's. He signed a free agent contract with the Minnesota Vikings and attended training camp in 1987.
He received a Bachelor of Arts degree in Marketing from Kansas State in 1986.
Dimel and his wife, Julie, have a son, Winston and a daughter, Josey. His son is a junior fullback on the Kansas State football team who has scored 25 touchdowns over the last three seasons. He is a three-time All-Big 12 player, garnering first team honors in 2015 and 2016.
More From 600 ESPN El Paso