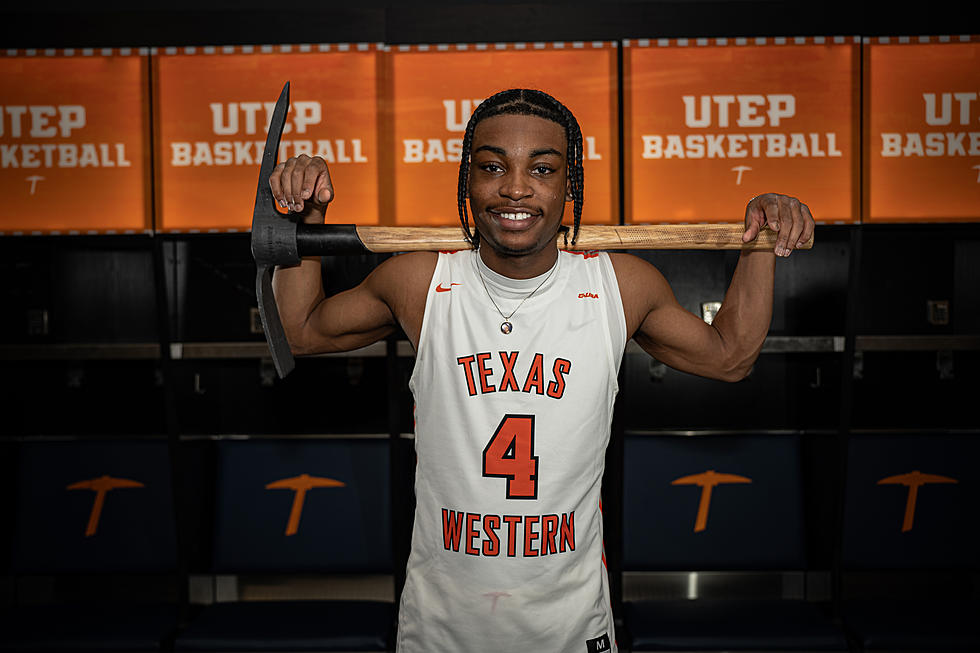 UTEP Men's Basketball Adds Two Guards to 2023 Class
UTEP Athletics.
When UTEP head coach Joe Golding was asked last month what he wanted for the upcoming basketball season, his answer was simple. Guards. More specifically, guards who could shoot the basketball. With Ze'Rik Onyema entering the transfer portal this week, another low post scorer might be added to Coach Golding's wish list. Over the last week, the Miners have received a pair of commitments from guards who look to help the Miners this next season.
First, junior college guard Corey Camper Jr. announced his intention to play at UTEP for the 2023-24 season.
As a freshman at Tyler junior college, Camper Jr. averaged 12.1 points per game on 44% shooting, including 35% from three point range. He was also an 85% foul shooter. Camper Jr. take his offensive game up a notch last season, when he averaged 19.9 points on 50% shooting, to go along with 5.1 rebounds and 3 assists per game. His 3-point shooting stayed the same at 36% and he went to the line nearly twice as much as his freshman season, averaging 76%. He looks to give UTEP a scoring threat and the 6'5 guard can play the 1, 2, or 3 position.
Earlier this week, UTEP received another commitment from Baylor Hebb, who played at Loyola Chicago and then Colorado State.
Unlike Camper Jr., Hebb's college stats are nothing spectacular. In fact, his career average of 2.4 points per game in three seasons is so low, that the first reaction from any Miner fan would be why did Joe Golding use a scholarship on a player who has not contributed offensively in three seasons? However, when you look at Hebb's bio, you see someone who was one of the most prolific high school scorers in Texas.
In fact, he was rated by Rivals.com as a 3-star player and as the 38th best shooting guard in the country prior to his senior year at Colleyville Heritage High School. As a senior, he averaged 23.6 points, 4.2 rebounds, 2.2 assists and 1.8 steals per game in 2019-20, posting a 52.4 effective field goal percentage. He also finished his high school career with 1,852 points. After his junior season, he was named Texas 7-5A Offensive Player of the Year, First Team TABC All-Region and NY2LA Basketball Association Offensive Player of the Year. Hebb was so highly touted as a prep player that he had 19 college offers before choosing Loyola Chicago, One of those scholarship offers came from Abilene Christian and their head coach Joe Golding.
As it currently stands, UTEP has two more scholarships to give out before they reach their maximum limit of 13. According to reports on social media, they were in the mix for a trio of players from the transfer portal. However, former TCU guard Shahada Wells did not have UTEP in his final four teams, UNM guard KJ Jenkins went to UNC Wilmington, and Temple forward Zach Hicks chose to stay on the east coast and play for Penn State.
The Miners wish list still includes a guard who can create along with a scoring wing. They currently have six scholarship players returning from last season (Jon Dos Anjos, Tae Hardy, Calvin Solomon, Kevin Kalu, Otis Frazier III, and Derick Hamilton), along with high school recruits David Terrell and Trey Horton, and former East Carolina forward Elijah Jones.
UTEP Defeats Old Dominion in 2022 C-USA Tournament
UTEP dominated Old Dominion and led wire to wire in their 74-64 win in the C-USA Men's Basketball Tournament.
More From 600 ESPN El Paso