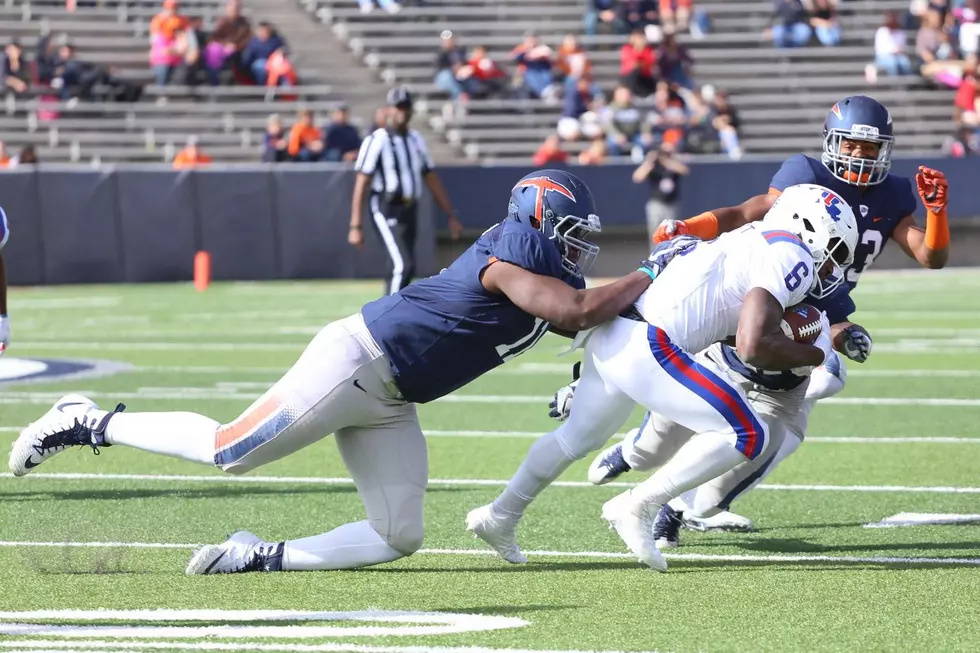 UTEP Football Roster Outlook: Defensive Line
Photo courtesy Gaby Velasquez
New defensive coordinator Mike Cox and head coach Dana Dimel have a lot of shiny toys to work with on defense for their new scheme on defense.
This year's defensive line brings in tons of experience and total depth for the Miners. Cox's defensive front looks to be a three-man defensive line, so the competition for starting spots and playing time will be extremely tough.
Here are the defensive lineman to look out for come fall:
Praise Amaewhule - Freshman - Katy Taylor HS; Katy, Texas
Praise Amaewhule is a scary up-and-coming prospect for the Miners. Standing at 6-foot-3 and weighing in at 225, the Katy native loves to swarm all over the ball. During his senior year, he totaled 70 solo tackles, 23 tackles for loss, four pass breakups and two forced fumbles for Katy Taylor.
Christian Johnson - Sophomore - Parkland HS; El Paso, Texas
The hometown boy in Christian Johnson will have his chance to prove what he can do on the field in this new defensive scheme. Johnson will share minutes with Trace Mascorro on the right end for the Miners. The Parkland High graduate, who is 6-foot-2 and weighs in at 255, played in four games for UTEP last season and had four tackles including a tackle for loss against UAB. He's elusive off the snap and loves to get in the backfield. He will likely become the Miners' main option as a pass rusher for the next two seasons.
Mike Sota - Senior - Valencia HS; Placentia, Calif.
At 6-foot-5, 280-pounds, defensive end Mike Sota is destined for some solid minutes for his senior season. He played in nine games for the Miners last year, whether it was on defense or on special teams. Sota finished his junior campaign with 15 tackles, while totalling 47 tackles during his sophomore year with the Miners.
Expect Sota to rotate primarily with CJ Reese on the line, creating constant pressure against other quarterbacks.
CJ Reese - Grad Transfer - Kansas State; San Antonio, Texas
There might not be another player on the defensive line with higher expectations for himself than CJ Reese, who is coming from Kansas State as a graduate transfer. Reese told me that his goals are as high as C-USA Defensive Player of the Year for this season.
In today's game, the edge pass rusher is valued higher than ever. Guys like Bradley Chubb, who went fifth overall to Denver, are now well-regarded across the league. If he has a strong senior season, we might not just be talking postseason awards, but also NFL draft possibilities for Reese.
Trace Mascorro - Sophomore - Refugio HS: Refugio, Texas
Trace Mascorro has the highest ceiling for any member of the defensive line. His freshman season was a breakthrough year for Mascorro, who was recognized onto the 2017 All-C-USA Freshman Team. He started 11 of 12 games for the Miners at the nose guard position, and totaled 29 tackles (11 solo) with four tackles for losses.
Mascorro will likely be the frontrunner starter on the right end of the defense. His 6-foot-1, 260-pound frame makes him a desired candidate for a speedy end, and if he could repeat what he did his freshman season, the Miners' D-line will be in good shape.
Dedrick Simpson - Sophomore - Dobie HS; Houston, Texas
Dedrick Simpson is another defensive lineman that had a strong true freshman season. He's a 6-foot-3, 300-pound big man with a lot of potential. Simpson played in all 12 of the Miners' games last season and played on the end and as a snapper on the line. His versatility showed as well, notching 14 tackles, 1.5 tackles for loss, one sack and a quarterback hurry.
Interestingly enough, Dedrick's father, Antoine Simpson, played defensive tackle at Houston and played two seasons in the NFL with the Miami Dolphins and San Diego Chargers.
Chris Richardson - Junior - Oak Hills HS; Oak Hills, Calif.
Looking to bounce back from being on the scout team in 2017, junior Chris Richardson is looking to bring to the team what he did during his freshman season. In 2016, Richardson played in all 12 games as a redshirt freshman, and was honored to the C-USA All-Freshman team after recording 21 tackles for UTEP. At 6-foot-3, sub-300 pounds, Richardson hopes to bring some noise to the Miners D-line this season.
Denzel Chukwukelu - Junior - Rockwall Health HS; Rockwall, Texas
Consistency is one of the best ways to describe Denzel Chukwukelu. Not many like Chukwukelu practice hard and translate it to the field game after game. The 6-foot-4, 290-pound Rockwall native has athleticism unmatched for a defensive lineman, with the ability to tackle efficiently. Last season he played in 11 games for UTEP, and had 20 tackles (10 solo), with two tackles for losses.
Tiano Tialavea - Sophomore - O'Dea HS; Seattle, Wash.
Keep an eye on Tiano Tialavea, who made his transition from offensive line to D-line last season as a redshirt freshman. Coach Cox could end up subbing in Tialavea, and with his size at 6-foot-3, 315-pounds, he may shed some help on defense. Interestingly enough, Tialavea's cousin is Atlanta Falcons tight end D.J. Tialavea.
Sani Buckingham - Junior - Seoul American School; Tafuna, American Samoa
The Buckingham family seems to be everywhere on the UTEP roster, including prime defensive lineman Sani Buckingham. He will share minutes with Chukwukelu at the nose tackle spot. Last year, Buckingham, the 6-foot-4, 300-pound American Samoan product, played in all 12 games, recording nine tackles and two quarterback hurries.
Christian Buckingham - Senior - Seoul American School; Tafuna, American Samoa
The oldest of the Buckingham family, Christian, is hopeful for his senior season with the Miners on the defensive line. He played in four games last year for the Miners and had four tackles with one quarterback hurry before missing the rest of the year due to an injury. Christian is 6-foot-4, 280-pounds, and can come in different packages to help out the line off the bench. Both Christian and Sani also have a younger brother, Uelese, who plays linebacker for the Miners.
More From 600 ESPN El Paso