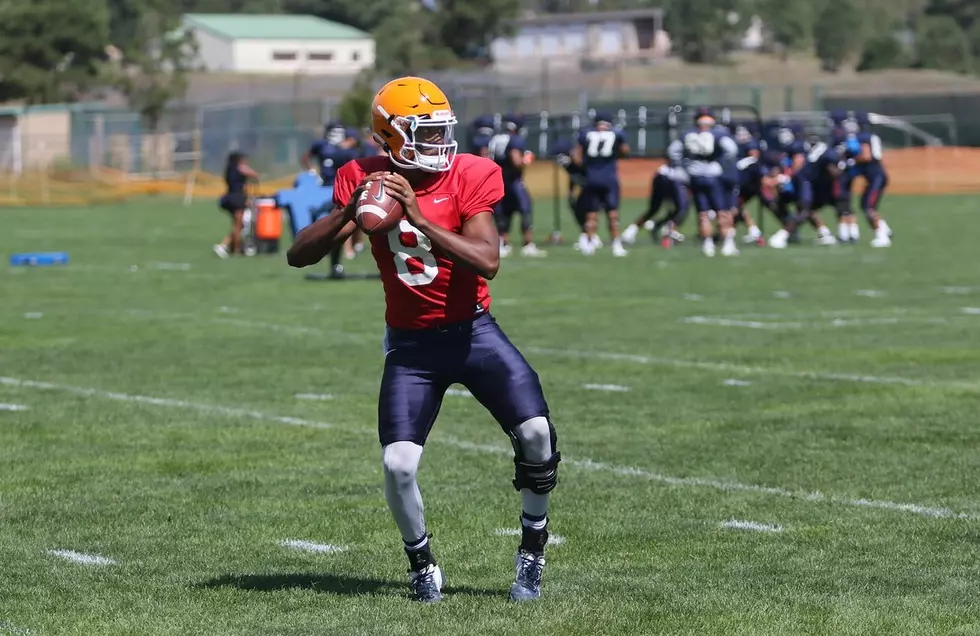 UTEP Depth Chart Outlook: Miners Finalize Positions for Season Opener
Matthew Metz
The UTEP 2019 depth chart was released today by the UTEP football program, featuring positions we pretty much already knew and included a finalized look at how the Miners are going to look as they host Houston Baptist for the start of the season on Saturday, Aug. 31.
UTEP head coach Dana Dimel, who enters his second year at the helm of the program, met with the media today to breakdown the depth chart and discuss the Miners' opening game.
Let's take a closer look at some of the position groups:
Starting off with the quarterbacks, senior Brandon Jones has the reigns of the team at the No. 1 quarterback spot. Senior Kai Locksley will be breathing down his neck, though, as the team's backup.
Since he was arrested on four charges in the summer, suspended by the team following the news and then reinstated by the team before Camp Ruidoso, Locksley's had to battle for reps at practice for the Miners. He's done enough already to be named Jones' backup. It will be interesting to see how the coaching staff evaluates the quarterback spot in weeks to come.
If the Miners get off to a comfortable lead, does Dimel put in Locksley to get reps at quarterback on Saturday? Or—dare I say—if the Miners are struggling against the FCS squad, does Locksley relieve Jones at quarterback mid-game?
Dimel made sure to address those hypotheticals at the media luncheon today by saying that Brandon Jones is the firm starter and will be measured by his "leadership and body of work." Dimel said that Locksley's been solid since coming back to the program and he is "focused on having a good senior year."
After the season-ending injury to the Miners' starting tailback Quardraiz Wadley, senior Treyvon Hughes will step in as UTEP's starting running back. And, following the recent unfortunate injury to converted running back Ronald Awatt, it looks like Josh Fields, Reynaldo Flores and Deion Hankins will each get touches at running back. With the re-addition of Americas grad Josh Fields, the running back corp is begging for someone to have a breakout game and could take the reigns of the starting spot.
El Paso's all-time leading rusher in high school football, aka true freshman Deion Hankins, will get a chance at the backup spot, slotted behind Flores, who is a Ysleta graduate. Dimel plans on rotating tailbacks often throughout this season.
From left tackle to right tackle, here's who will be manning the o-line for UTEP as starters: junior Darta Lee, sophomore Bobby DeHaro, senior Derron Gatewood, senior Ruben Guerra and junior Greg Long.
Last year, UTEP's offensive line was constantly shifting due to their abundance of injuries. On the flip side, this year UTEP's offensive front features experienced reserves as well, such as sophomore Zuri Henry, senior Bijan Hosseini, senior Markos Lujan and freshman Elijah Klein, who Dimel calls a "flip guy," where he can be plugged in anywhere on the line.
Receivers/tight ends/fullbacks 
Tons of newness comes into the Miners' receivers, tight ends and fullbacks. Starting with the wideouts, sophomore Tre'Shon Wolf takes the No. 1 receiver spot for the Miners, surrounded by other starters like junior Walter Dawn Jr. and senior Alan Busey. Senior Kavika Johnson, junior Arizona grad transfer Devaughn Cooper and junior Justin Garrett will all play big factors in the receiving corps.
Purdue graduate transfer Jess Trussell is going to be huge for the Miners this season at tight end. In an offense that features the tight ends in both blocking and pass-catching situations, the 6-foot-5, 250-pound tight end in Trussell could play a big factor for UTEP's offense.
Fullback for the Miners will be split by junior Forest Mckee and sophomore James Tupou.
It's not a surprise to say that the defensive line is maybe the strong point of this UTEP team. Senior Denzel Chukwukelu leads the charge up front, along with freshman Praise Amaewhule and senior Chris Richardson to make up for a strong core of linemen. Amaewhule, who really impressed coaches during fall camp, could also play a major role in the defensive front.
Senior Kalaii Griffin, junior Jayson VanHook and junior transfer Joe Jay Smith make up the Miners' starting linebackers. This is a position group that loses all of their key players from last year, including the C-USA co-leader in tackles, A.J. Hotchkins.
But this is also a position group with a ton of upside. Griffin emerged throughout the offseason and impressed coaches enough to earn a starting job at the sam linebacker. VanHook has been riddled with injuries over the last few years, but now he's back on the field and ready to pick back up from his strong freshman and sophomore seasons. Then at middle linebacker, the Miners could find themselves flipping back-and-forth between Smith, DJ Turner and Sione Tupou until they find their true guy at the position.
The defensive backfield, like the linebacking group, will have the daunting task to replace the now graduated skilled players from last year that made up the secondary, like Kahani Smith, Nik Needham and Kalon Beverly.
This season's starters include junior Josh Caldwell and junior transfer Duron Lowe filling the cornerback spots, while senior Justing Rogers, senior Michael Lewis and sophomore Justin Price round out the safety spots on defense.
This is a position group that has some playmakers in their backup spots as well, such as transfers Robert Corner III, Tyreke James, Dy'vonne Inyang and senior Adrian Hynson, who has on-field experience with the Miners.
Kicking for the Miners this year will be sophomore Gavin Baechle, with senior Brady Viles slated at the backup spot. Senior Mitchell Crawford returns as the team's experienced punter as well.
More From 600 ESPN El Paso