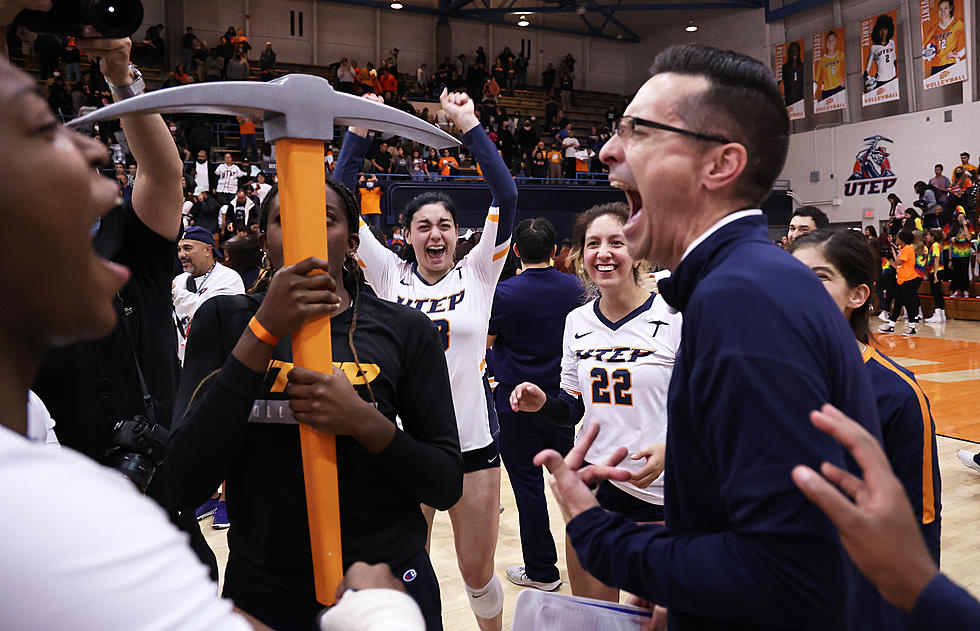 The 2021 UTEP Volleyball Team is Making a Historical Run
Ruben R Ramirez/UTEP Athletics.
What a year it has been for Ben Wallis and his UTEP volleyball team. The Miners finished the regular season with a 21-7 record and went to the semifinals of the C-USA Tournament. From there, they received their first ever postseason bid and proceeded to win their first two matches of the National Invitational Volleyball Championship against Tulsa and Colorado State. Their reward? An opportunity to host Weber State in the quarterfinals last night. Both teams did not disappoint the packed crowd of an estimated 3,000 fans at historic Memorial Gym. After a marathon fourth set that went to the Wildcats by a score of 36-24, the Miners came back to win the fifth and deciding set by a score of 15-9.
The win put UTEP into the NIVC semifinals tomorrow night against UNLV. The Rebels swept Arkansas in a match that was played at Memorial Gym before the Miners and Wildcats. UTEP and UNLV will start at 7 p.m. and general admission tickets are $10, which can be purchased online at UTEPMiners.com.
It is incredible to look at the last three seasons and watch in real-time the transformation that Coach
Wallis has made with the Miners volleyball program. Over that time, he transformed them from a cellar dweller to a postseason threat. In the process he has re-energized Memorial Gym, which has not roared like this during a live sporting event in many years. Players like Paulina Perez Rosas, Serena Patterson, Ryley Frye, Alianza Darley, and Alyssa Sianez have become rock stars to Miners fans attending these matches. Last night's five set thriller was three hours of a wild roller coaster ride that seemed like it would never end.
There is also something to be said about Triple Crown Sports, who not only owns the NIVC but also the Women's National Invitation Basketball Tournament. The Miners had a pair of terrific runs in the WNIT in front of sold out crowds at the Don Haskins Center. Triple Crown took notice and they immediately wanted UTEP to host their volleyball tournament matches because they knew that fans would come to watch. The UTEP athletic department also took a page out of their WNIT handbook when they priced all seats at Memorial Gym for $10 and made the entire facility general admission.
Now, the volleyball team is on fire and they have a chance to host the NIVC Championship next Tuesday night at Memorial Gym if they can knock off an excellent UNLV squad tomorrow night. It is must-see sports for any UTEP supporter and the house will be rocking when the Miners return to action against the Rebels.
UTEP Volleyball Advances to NIVC Semifinals After Win Over Weber State
The UTEP volleyball team continued their incredible postseason run with a dramatic five set win over Weber State last night at Memorial Gym.
More From 600 ESPN El Paso