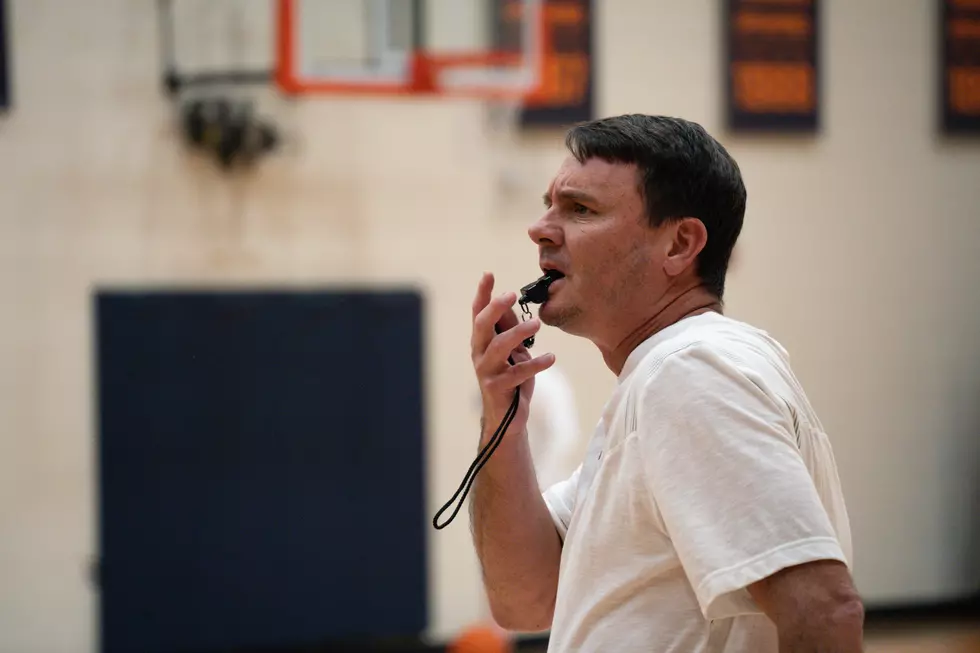 Ten Takeaways from UTEP Men's Basketball Summer Practice
UTEP Athletics.
The UTEP men's basketball team officially finalized its roster for the upcoming 2023-24 season, as the entire squad will go through summer practices at the Foster Stevens Center over the next few weeks.
When Colin Deaver of KTSM reported that head coach Joe Golding called this team the "deepest team he's had at UTEP," it sparked my interest to watch the full team on display at practice. Granted, it's only summer workouts and we're far from the start of the actual season, but there were significant differences I noticed this summer compared to last year.
Moreover, the UTEP men's basketball team revealed their official CUSA schedule for the 2023-24 season on Monday, as released by the league office. The men's team will open their conference slate at NM State (Saturday, Jan. 6) and face the Aggies at home on Feb. 10. Check out their conference only schedule here:
Here are ten early takeaways from watching UTEP practice:
Zid Powell is the alpha dog of this team
It didn't take long for Buffalo transfer Zid Powell to impress me when I attended practice. The 6-foot-4 guard enters UTEP after averaging 13 points per game in the MAC. Powell has a mix of swagger and toughness to his game. He might handle the point guard role at times, but he can also play off-ball and score at all three levels.
This team can go as far as Powell can take them. They lacked offensive firepower last year and maybe Powell is their answer offensively this season.
Don't sleep on Corey Camper Jr.'s shooting
The biggest questions I had going into summer practice involved the shooting woes they faced last year. As a team, UTEP was a 29% 3-point shooting group and ranked 356th in the nation for 3-point efficiency per KenPom.
JUCO transfer guard Corey Camper Jr. has the upside to be the team's top overall shooter from beyond the arc. He shot 36% from 3-point range at Tyler JC last season and still averaged almost 20 points per game. The Little Rock, Arkansas native has the potential to be a starter on this team, yet we might see him start the season in a sixth man role. Even though JUCO transfers haven't always panned out under Golding, Camper Jr. is coming onto the scene in an impression fashion this summer.
Otis Frazier III leveled up in the offseason
Since putting up virtually no stats at George Mason to start his college career, Otis Frazier's success has been a noteworthy story for the Miners. He started 26 games last year for the Miners and averaged 7.5 points, 4.1 rebounds and shot 50% from the floor in his first full season of starting at the Division I level.
From the practice, I'm pinning Frazier as the top perimeter defender on this team with upside to be a stud 3-and-D wing for UTEP in 2023-24. Meanwhile, Frazier noticeably hit the gym this offseason and looks bigger than he did last year.
Tae Hardy's already rocking the Adidas basketball shoes
After practice, I caught up with Tae Hardy, who's already rocking Adidas basketball shoes. The senior, who averaged 12.8 points for the Miners in 2022-23, previously wore Adidas basketball shoes at Southern Miss before transferring to UTEP. He said he prefers the Adidas basketball shoes to Nike, and he's happy about the brand transition for UTEP athletics.
Miners add walk-on Sebastian Cole
A face I didn't recognize at practice was Sebastian Cole, a newly acquired walk-on from Otero College (JUCO). The guard from Denver, CO, is 6-foot-1 and started in 14 games over two seasons at the JUCO level. He scored 11.8 points per game and hit 43.9% of his 3-pointers in 2022-23.
No, he won't be a difference maker this year. If he can stay on the roster after this season and earn some playing time, I think he has a chance to make a difference next year.
Big man Derick Hamilton looks fresh
Upon transferring from Bossier Parish Community College, Derick Hamilton came to UTEP as a bit of a work-in-progress as a big man. He worked with associate head coach Jeremy Cox over the offseason and appears to be progressing from a conditioning standpoint. He's improved physically and has a better motor to his game. Last year, Hamilton appeared in 20 games off the bench for the Miners, where he averaged 2.7 points and 1.4 rebounds while shooting 66.7% (22-of-33) from the floor.
If he's able to get his conditioning where the team needs it by the start of the season, Hamilton could become a reliable off the bench option for this team.
Elijah Jones can be everything Jamari Sibley wasn't
Elijah Jones came to UTEP last season as a mid-year transfer from East Carolina. He was forced to sit out the remainder of last season, but is immediately eligible this year. For a program that saw Jamari Sibley hit the transfer portal, Jones' path to playing is clear for the Miners. He has athleticism, can rebound effectively and plays tough in the paint. As for Sibley, the coaching staff was banking on his upside as an outside shooter and a lengthy combo forward. When you compare the two, Jones fills more of a need for the Miners at the forward position thanks to his interior presence and upside on defense.
Solomon and Kalu will anchor the interior
The two frontcourt starters will have a lot of pressure on them this season. Solomon, who is entering his final year of college, has gotten better each year and is looking to cap off his last year on the right note. As the only Miner to start all 32 games last year, Solomon led the Miners in rebounding (6.0) and steals (2.0), while averaging 9.6 points per game. I'm not worried about Solomon taking another jump in his game this year.
Kevin Kalu's season outlook is the most fascinating to me. He's asked to fill the Ze'Rik Onyema role down low as the team's center. He averaged 13.3 minutes off the bench and totaled 51 offensive boards and 12 blocks. Yet, he's never been a routine starter for UTEP now going into his third season. He's never been a reliable scoring option either, something that UTEP will need down low. Kalu adjusting to this new role will be one of the most important storylines to watch before the season tips off.
Jonathan Dos Anjos is back from surgery
Thankfully, setbacks didn't occur with Jonathan Dos Anjos' offseason surgery and the forward is already practicing with the squad this summer. He dealt with his share of injuries in 2022-23, first against Texas in the season opener and re-injured his knee in February. The coaching staff thought initially when he had offseason surgery that his timeline for return could stretch beyond the summer. However, Dos Anjos is healthy and with the Miners for the summer.
Babacar is really 7-feet tall
A 3-star recruit, Babacar Mbengue was ranked the No. 7 prospect out of New Jersey by 247 Sports. And the first thing I noticed was, this dude is actually 7-feet tall! It will take time for him to develop within the system. Unlike fellow freshmen Horton and Terrell, who might each hit the court this season, Mbengue is going to be redshirted this year.
More From 600 ESPN El Paso