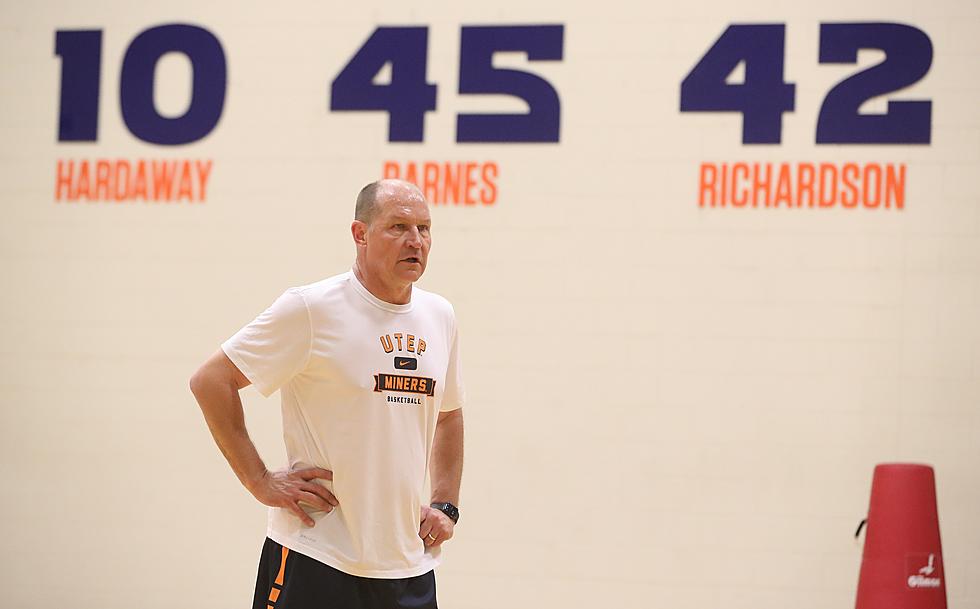 New Associate HC Jeremy Cox Brings Over Three Decades of Experience to UTEP
Photo credit Ruben Ramirez | UTEP Athletics
When you've coached college basketball for over 30 years, one might expect a few run in's here and there with a storied program like UTEP.
But when associate head coach Jeremy Cox joined Joe Golding's staff, it was clear that his basketball journey had been largely impacted by those with direct ties to the Miner basketball program over the years.
He largely credits his two coaching mentors, Billy Gillespie and Doc Sadler, both of who have been successful coaching UTEP in the past. He makes sure to credit a third coach, his dad, who taught him all about the game of basketball.
"Besides my father, Doc has mentored me as much as anybody," Cox told SportsTalk on Thursday. "He and Billy—I don't want to take away from Coach Gillespie–both have mentored me. Doc has taken care of us all. He shared, he's done so much for people and he's someone I talk to 2-3 times per week. I worked for him at Fort Smith, worked with him at Nebraska and worked with him at Southern Miss. He's a good of a friend as I've ever had."
Between the relationships he's made and the experience that he's gained over three decades in coaching the sport, Cox is prepared to take on a new journey and join Golding's staff at UTEP.
"We talked the Friday that he got the job. I told him I would come Saturday and I was here for the first team meeting on Sunday. It didn't take long. I wanted to be a Miner, I wanted to be with Joe. Just now we're getting our head above water," Cox said.
As someone that worked for Sadler and Gillespie, and watched Don Haskins coach the program from afar, Cox believes that Golding fits the right model to run this program.
"I think (Golding) is very similar to people that had success here," Cox said. "I've known two of them working with Billy Gillespie and Doc Sadler. They understand West Texas and El Paso. They appreciated the way coach Haskins played. When you cut into both of them, they're [Mo] Iba guys. When you get a guy that appreciates the culture and appreciates what made UTEP the toughest place to play, I think people in El Paso relate to that."
"The one thing that's exciting for me is working with coach Golding. He can get them to play as hard as Billy Gillespie did; he can get them to play as fast as they did and play as disciplined as Doc [Sadler]. " - Jeremy Cox, UTEP associate head coach
Cox got his first start as a graduate assistant at Wyoming under Benny Dees in 1991. He then earned head coaching jobs at the JUCO level, manning programs like North Dakota State College of Science (1998-99), Garden City Community College (1998-02), and Arkansas-Fort Smith (2003-06), where he encountered Sadler.
"Doc did hire me at Fort Smith," said Cox, who took the reigns at UA Fort Smith once Sadler was hired at UTEP. "That was one of the hardest things I've ever done. To follow up Doc is no easy task."
After he won an NJCAA National Championship in 2006 with Fort Smith, Cox joined Gillespie's coaching staffs at Texas A&M, Kentucky and Texas Tech. Other coaching stints he had included an assistant at South Florida (2009-11), and then his partnership with Sadler for his Nebraska (2011-12) and his Southern Miss (2014-16) teams.
Since then, Cox was the top bench coach under Kyle Keller at Stephen F. Austin (2016-21).
For someone that has experienced the Big 12, SEC, Big East and Big Ten, Cox has a great deal of respect for Conference USA.
"I think the league is going to be terrific," he said. "It's only a one-bid league. But you talk about teams that have won National Championships, teams that have been to the Final Four, UAB that has been to multiple Sweet 16's... It's one of the hardest things I've done in college basketball. It's not on television; it needs to be on television because there are some marquee matchups and some really good players and great coaches."
As for this team, Cox will specialize in the X's and O's for the Miners. His expertise is working with post players and he is eager to continue practicing with the current roster.
"Our backcourt is fantastic. I really like Jamal Bieniemy; Souley's great; Keonte's going to be fantastic for us; the kid I really like is Tydus. These guys know how to work. We like where we are, we like what we've inherited. Christian Agnew coming off the bench and Ze'Rik [Onyema] is going to be a nice basketball player," he said.
Cox is impressed with the potential that the frontcourt has with this group.
"I think (Verhoeven) really fits our system," he added. "We want him close to the basket and I think he can make a high post jump shot and he can go by somebody. He has fantastic leadership. His basketball IQ is really good. We couldn't be more excited to have him...
"We got Jamari Sibley, a 6-foot-8 transfer from Georgetown. He needs to eat but his motor is great, his skill is Big East level. He's got a terrific upside and his energy has been incredible too. The thing is, he has four years," Cox continued. "Bonke Maring has an act of getting the ball into the basket. He has a lot to learn like a young colt. He will have three years. We just have to teach him positioning and defensively, he has to get better. But he has a chance as well. If we can get one more mature, older transfer post player, that would be fantastic."
And as for the near future, Cox will be hitting the road in search of that last forward recruit that he mentioned. The Miners have a pair of scholarships in their back pocket to round out their recruiting class for 2021.
Listen to the full interview here on the 600 ESPN El Paso podcast channel. 
All 10 Of El Paso's Nicknames
More From 600 ESPN El Paso