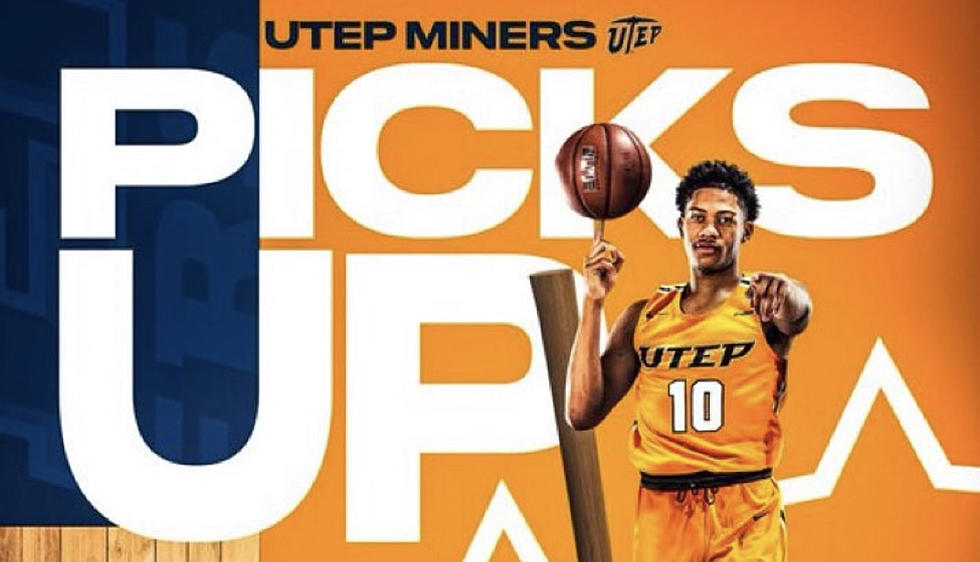 Get to Know the Newest UTEP Transfer: Freshman Wing Ché Evans Jr.
Photo Courtesy of Dwyane Wise
It's week one for freshman wing Ché Evans Jr. at UTEP, and the San Diego State in-season transfer is finally practicing in El Paso.
The biggest question for the 6-foot-6 transfer is whether or not he will be eligible to join the squad for in-game competition this season or next.
For now, the Miners add some quality depth to their scout team. Evans is a former 3-star prospect out of Baltimore, MD. and he was touted as a top-50 small forward in the class of 2020 (No. 45) by ESPN. He lost a bit of recruiting steam in his senior year when he suffered an injury. However, he still earned offers from the likes of UCLA, Arkansas, UCLA, San Diego State, Boise State and Florida.
At San Diego State, Evans never found his spot off the bench and only appeared off the bench in 10 games for just 42 minutes in the 2020-21 season. This fall, Evans didn't play a second for the Aztecs.
"It was a long process," said head coach Joe Golding in getting Evans to El Paso. "He went into the portal and we started recruiting him like a lot of people across the country. He had the connection here with Kevin [Kalu] and some other connections. We're fortunate to have him."
The UTEP men's basketball team has faced numerous instances this season where they are undermanned due to injuries, COVID-19 issues or other complications that cause players to miss games.
In fact, UTEP leads the country with 12 different lineups through the first 15 games. By adding Evans, the Miners could get an added boost in their depth.
"Obviously, he's lost right now and has no idea on what's going on. It will take some time," Golding said. "We got to get him in shape. He hasn't done anything for several months. He's got to learn how we do things. It's great to have an extra live body at practice and he's going to be really good on the scout team and we're excited about that.
"The best thing, whether [Evans] plays or not, we have him for two-three months to practice with our team, so I think that will give him a good head start." - Joe Golding on Evans

 

 
For mid-year transfers like Evans, the transfer must appeal to the NCAA as to why the student-athlete believes they should be immediately eligible. The UTEP staff is working to get him eligible to play this year, though nothing is guaranteed.
Depending on the time frame of the NCAA's decision, Evans and the staff will make a decision on whether to play for the rest of this season or to save his eligibility for the 2022-23 campaign. He has four years of eligibility as a first-time transfer and sources tell 600 ESPN El Paso that Evans is expected to get cleared from San Diego State without any problems.
"Right now he's ineligible. We're going to try and help him out, sign a waiver and appeal. But that will be in the NCAA's hands and I have no idea when that will happen. He's not ready to play now anyways. He'll help us out in practice. It's good to have a thick, live body on the scout team. We're going to get him in shape and coach him up."
Q&A with Ché Evans Jr. (CE)
AB: What's it like being in El Paso? 
CE: Great so far. Everyone's bringing me in comfortably. Not rushing me or anything. I'm enjoying it.
AB: You've only been here a few days. What's it like taking in the city?
CE: Great basketball city. They love the basketball team. That's what I love so far.
AB: You come from the DMV area. What's that region like for basketball? 
CE: That area has brought out a lot of players. You already know how that will be.
AB: Why did you choose UTEP?
CE: Coach [Byren] Spriggs and coach Golding called me when I put my name in the portal. They welcomed me right away and told me some good things. Told me that I can come here and work, come here to play defense... things you need to win championships and that's what I want to do.
AB: What's the biggest challenge transferring from San Diego State to UTEP?
CE: Biggest challenge is the different defensive styles. San Diego State was a heavy in the gap team. Here, we aren't heavy in the gap, but something similar to it. So they're still teaching me the ways and I have to learn the plays. It's a big adjustment, but I'm going to get film, I'm going to learn it and we'll be good.
AB: How do you hope to develop chemistry with your teammates?
CE: They are great guys. They welcomed me in. They help me on the side. They teach me things, ask me to get in reps. Just welcoming right away.
AB: What can you bring to this team? 
CE: Great defense. great scoring, great teammate. Positivity, man. I've been through a lot of adversity so I know what it's like.
Here are some highlights of the wing:
---
Up next: UTEP men's basketball team (8-7, 1-2 C-USA) will travel to face Charlotte (Thursday) and Old Dominion (Saturday). Both games will start at 4:30 p.m. with Voice of the Miners Jon Teicher. MinerTalk will follow the broadcasts on 600 ESPN El Paso, presented by the Oscar Arrieta Agency. 
30 famous people you might not know were college athletes
Stacker
dug deep to find 30 celebrities who were previously college athletes. There are musicians, politicians, actors, writers, and reality TV stars. For some, an athletic career was a real, promising possibility that ultimately faded away due to injury or an alternate calling. Others scrapped their way onto a team and simply played for fun and the love of the sport. Read on to find out if your favorite actor, singer, or politician once sported a university jersey.
More From 600 ESPN El Paso