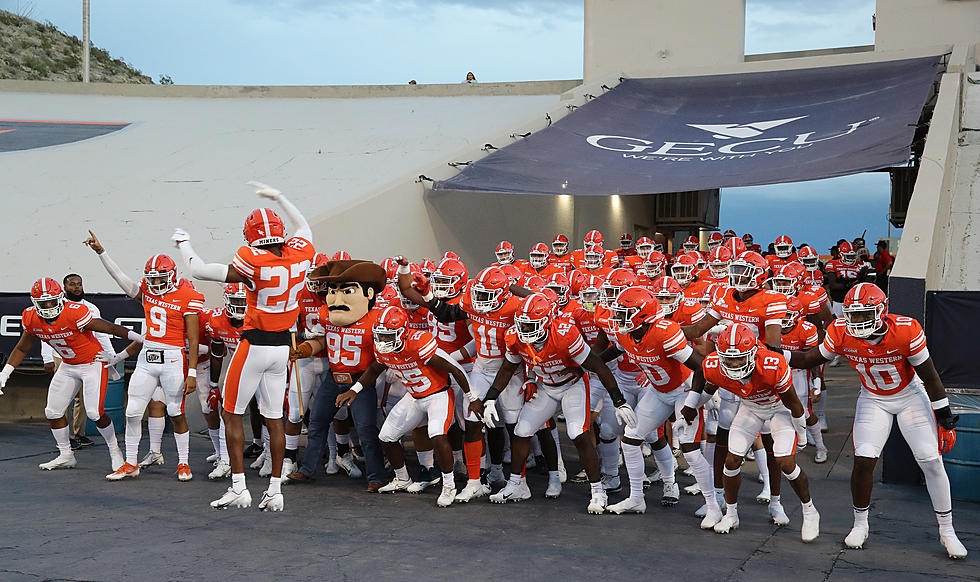 Get to Know the 8 Recruits from UTEP Football Early Signing Day
Ruben Ramirez/UTEP Athletics
As college football squads inked commits across the country, the UTEP football team announced eight signees on Wednesday for the Early Signing Day, with seven coming from the JUCO ranks.
Head coach Dana Dimel has really capitalized on the junior college market, while other coaches continue to try and get the top Division I players.
"Excited about the day as all coaches are across the country," Dimel said. "We haven't lost as many seniors. Really quality guys that we're losing, but again, not a lot. We felt that there are some missing pieces that we needed to add to this year's team."
The Miners will add three defensive backs, two defensive linemen, one linebacker, one tight end and one offensive lineman. Previously, Dimel said that the team has 14 initial scholarships. The program will continue their recruiting efforts into next year ahead of National Signing Day on Feb. 2, 2022.
Read Steve's latest on UTEP's signing day strategy that includes a heap of JUCO transfers.
Let's meet the signees.
---
Josiah Allen - Sophomore (Sacramento City College)
5-10, 185 Safety
Allen will have three years of eligibility as a mid-year transfer. He played in 10 games and racked up 51 tackles, five pass breakups and one interception.
Dauson Booker - Sophomore (Modesto Junior College)
6-1, 200, Safety
The California native in Booker played in 10 games for Modesto Junior College in 2021. He had 51 tackles, five pass breakups and an interception.
Kobe Hylton - Sophomore (Louisiana) 
6-1, 204 Safety
As a Division I transfer with JUCO experience, Hylton is a nice addition to the UTEP secondary. He didn't play for Louisiana this past season. He appeared in six games for Northeastern Oklahoma CC in 2020, where he totaled 19 tackles, one interception and a forced fumble.
Sedrick Luke - Junior (American River College) 
6-3, 290 Offensive Line
The Miners could use a boost up front and Sedrick Luke might be a piece to help them out. He was a two-year starter at American River College and he was recognized as the 2021 National-NorCal League MVP. With Bobby DeHaro graduating, there are holes that need to be filled up front. As a mid-year transfer, Luke will have an opportunity to contend for playing time up front.
Darryl Minor - Junior (Tyler Junior College) 
6-1, 225 Linebacker
As a starter at linebacker, Minor was second on Tyler Junior College in total tackles (90) and averaged 7.5 tackles per game. He also contributed with 3.5 sacks, 21.0 tackles for loss and a forced fumble. He's a linebacker that also has experience defending the pass. He is now UTEP's fourth player from Tyler, joining wide receiver Jostein Clarke, offensive lineman Tres Barboza and linebacker James Neal.
Luke Seib - Freshman (Blue Springs South HS)
6-4, 220 Tight End
Seib was a standout out of Blue Springs HS, where he earned All-State tight end honors. He broke the school record in receptions in a single season (62) and had seven touchdowns. The Miners need to improve their depth at tight end and Seib is someone that can bring playmaking abilities to the offense.
Bryton Thompson - Junior (Blinn College) 
6-2, 230 Defensive End
Thompson will have two years of eligibility as a mid-year transfer. He can add to the deadly defensive line of the Miners. Thompson totaled 48 tackles, 27 tackles for loss and 6.5 sacks for Blinn.
Maurice Westmoreland (Kilgore College) 
6-2, 250 Defensive Lineman
The pipeline from Kilgore College continues to be beneficial for UTEP as they snagged another defensive lineman in Westmoreland. He had 29 tackles, 5.0 sacks and two forced fumbles in 2021. He is the sixth player on UTEP from Kilgore, joining offensive linemen Steven Hubbard and Darta Lee, defensive linemen Jadrian Taylor and Kelton Moss and safety Dy'vonne Inyang.
UTEP vs. NMSU Battle of I-10 Gallery Recap
These photos were taken Saturday, August 28th, 2021 when UTEP defeated NMSU 30-3 in the annual Battle of I-10 at Aggie Memorial Stadium.
More From 600 ESPN El Paso