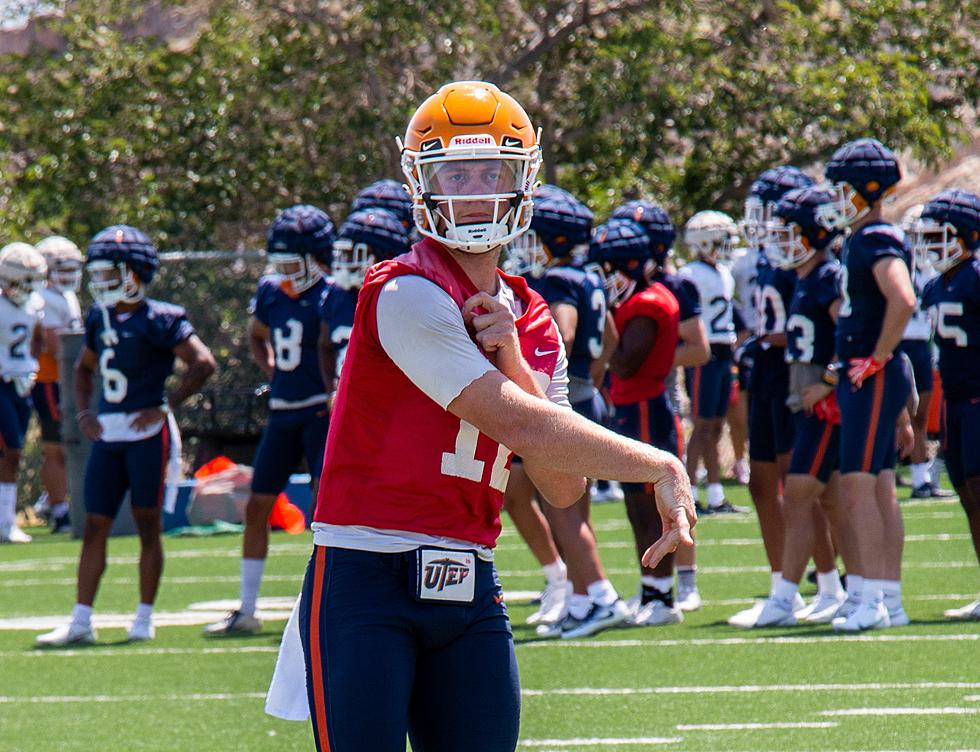 Gavin Hardison Is the Key to a Winning UTEP Football Season
UTEP Athletics.
It does not seem fair to put the weight of an entire college football team on the shoulders of one man. No, I am not talking about Dana Dimel. Instead, it is a strong-armed quarterback from Hobbs, New Mexico, who could hold the fate of the UTEP Miners 2021 season in the palm of his hands.
After redshirting in 2019, Gavin Hardison is entering his second season as starting quarterback for the Miners. All eyes in the Sun Bowl will be on #12 as he tries to build on a COVID 2020 campaign that was filled with plenty of highlights, but not enough consistency. In seven starts, Hardison completed just 54% of his passes (108-199) for 1,419 yards, with five touchdown passes and five interceptions. He loves to air out the deep ball, and he hooked up often with Jacob Cowing, Devaughn Cooper, and Justin Garrett for some spectacular pass plays. Cooper is gone this year, and there is a great battle in fall camp for the third receiver spot.
Another big key to Hardison's success will be his offensive line and running game. Both should be a plus for Coach Dimel and help take some of the pressure off of UTEP's redshirt sophomore quarterback. The Miners have four quality running back on their depth chart, led by Deion Hankins. It will be interesting to see how much they let Hardison throw the football when UTEP gets inside the red zone.
Nobody doubts Hardison's arm strength. However, he still needs work on completing short passes and putting touch on those throws instead of rifling them into his receivers. If he is able to do that, his completion percentage will jump up into the 60% range or better this season. Five interceptions in seven starts is not bad at all, but Hardison got away with a few near picks last season as a result of trying to force a pass into a tight spot. All indications from fall camp are that his decision making has improved and he is spending more time watching film to break down opposing defenses. He is also spending fall camp learning how to read defenses and change the play at the line of scrimmage when needed. This is the sign of a maturing quarterback, which is exactly what the Miners will need in order to turn the corner in 2021.
TACKLE THESE: Check Out the Best Uniforms In Each NFL Team's History
More From 600 ESPN El Paso