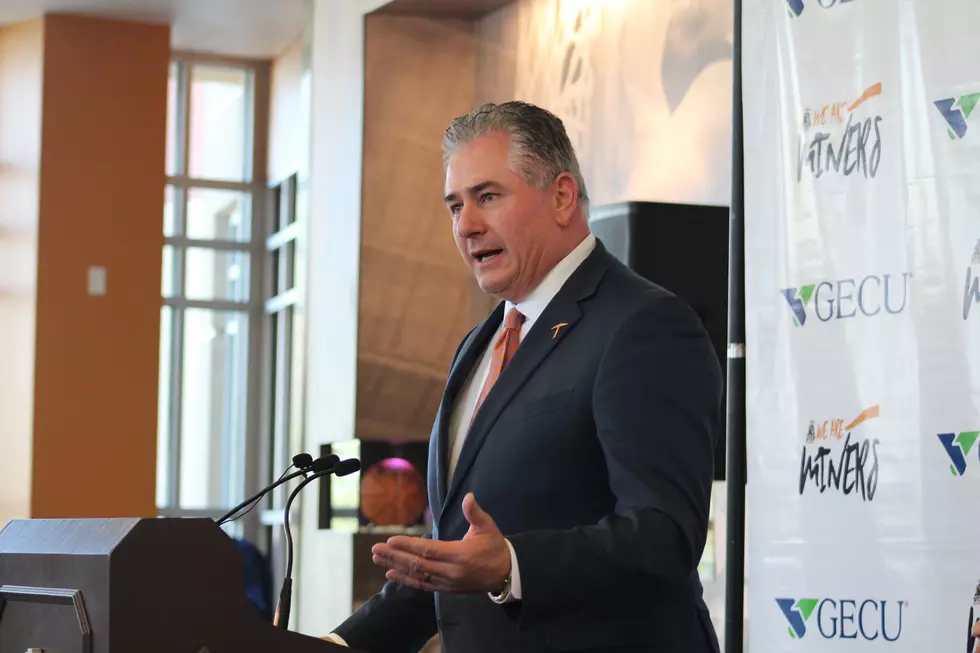 For UTEP AD Jim Senter, Basketball Coaching Hire Must Be a Slam Dunk
Photo by Adrian Broaddus
When Jim Senter first stepped foot onto campus, he sold the Miner faithful on a "new era" of UTEP athletics. He assumed the athletic director role following 19 years (1998-2017) of Bob Stull's tenure at UTEP. Not only did he have to inject life back into the fan base that had been teetering for a while, but Senter was also tasked with filling two major head coaching positions in football and men's basketball.
"Having to hire football and basketball in the span of two months, it's setting the direction the athletic department is going to go," Senter said after Rodney Terry's introductory press conference. "At the same time, it's a huge responsibility."
Hiring two coaches, considering both major programs had been down, was a major responsibility that Senter assumed at the time. In addition, Senter held fan town hall meetings, established a fan council and aimed to make significant renovations to facilities. Three years later, Senter is having to make a major pivot with one of his initial hires.
Terry resigned as the men's basketball coach on Tuesday to take on an assistant coaching role under Chris Beard at Texas. During the Terry era, the Miners went 37-48 overall (19-33 C-USA) and failed to win a league tournament game, let alone make a postseason tournament.
"We will begin a national search for our next basketball coach. Plans to utilize a search firm have not been determined. In order to preserve the integrity of the search, we will not be making any additional comments until we have hired a new coach. We look forward to beginning a new chapter in our basketball program's storied legacy." - Jim Senter, Director of Athletics following Terry's resignation. 
The Terry experiment will be seen as a failed hire by the athletic department. Only six months ago, Senter granted Terry a contract extension through the 2024 season. Senter double-downed on his decision for the extension when ABC-7 had uncovered it during their investigation on the salary cuts coaches would take as a result of the COVID-19 pandemic. Just two months later, Terry bolted from UTEP for an assistant job.
"We see Rodney Terry doing all the right things," Senter told Erik Elken on Feb. 11. "Rodney Terry is our coach. We're excited about him being here and we believe wholeheartedly that Rodney Terry is going to take this program to new heights."
As for an extension for head football coach Dana Dimel? "I didn't feel like we were there for football and I told [Coach Dimel] that," Senter told ABC-7. UTEP football is 5-27 under Dimel over three seasons, including a 1-19 record in C-USA. Dimel enters the fourth year of his five-year contract with scrutiny surrounding the program. If the program doesn't turn things around in 2021, we could be talking about another coaching vacancy.
And let's be fair. The underappreciated programs have seen better improvements under the Senter regime. He has hired new coaches for programs like soccer (Kathryn Balogun), volleyball (Ben Wallis), golf (Derek Plucienski), softball (TJ Hubbard) and rifle (Austin Litherland). Programs like volleyball have shown a ton of promise under new leadership. He also helped with facility upgrades to the Sun Bowl, with the addition of indoor and outdoor club seating, loge boxes, suites, the GECU Terrace, Hunt Family Sky Lounge and Paul and Alejandra Foster Tower.
Due to the COVID-19 pandemic, the football program didn't get to reap the benefits of the new improvements to the stadium due to just two home games played in 2020. So on top of everything, Senter and the athletic department dealt with budget restructuring brought on by the pandemic.
But back to men's basketball, which is one of the biggest moneymakers.
This is a storied program that hasn't been to the NCAA Tournament since 2010. UTEP is in the midst of a near 30-year drought without winning a tournament game. The fans are disgruntled. The team is in limbo. Four players have entered the transfer portal with more possibly on the way.
All eyes are on Senter to see how he plans to restore life into this program with a new hire.
It could be Joe Golding, who built Abilene Christian into a mid-major contender. Maybe Chris Jans leaves his post at NM State to pursue a job with more resources and joins the rival school. Though Marvin Menzies argues he should get another shot in coaching, the Miners might be able to do better. Would Senter give considerations to guys with UTEP ties like Tony Barbee, Billy Gillespie, Tim Hardaway or Greg Foster? Or, is a Power-5 assistant the route to go, such as hiring Jerome Tang from Baylor?
It really doesn't matter who gets the job—as long as the next coach builds a winning program faster than the path Terry was taking. Three years into his tenure as Athletic Director, Senter will need to make sure this decision is a slam dunk of a hire.
More From 600 ESPN El Paso