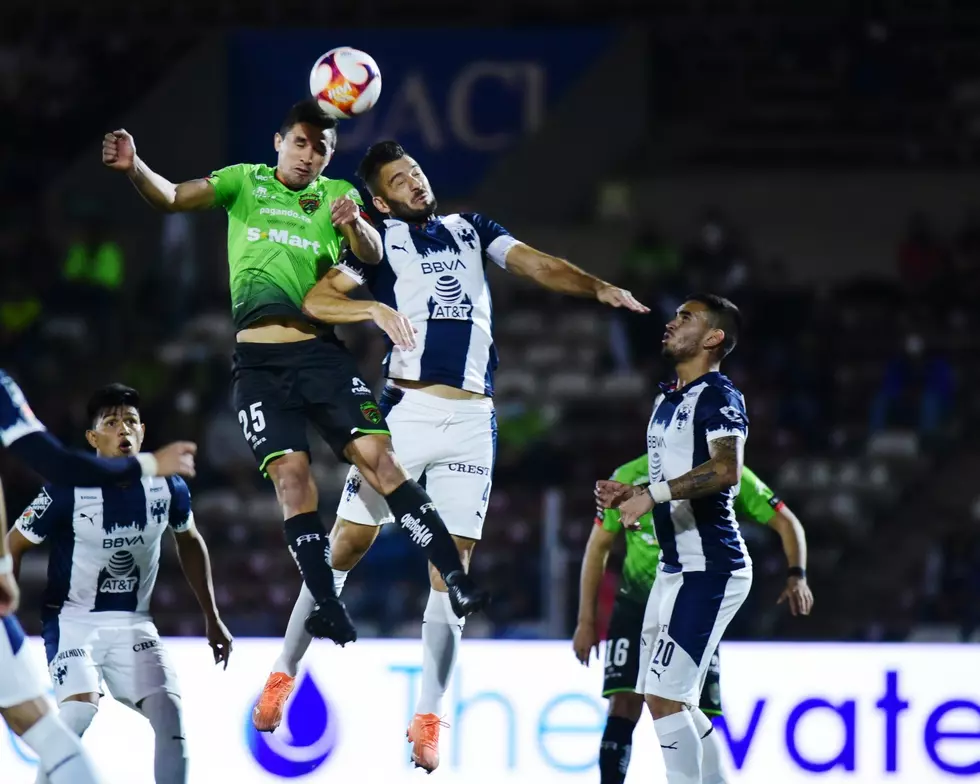 FC Juarez Looks to Get Important Home Win Tonight Against Rayados
Monterrey Rayados
Bravos de FC Juarez return to action in the Borderland tonight when they host Rayados de Monterrey. FC Juarez needs a win in order to get back into the playoff zone after dropping out of said zone in the standings table earlier this week after the result of a midweek match.
Monterrey is currently in second place in the general standings table with 28 points as a result of eight wins, four draws and two losses.
If FC Juarez is to get a win tonight against one of the best teams of the season thus far they will have to do without star center defender Carlos Salcedo who will no be able to participate in tonight's match due to an accumulation of yellow cards (Salcedo has received five) that force him to miss a match.
It is assumed that Spaniard Alejando Arribas will take his spot tonight. Arribas was the best center defender Juarez had before the arrival of Salcedo and Emiliano Velasquez earlier this regular season.
Rayados comes into tonight's match with a stellar road record this season playing thus far eight matches on the road in which they won four, lost two and had two draws.
FC Juarez suffered their first loss in five matches, losing to Leon by the score of 1-0 Tuesday night at Nou Camp Stadium in the state of Guanajuato. This result hands the Bravos their fourth loss of the season and drops them out of the playoff zone in the general standings table with only four matches left to go in a regular season that has been played at a lightning pace due to the pending FIFA World Cup beginning in the second half of November.
For the second consecutive match, the third in their last four, FC Juarez had a player sent off due to a red card. This has been a big issue for Bravos as of late, completely altering their game plans in order to get a positive result.
On Tuesday night it was Alberto Joshimar Acosta who was sent off in the 41st minute in what was a phantom foul called against Acosta by referee Jorge Camacho. Replays for all angles on the television broadcast showed Acosta did not touch the player from Leon, but Camacho did not even bother to go to the VAR (Video Assistant Referee) to verify his decision with the replay.
For the second match in a row, it seemed that Juarez was going to play with 10 men while going up against 12, 11 wearing the Leon jersey and one wearing a referee jersey. Camacho's performance was so bad, he became a protagonist in the match hindering FC Juarez more than Leon.
Despite the one-mad disadvantage Bravos was able to keep up and play toe-to-toe with Leon. However, in the 75th minute an error by Salcedo for Juarez led to the lone goal of the match. Lucas Di Yorio scored when he stole the ball from Salcedo who could have just cleared the ball from his goalbox.
After the match a frustrated Hernan Cristante, head coach/technical director for FC Juarez addressed the media for less than 3 minutes after Tuesday night's defeat. Cristante called the red card given to Acosta "absurd" adding, "...this is how things have been going for us, so therefore it complicates things for us."
Cristante concluded his brief comments by saying, "Perhaps we'll just start our next match with 10 players instead of 11, we're getting used to it (playing with one man down)." It is difficult to say if the Bravos' boss was being serious and sincere or being sarcastic.
Friday's match is scheduled for 8 p.m. MT kickoff from Benito Juarez Olympic Stadium. The match will be televised nationally on Fox Deportes.
After Elizabeth II: Who is in the royal line of succession?
Stacker
compiled a list of 20 members of the royal family and their respective positions in the line of succession, using information from the
official website
of the British royal family and various media sources.
More From 600 ESPN El Paso